For camping enthusiasts, owning a travel trailer can open up a vast new world of possibilities. The downside? Many of us don't have access to a vehicle that's capable of towing such a large load.
Fortunately, RV manufacturers know that most campers prefer to travel light, and have created a niche market in response. If you can't afford a vehicle upgrade (or just don't want to buy a new car for this purpose), there are plenty of options available. Take a look at these ultra lightweight travel trailers under 2000 pounds.
2019 Jayco Hummingbird 10RK
2020 Forest River Rockwood Geo Pro G12RK
2020 Scamp 13′ Travel Trailer
2019 Travel Lite Falcon FL-14
Aliner Ascape Travel Trailer
2020 Timberleaf Teardrop Pika
2017 Palomino PaloMini 132FD
Forest River Flagstaff E-Pro
Top Reasons To Invest In A Lightweight Travel Trailer
As we mentioned, small travel trailers are a good investment if you have an SUV or crossover that can't handle a larger rig. Here are some of the other perks that they offer:
Lower cost–As a rule, smaller trailers will cost less up front than bigger RVs, keeping more money in your pocket for the adventures that await.
Better fuel economy–The savings don't end there. Less weight means better gas mileage, so you'll continue to spend less money even as you hit the road.
Less stress on the vehicle–Even if you do have a giant pickup truck with a great tow package, a lighter travel trailer will put less strain on the engine and the vehicle as a whole.
Eco-friendly—The less fuel you burn, the more environmentally sound your camping trips will be.
Best Ultra Lightweight Travel Trailers Under 2000 Pounds: Product Review Guide
2019 Jayco Hummingbird 10RK
| | | | | |
| --- | --- | --- | --- | --- |
| Dry Weight | Length | Freshwater Tank | Black Water Tank | Sleeps |
| 1545 lbs | 13 ft | 25.6 gals | 22.5 gals | 2 |
We were gratified to learn that Jayco has an entry in the ultralight travel trailer race–and even more pleased to find that it just about beats out the competition. If you enjoy boondocking (that is, camping without access to an outside power source), then this could be the unit for you.
The sleeping area offers a full-sized bed with overhead storage. There's a microwave and fridge in the rear outdoor kitchen area, along with a generously-sized sink. You can opt to purchase an additional grill if you need more cooking space. The Hummingbird 10RK even has a television–a rare commodity in campers this size.

Like most of the travel trailers listed here, the 10RK sleeps just two people. If you're in the market for a micro camper, however, you're not likely to miss the extra bedroom space. The construction is durable, and the large tires keep the unit stable during transit. Best of all, this is an attractive model that's sure to garner compliments from any fellow campers you happen to meet on the road.
2020 Forest River Rockwood Geo Pro G12RK
| | | | | |
| --- | --- | --- | --- | --- |
| Dry Weight | Length | Freshwater Tank | Gray Water Tank | Sleeps |
| 1252 lbs | 11 ft 4 in | 20 gals | 6 gals | 2 |
With impressive amenities, a relatively large living area, and a sturdy build, the Rockwood Geo Pro represents one of the best bargains on the market.
Measuring just over 11 feet in length, the unit is easy to tow, even if this is your first time hauling a travel trailer. It also weighs in at just 1252 pounds, meaning that it can be safely towed behind most SUVs and crossovers.
The interior consists of a full-sized bed with overhead storage, an entertainment center, and a kitchen area with sink, refrigerator, and microwave. Because the unit lacks a toilet, there's no black water tank, but a gray water tank offers a 6 gallon capacity for any sink runoff. The freshwater tank, meanwhile, offers a generous 20-gallon limit.
A Wi-Fi range extender comes standard with any Rockwood Geo Pro model, making it easier to stay connected. If you so choose, you can also customize the camper with air conditioning, a bike rack, or a lift kit.
2020 Scamp 13′ Travel Trailer
| | | | | |
| --- | --- | --- | --- | --- |
| Dry Weight | Length | Freshwater Tank | Black Water Tank | Sleeps |
| 1600 lbs | 13 ft | 12 gals | N/A | 4 |
If you've ever seen a Scamp travel trailer before, you probably remember it. These distinctive white and red campers feature a square design with vaguely rounded edges–and interiors so cozy, they invite you to stay in bed and admire the outdoors through the window.
The versatile interior features a sofa that converts to a pair of bunk beds, along with a rear dining table that can be transformed into a double bed. A sink and double-burner gas stove make up the kitchen area. There's also a closet that can pull double duty as a pantry.
If you go for the Deluxe option (the specs of which we've included below), you'll get fiberglass cabinets, wood panel doors, and hardwood accents. The colors are warm and inviting, with plenty of blues and reds to balance out the browns. The Scamp is a visually arresting and well-built unit that's sure to bring years of enjoyment to any couple or small family.
2019 Travel Lite Falcon FL-14
| | | | | |
| --- | --- | --- | --- | --- |
| Dry Weight | Length | Freshwater Tank | Black Water Tank | Sleeps |
| 1692 lbs | 13 ft 5 in | 18 gals | N/A | 2 |
This unit boasts a great deal of storage space for such a lightweight camper, as well as an innovative interior design. If you've been an avowed tent camper up until now, the Falcon FL-14 might just make a believer out of you.
The dinette converts easily into a bed large enough for two, and the kitchen area includes a sink, two-burner range, overhead cabinets, and two separate pantries. There's even a skylight overhead to open up the space. This unit has a wet bath with shower, but no separate black water tank. The freshwater tank holds an impressive 18 gallons,though, which is enough to allow two people to bathe as long as they're quick about it.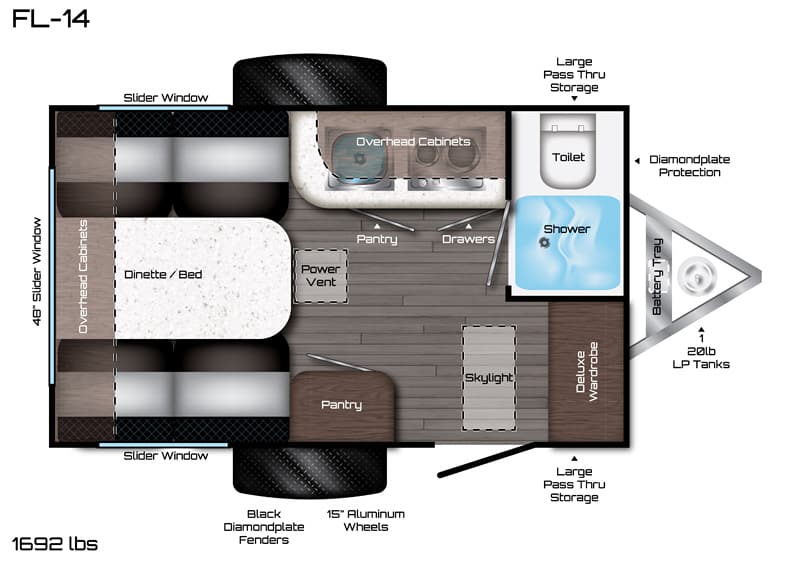 While the Falcon FL-14 has plenty going for it even without the decorative touches, we're huge fans of the skylight and the blue LED accent lighting. This is a model for campers who want to bring a little flair into the great outdoors with them.
Aliner Ascape Travel Trailer
| | | | | |
| --- | --- | --- | --- | --- |
| Dry Weight | Length | Freshwater Tank | Black Water Tank | Sleeps |
| 1850 lbs | 14 ft | 11 gals | N/A | 2 |
The interior of this teardrop-shaped model is as low-key as they come, but the aerodynamic nature of the camper makes up for any shortcomings in the style department. It also hooks up easily, making it a great choice for novices.
Amenities consist of a kitchen area with sink and two-burner range, a bathroom with cassette toilet and shower, and a dinette that converts into a bed large enough to sleep two people. If the space feels too cramped, the floor can be dropped to boost the interior height by a few inches. Because of the high-quality construction, the Aliner Ascape is equal to even the most rugged excursions.
Note that there's no black water tank included in the setup, so this unit isn't the best fit for extended boondocking. The fresh water tank holds just 11 gallons, which is enough for cooking and washing up, but not ideal for showering.
2020 Timberleaf Teardrop Pika
| | | | | |
| --- | --- | --- | --- | --- |
| Dry Weight | Length | Freshwater Tank | Black Water Tank | Sleeps |
| 1025 lbs | 12 ft | N/A | N/A | 2 |
For those who thought the Timberleaf Teardrop Classic was cute but just a trifle too large, here comes the Pika to answer your prayers. This unit is 36 percent smaller than the Classic model, making it a cinch to tow–and a blast to live in, however temporarily.
The Pika takes its name from a rabbit-like animal native to the Rocky Mountains. Like its namesake, this trailer is built for adventure, with a low profile that allows it to handle rocky and rugged terrain with ease.
The bed measures slightly smaller than the one found in the Classic, but it's still large enough to sleep two. We're big fans of the double side doors, which allow each camper to get in and out without disturbing the other. Another plus is the skylight, a feature that distinguishes the majority of Timberleaf's offerings. Dual USB ports and LED lighting are also featured. The galley area includes a refrigerator and plenty of storage, but no sink, burner range, or microwave.
2017 Palomino PaloMini 132FD
| | | | | |
| --- | --- | --- | --- | --- |
| Dry Weight | Length | Freshwater Tank | Black Water Tank | Sleeps |
| 1910 lbs | 16 ft 10 in | 19 gals | N/A | 4 |
Campers who are in the market for a small yet functional travel trailer should enjoy the queen-sized bed that comes standard with the 2017 PaloMini 132FD. Though the unit measures just 16 feet long, it offers the amenities that you would expect from a a larger model.
Located to the rear of the camper, the sleeping area sits adjacent to a wardrobe that can be used instead as a pantry for kitchen supplies, depending on your needs. The kitchen also offers a sink, refrigerator, and two-burner range. A cozy dinette can be converted to a bed that sleeps an additional two people. With no bathroom facilities included, the 19-gallon freshwater tank can go a long way.
While most of the units listed here are better suited to couples, the PaloMini is an excellent option for families of three to four people. It comes in just under our 2,000 pound limit, but can still be towed comfortably behind most medium- to heavy-duty pickup trucks.
Forest River Flagstaff E-Pro
| | | | | |
| --- | --- | --- | --- | --- |
| Dry Weight | Length | Freshwater Tank | Gray Water Tank | Sleeps |
| 1164 lbs | 11 ft 4 in | 20 gals | 6 gals | 2 |
Because it makes the most out of a tiny footprint, the Forest River Flagstaff E-Pro is a strong contender for the top spot on our list. Measuring just over 11 feet in length with a dry weight of 1,164 pounds, it's a micro camper with style and class to spare.
Enter through one of two side doors and make yourself comfortable on the full-sized bed, which takes up the bulk of the interior. An entertainment center and two separate overhead storage areas add comfort and convenience to the space.
Outside, the galley area features a microwave, refrigerator, sink, and additional storage. Counter space is minimal, but it's enough for a single person to get the chopping and mixing chores out of the way. Since this rig is so simple to maneuver, you won't have to waste precious time searching for a campsite. We would highly recommend the E-Pro to couples who enjoy camping but are ready to stop sleeping on the ground.
In Conclusion
Now you know–travel trailers don't have to weigh a literal ton. There are many lightweight options to choose from, some more well-appointed than others.
As we indicated, our favorite trailer on this list is the Jayco Hummingbird 10RK, with the Forest River Flagstaff E-Pro coming in at a close second. Which one you choose depends upon whether it's luxury that you seek, or a few basic kitchen facilities and a dry place to rest your head at night.
Best of luck, and happy camping!