Just because a camper is on the smaller side doesn't mean that it has to lack conveniences. If you're looking for a small travel trailer with a bathroom, check out our list.
We've reviewed 9 of the hottest models on the current market, all measuring under 21 feet in length.
2020 Airstream Basecamp
2021 Forest River R-Pod RP-171
2021 Venture RV Sonic Lite SL150VRB
2021 Winnebago Micro Mini 1700BH
2019 KZ Escape Mini M181KS
2021 Scamp 16′ Deluxe
2020 Flagstaff E-Pro E15TB
2021 Little Guy Mini Max
2021 Oliver Legacy Elite
About Small Travel Trailers
Smaller travel trailers are a great fit for campers who don't have any prior experience with towing an RV. If the rig is short and lightweight, you'll have an easier time maneuvering it into the correct position. Braking will also go much more smoothly when you're on the road.
You'll also be able to tow a smaller rig using a mid-sized SUV or light-duty pickup truck. Unlike some large models, which require heavy-duty trucks with specialized tow packages, many small campers are lightweight enough to be handled by a regular vehicle—assuming there's a tow hitch included. Check your vehicle's manufacturer guide to make sure it's capable of towing your camper safely.
9 Campers With Bathrooms Under 21 Feet
2020 Airstream Basecamp
| | | | | |
| --- | --- | --- | --- | --- |
| Length | Dry Weight | Fresh Water Capacity | Black Water Capacity | Sleeps |
| 16 ft 3 in | 2635 lbs | 22 gals | N/A | 2 |
Most campers are familiar with the Airstream line. These rigs are distinguished by their classic silver finish, which gives them a bullet-like appearance.
The 2020 Basecamp is one of the more basic models, with a convertible lounge, tiny kitchen area, and bath. It does manage to squeeze a shower into the bathroom space, but the freshwater tank only holds 22 gallons. That's why we would recommend this unit only if you prefer roughing it most of the time. It's also a good bet for shorter camping trips.
The rear-facing kitchen includes a stove with a two-burner range, a sink,and a compact fridge. The dinette area converts into sleeping space that's sufficient for two people.
Calling the living space "cozy" would be an understatement. However, for singles or couples who have moved past tenting, the Airstream Basecamp is a solid option.
---
2021 Forest River R-Pod RP-171
| | | | | |
| --- | --- | --- | --- | --- |
| Length | Dry Weight | Fresh Water Capacity | Black Water Capacity | Sleeps |
| 19 ft | 2714 lbs | 30 gals | 30 gals | 4 |
If you're looking for a bit more legroom, the RP-171 version of the 2021 Forest River R-Pod has you covered. The layout includes a front-facing dinette area with room for a TV set in the corner. The kitchen is roomier than we would expect from a smaller RV, with a fridge, large sink, and two-burner stovetop range.
Though the dinette can be converted into a sleeping area, there's also a rear bedroom with a queen-sized bed. This master bedroom area is snug, but the living space is sufficient for small families.
As for the bath, you'll get a shower that's separated from the toilet by a curtain. There's not sufficient privacy for two people to share the space, and the area is too tight for that to be an option anyway. The facilities are more of a formality than a luxury in this case.
---
2021 Venture RV Sonic Lite SL150VRB
| | | | | |
| --- | --- | --- | --- | --- |
| Length | Dry Weight | Fresh Water Capacity | Black Water Capacity | Sleeps |
| 19 ft 11 in | 3110 lbs | 38 gals | 30 gals | 2 |
We love the tight layout of the Venture Sonic Lite SL150VRB. While this is definitely a unit meant for singles or couples only, the flow of the space works beautifully.
The flip-up steps lead directly into the bedroom area, outfitted with a wide Murphy bed that converts into a sofa. Overhead storage gives you easy access to your clothing in the mornings. A two-burner stove sits next to the sink in the kitchen, with the refrigerator just steps away.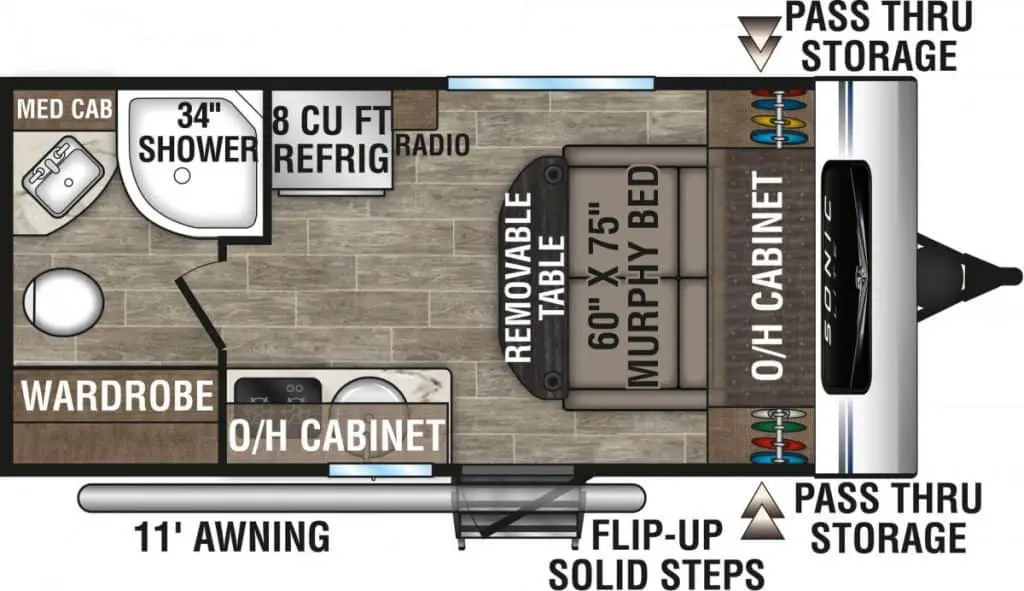 Behind a solid door, you'll find a toilet, corner sink, and stall shower. The pocket-sized room even makes room for a medicine cabinet over the sink.
If the SL150VRB has one flaw, it's the distance from the sleeping area to the bath. Usually, we prefer facilities that are adjacent to the bedroom. In this case, however, since the unit isn't even 20 feet long, it's not a major issue.
---
2021 Winnebago Micro Mini 1700BH
Length
Height
Dry Weight
Fresh Water Capacity
Black Water Capacity
Sleeps
20 ft 9 in
3280 lbs
31 gals
25 gals
5
We would be remiss if we didn't include a model from the infamous Winnebago lineup on our list. The Micro Mini 1700BH pushes our 21-foot limit, measuring 20 feet 9 inches total. It makes the most of this extra space with a maximum sleeping capacity of 5 people.
The main bedroom area is located just to the right of the door, and it consists entirely of a bed that measures 74 inches wide. A divider curtain separates it from the living space, complete with dinette and galley kitchen.
A set of bunk beds has easy access to the facilities, which include a shower in addition to the toilet. The only sink is in the kitchen next to the two-burner stove, so you'll have to use that one for washing your hands.
---
2019 KZ Escape Mini M181KS
| | | | | |
| --- | --- | --- | --- | --- |
| Length | Dry Weight | Fresh Water Capacity | Black Water Capacity | Sleeps |
| 20 ft 9 in | 2828 lbs | 30 gals | 30 gals | 3 |
The KZ Escape Mini M181KS is aimed at people who prefer spending most of their time enjoying nature. The exterior is outfitted with a 10-foot awning, inviting you to set up a couple of chairs and relax with a good book.
When you step through the rear entrance, the toilet facilities are to your immediate left–a convenient configuration that gives the sleeping area a measure of privacy. The queen-sized bed is located in the front of the trailer, with a pass-through storage unit located just above it.
In between, you'll find the kitchen area, complete with refrigerator, sink, and two-burner stovetop. There's also a convection microwave for whipping up quick meals and snacks. The dinette is barely large enough to seat 4 people, but to be fair, KZ cites the sleeping capacity for this unit as 3.
The Escape Mini M181KS has a stall shower and a sink in addition to a toilet. The facilities are also separated from the living space by a door, a feature that's lacking in some smaller rigs.
---
2021 Scamp 16′ Deluxe
| | | | | |
| --- | --- | --- | --- | --- |
| Length | Dry Weight | Fresh Water Capacity | Black Water Capacity | Sleeps |
| 16 ft | 2200 lbs | 12 gals | 9 gals | 3 |
Another model that measures 16 feet in length, the Scamp 16′ Deluxe offers a choice between two floor plans. Both of them have a maximum sleeping capacity of 3, but we think they're better suited for one or two people.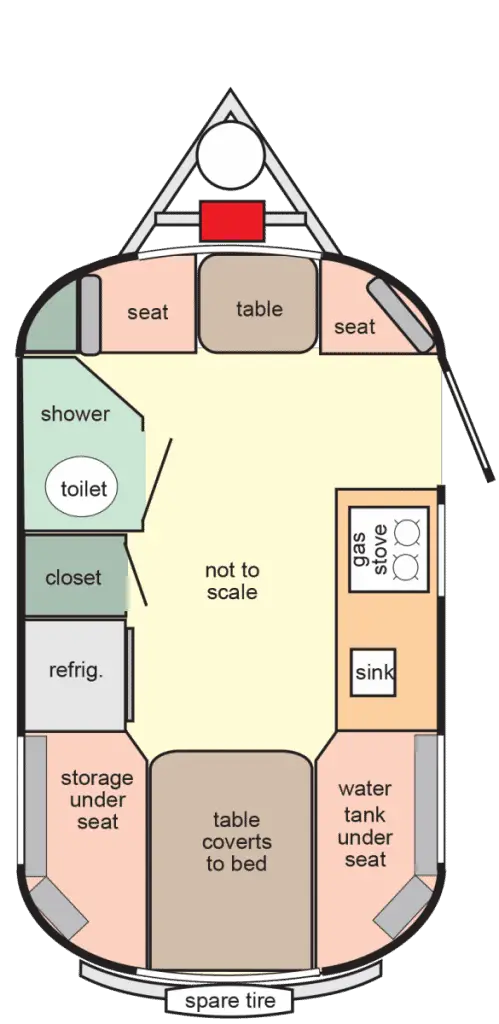 Both layouts include a convertible dinette set, a sink, a gas stove with a two-burner range, and a refrigerator. The refrigerator in layout A is larger and located across from the rest of the kitchen appliances, while layout B's fridge is configured beneath the stove.
Layout A also puts the shower and toilet along the left-hand side of the rig, and a second table and seating area toward the front. The B layout swaps this configuration, putting the toilet facilities in front.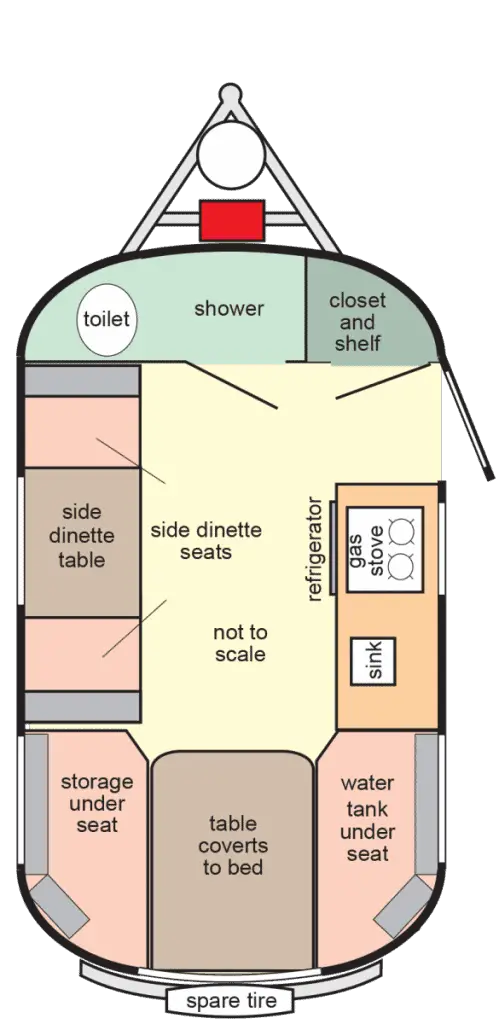 Both layouts are fine, but we think the B version offers more privacy. Note that the only sink is in the kitchen, just like with the Winnebago Micro Mini.
---
2020 Flagstaff E-Pro E15TB
| | | | | |
| --- | --- | --- | --- | --- |
| Length | Dry Weight | Fresh Water Capacity | Black Water Capacity | Sleeps |
| 15 ft 10 in | 2791 lbs | 37 gals | 12 gals | 2 |
One of the best aspects of the Flagstaff E-Pro E15TB is the bedroom configuration. In the rear, you'll find two twin-sized beds that can easily be converted into a king. This makes it a great fit not just for couples, but two singles traveling together who would prefer not to share the same bed.
The shower comes with a "Shower Miser" saver that prevents you from draining the 37-gallon freshwater tank when you're hosing off. We should point out that the toilet is uncomfortably close to the shower, so don't plan on spending a great deal of time in there if you're claustrophobic.
There's a three-burner range on the stovetop, giving this rig additional versatility in the cooking department. A microwave, sink, and refrigerator round out the kitchen appliances. You'll also find a gas grill option outside beneath the 10-foot awning.
---
2021 Little Guy Mini Max
| | | | | |
| --- | --- | --- | --- | --- |
| Length | Dry Weight | Fresh Water Capacity | Black Water Capacity | Sleeps |
| 17 ft 2 in | 2320 lbs | 20 gals | 9 gals | 2 |
Given its smaller stature, we were surprised to learn that the Little Guy Mini Max offers an impressive 6-foot interior height. For a teardrop trailer that can be towed by a mid-sized SUV, this is a great feature.
Like the Flagstaff E-Pro model, this one offers a dinette that can convert to either a queen or a set of twin-sized beds. The two-burner stove is complemented by a microwave for convenience. A 5-cubic foot refrigerator offers enough space for your meat products and a few cold beverages, and the stainless steel sink can be covered with a lid to give you more counter space.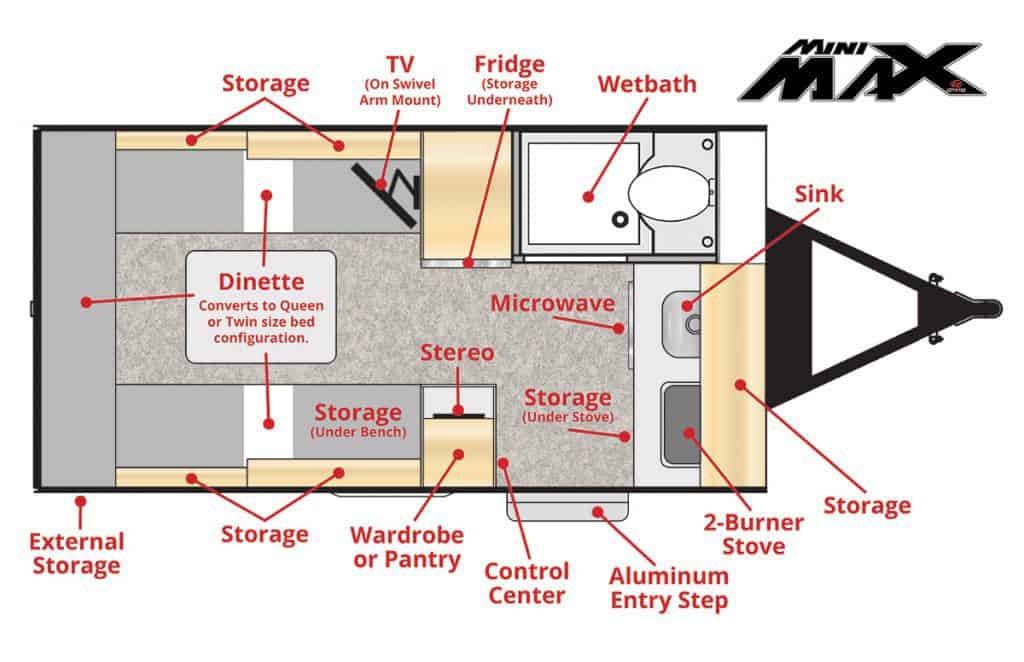 This rig also includes a wetbath with a pedal-flush toilet and a lengthy shower nozzle. Because this is a small travel trailer, the toilet and shower have been combined into one room. Take note of this if you prefer a configuration with a stall shower.
---
2021 Oliver Legacy Elite
| | | | | |
| --- | --- | --- | --- | --- |
| Length | Dry Weight | Fresh Water Capacity | Black Water Capacity | Sleeps |
| 18 ft 5 in | 3700 lbs | 32.5 gals | 18.5 gals | 3 |
Couples and smaller families who like to camp frequently should take a closer look at the Oliver Legacy Elite. The living space consists of two convertible dinettes, which gives you plenty of room to stretch out during the day and a comfortable place to crash at night.
Kitchen appliances include a sink, a microwave, and a stovetop with a sophisticated design. The area is snug, so the cooking duties are best performed by one person at a time. The same is true of the toilet facilities, although the area does include a vanity in addition to a shower.
A 10-foot retractable awning can be found on the Legacy Elite's exterior. Note that this is one of the heavier models on our list, so make sure your vehicle has a decent towing capacity before you decide to buy it.
---
In Conclusion
A full bathroom is a great feature to have at the end of a day spent in the woods. No matter how much you enjoy roughing it, you're sure to appreciate the option of a hot shower before crawling into bed.
Best of luck, and happy camping!
Check out our article on: Ultra Lightweight Travel Trailers Under 2000 Pounds