If you're looking to bring your ATV or dirt bike along on your next camping adventure but don't want to haul a full-sized travel trailer, you might consider a pop up instead.
Yes, it's possible to find a pop up that's also a toy hauler. They're fairly rare, but some of the leading manufacturers have recognized the niche and sought to fill it with some quality models. Here's what you need to know about these great pop up toy hauler campers.
2014 Jayco Baja 12E
2019 Forest River Extreme Sports Package 282TESP
2018 Coachmen Viking V-Trec V3
What Is A Toy Hauler?
These RVs and travel trailers are designed to haul extra cargo. Specifically, they're equipped with a cargo bay or similar accommodation where you can store ATVs, snowmobiles, motorcycles, or other toys for the adventure. The storage area is typically accessed by a ramp and located to the rear of the camper
Some motorhomes are outfitted with cargo bays, but the configuration is more common in travel trailers and fifth wheel campers. Because of the compact nature of pop up campers, the cargo area is situated in the open air.
Types of Pop Up Toy Hauler
Pop ups with hauling capabilities might be uncommon, but they actually come in two different styles. It's important to know which one you're getting, as this information can change the configuration of loading and unloading the gear.
Some pop up toy haulers are designed to hold the toys on top of the folded-down camper. Depending on what you're bringing along, this can be problematic when it comes time to pack up. If you don't want to load the gear on top, look for a model that's designed to tow the toys in front of the trailer.
What To Look For In A Pop Up Toy Hauler
Dry Weight
This is an important consideration for any trailer, but it's particularly vital when you're planning on hauling gear along for the ride. Know your vehicle's towing capacity in advance, and remember to take the weight of your gear into account before making a purchase.
Size of Cargo Area
Obviously, the amount of space you need will be determined by what kind of toys you're planning to bring along. A pair of kayaks, for example, will take up more overall space than a single mountain bike. Check the dimensions of the cargo area against your gear to help you make a decision.
Length
Don't be tempted to buy a pop up that you'll feel uncomfortable towing. It's possible to find pop up toy haulers that measure as little as 12 feet in length. Remember that front-loading toy haulers will be longer than the ones that allow you to store the gear on top. Select one of the top-loading ones if you're concerned about excessive length.
Sleeping Capacity
It won't do any good to haul all your gear along if the camper itself isn't big enough to hold the whole family. Fortunately, manufacturers tend to be very upfront about how many people the unit can hold.
Bear in mind, however, that their numbers might be inflated. Just because a pop up can hold five people doesn't mean they'll be able to do so comfortably. Make sure you understand exactly how large the beds are, and where they're located within the camper.
Best Pop Up Toy Hauler Campers
2014 Jayco Baja 12E
| | | | | |
| --- | --- | --- | --- | --- |
| Dry Weight | Type | Cargo Area | Length | Sleeps |
| 2895 lbs | Front-Loading | 63 x 77 in | 27.5 ft | 8 |
As front-loading pop up toy haulers go, this one is on the larger side, but its size plays a huge role in its sturdiness and reliability. Measuring 27.5 feet in length with a dry weight of 2895 pounds, it's a rig designed for sturdy towing vehicles and drivers who know what they're doing.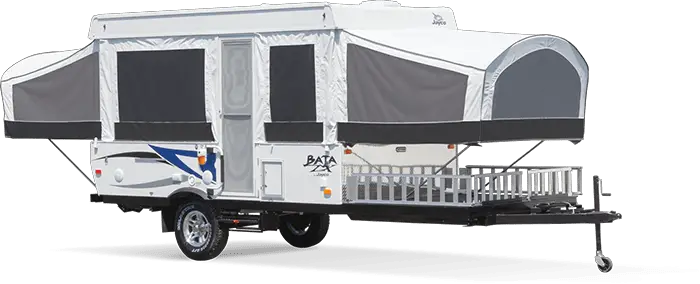 The layout offers two king-sized beds, one on either side of the living space. That makes the Baja 12E a solid option for two couples traveling together. A pullout sofa offers an additional—albeit cramped—sleeping area. There's even a small kitchen with a two-burner stove and sink, adjacent to the built-in latrine.
The Baja 12E has a relatively generous cargo area that measures more than five feet long and nearly six and a half feet wide. It's a front-loading cargo bay, making it a good fit for heavier toys like dirt bikes. If you have any space left over, you can use it to accommodate extra gear and free up elbow room inside your towing vehicle.
---
2019 Forest River Extreme Sports Package 282TESP
| | | | | |
| --- | --- | --- | --- | --- |
| Dry Weight | Type | Cargo Area | Length | Sleeps |
| 3377 lbs | Front and Top-Loading | 105 x 84 in | 30 ft 8 in | 6 |
It's all there in the name: The Extreme Sports Package 282TESP is built to withstand the most rugged outdoor adventures. Weighing in at 3,377 pounds and measuring over 30 feet long, it's capable of hauling whatever toys you'd care to bring along. Just make sure your towing vehicle is up to the job.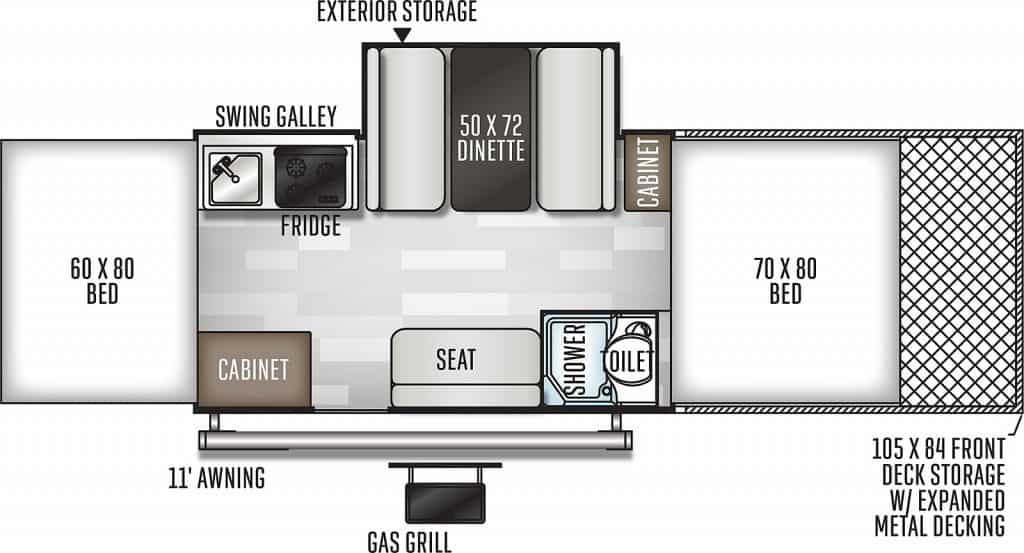 The cargo bay is the star, measuring 8-3/4 feet long and 7 feet wide. Unlike some front-loaders, though, this one has the ability to load gear on top of the folded-down camper as well. If you're looking to haul kayaks or surfboards in addition to your ATV, the 282TESP has you covered.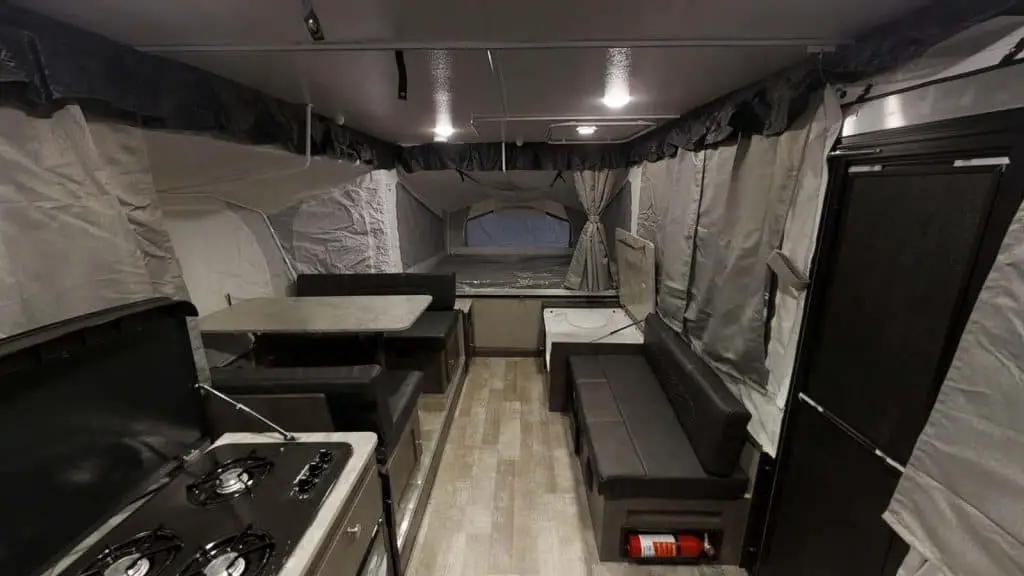 The living space is surprisingly roomy for a pop up, boasting two queen-sized beds in addition to a swing galley with a three-burner stove. The bathroom includes a cassette toilet and a small shower—a rare commodity for this type of camper.
Families who like to enjoy the great outdoors without sacrificing the creature comforts will make years of great memories with this rig.
---
2018 Coachmen Viking V-Trec V3
| | | | | |
| --- | --- | --- | --- | --- |
| Dry Weight | Type | Cargo Area | Length | Sleeps |
| 3065 lbs | Front-Loading | 60 x 60 in | 23 ft 5 in | 7 |
For something more compact, take a look at the Viking V-Trec V3 model from Coachmen. Though the 2018 model is slightly longer than some of the earlier incarnations at over 23 feet, it's short enough for novices to manage easily. It's also surprisingly heavy for its size, with a sturdiness that should boost its longevity.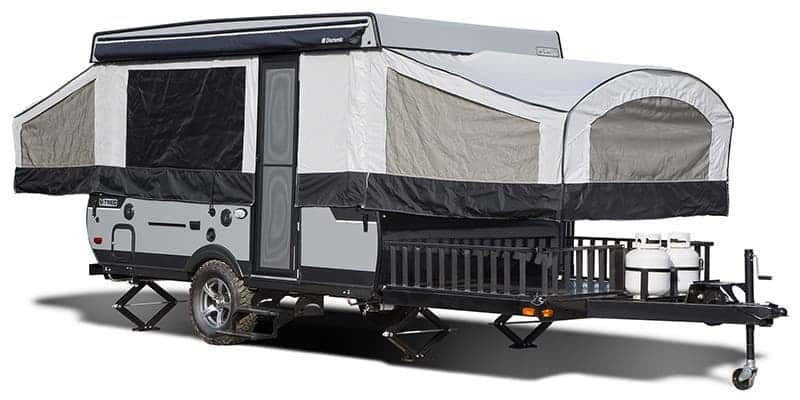 Each end of the camper is outfitted with a king-sized bed, with a slide-out dinette fitting nicely in between. The cabinets provide a generous amount of storage space, and additional gear can be stored beneath the dinette benches. A sink and two-burner range are included in the kitchen area, along with a small refrigerator.
The layout includes a cassette toilet, but not an actual bathroom. That's actually not a bad thing, as it frees up an impressive amount of living space. As for the cargo bay, it measures 60 by 60 inches—not oversized, but certainly large enough to bring everyone's mountain bikes along. If your family is up for rugged camping adventures, they're sure to fall in love with this pop up camper.
---
In Conclusion
Pop up toy haulers are a great compromise for campers who love to rough it, but prefer to bring their own gear along for the ride. Unlike fifth wheels or full-sized travel trailers, they won't dominate the landscape—only provide you with a comfortable place to sleep when you're finished exploring the wilderness.
Best of luck, and happy camping!
Check out our article on: 7 Forest River Toy Hauler Reviews