Looking for a new travel trailer that's both comfortable and dependable? The trailers in Jayco's Jay Flight series have been top sellers for the past 15 years, collecting a slew of devoted followers along the way. Take a look at our list of Jayco Jay Flight Reviews to find out if one of them could be right for you.
2020 Jayco Jay Flight 24RBS
2021 Jayco Jay Flight 28BHS
2021 Jayco Jay Flight 32BHDS
2020 Jayco Jay Flight 33RBTS
2021 Jayco Jay Flight 38BHDS
About The Jayco Jay Flight Series
Jayco offers a variety of floor plans for its Jay Flight series, ranging from simple to luxurious. Each model is equipped with all the comforts of home, but some take the conceit a step further by offering extras, like built-in fireplaces and theater seating. Outdoor kitchens area also available with some units, giving travelers a chance to connect with nature during their adventures.
All of bathroom facilities in these trailers are state of the art, and some are outfitted with tub/shower combinations. Most kitchens offer an open floor plan, with or without a center island or freestanding table. Whether you're a retired couple looking for a place to rest your head after a long day of exploring or a family in need of a bunkhouse layout, you should be able to find a Jay Flight model that suits your needs.
Jayco Jay Flight Reviews
2020 Jayco Jay Flight 24RBS
| | | | |
| --- | --- | --- | --- |
| Length | Dry Weight | GVWR | Sleeps |
| 28 ft 8 in | 5555 lbs | 7500 lbs | 6 |
The ideal unit for couples or small families, the 24RBS is relatively small but feels spacious, thanks to a cleverly designed floor plan.
Step beneath the 15-foot awning and enter the living space, with its maximum interior height of 6 feet 9 inches. To the right, you'll encounter the master bedroom, offering a queen-sized bed flanked by wardrobes and windows on either side. In the living area, a sofa and U-shaped dinette form an L configuration, giving the space a cozy, conversational feel. The entertainment center is located across from the sofa and is easy to view from all angles.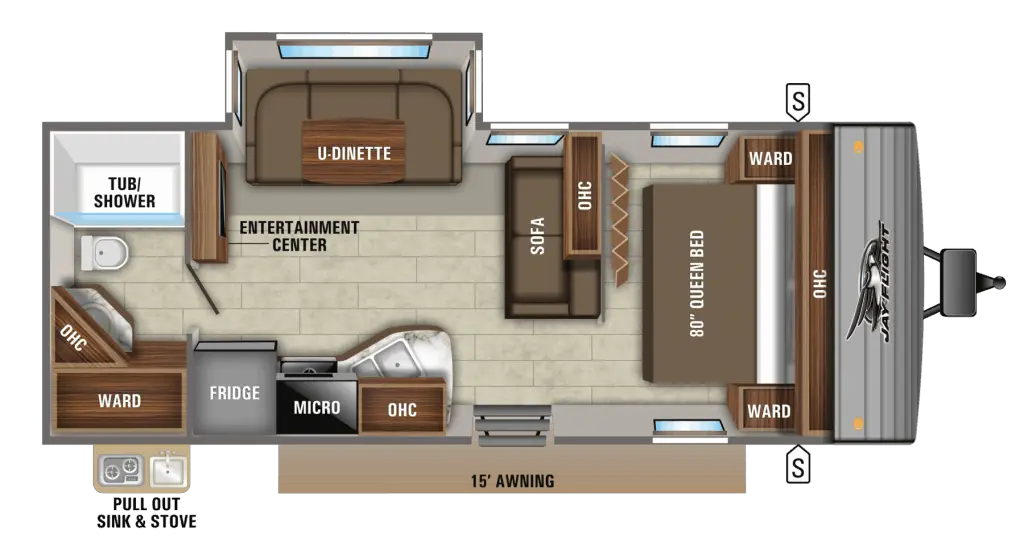 Kitchen facilities include a refrigerator, microwave, double sink, and stove with three-burner range. Counter space is mainly dominated by the sink, but if you place a large cutting board over the gap, you should have plenty of room. An additional pull-out sink and stove are located outside, to the rear of the trailer.
Despite the trailer's relatively diminutive size, the bathroom offers a tub/shower combination. The bathroom sink is situated just outside the door, so one person can brush their teeth while another is in the shower.
We should point out that the rear-bath configuration might be off-putting to couples who would prefer better access to the facilities from the master bedroom. If you have children or guests sleeping on the sofa or convertible dinette, however, the layout is convenient to everyone.
---
2021 Jayco Jay Flight 28BHS
| | | | |
| --- | --- | --- | --- |
| Length | Dry Weight | GVWR | Sleeps |
| 33 ft 4 in | 6765 lbs | 8850 lbs | 10 |
With a rear bunkhouse containing a double set of bunk beds, the 28BHS is a good pick for families with older children. It also offers more floor space than the 24RBS, measuring over 33 feet in length.
The main entrance is located toward the rear, just to the right of the double bunk combination. Just across from this doorway is the bathroom, with a stall shower, sink, toilet, and storage unit. The bathroom area is spacious and easily accessible, although the occupants of the bunk beds might object to its close proximity.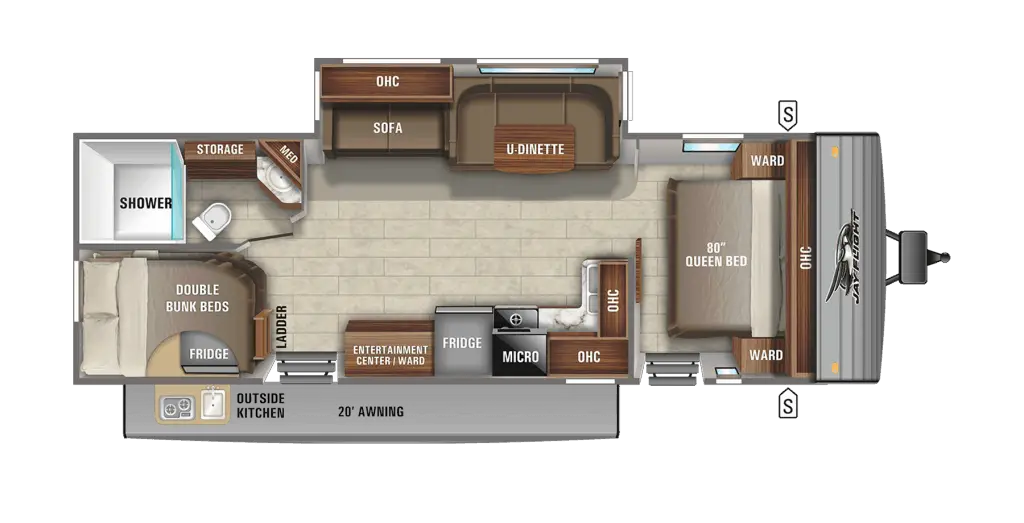 Exiting the bathroom, you enter the main living space. A sofa and U-shaped dinette face the entertainment center, which is equipped with a built-in wardrobe.
In our opinion, the kitchen facilities are the best reason to consider investing in the 28BHS. Configured in an L-shape, it offers a three-burner range, microwave, refrigerator, and double sink, as well as ample storage for dry goods and spices. There's enough counter space to prepare all your favorite recipes in style and comfort. With the TV located on your right-hand side, you can even keep an eye on the news as you cook. An outdoor kitchen with sink and two-burner range is also available, just to the left of the main entrance.
A second entrance leads to the master bedroom, which is narrow but adequate, with a queen-sized bed and twin wardrobes. The room feels slightly cramped, but a pair of windows provide it with extra light, and a sliding pocket door helps to offset the space issue. We're especially fond of the private entrance, which allows you to tiptoe in late at night without disturbing the rest of the "household."
---
2021 Jayco Jay Flight 32BHDS
| | | | |
| --- | --- | --- | --- |
| Length | Dry Weight | GVWR | Sleeps |
| 36 ft 2 in | 8010 lbs | 9995 lbs | 10 |
Families who need to pack in a lot of people are sure to appreciate the 32BHDS model. Although this is a large trailer with a maximum sleeping capacity of 10, the space manages to offer privacy in addition to comfort.
The main entrance, located beneath the 18-foot awning, is situated just to the left of the master bedroom. A queen bed dominates this space, but there are small wardrobes located on either side. You can also access the main living space from either side of the bed, which is good news for couples with differing sleeping habits.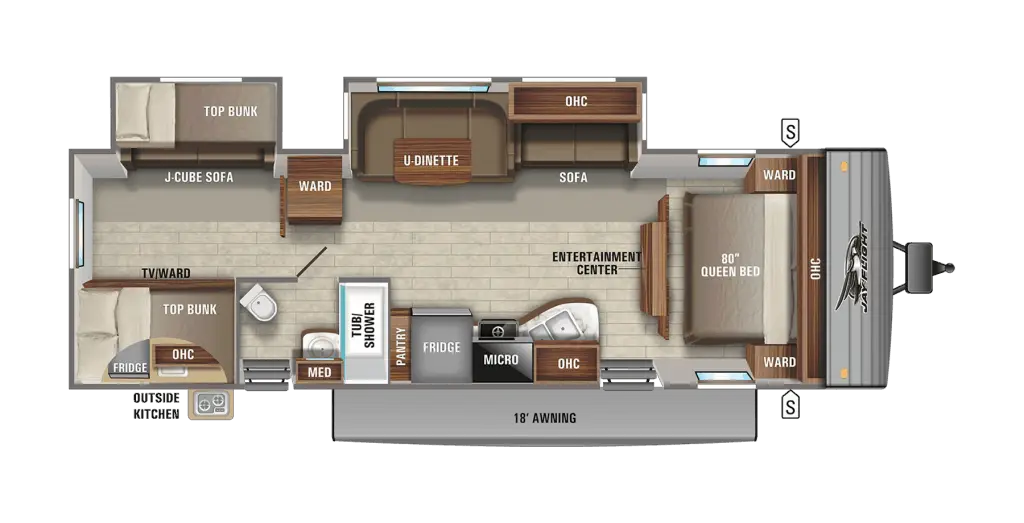 On the outer wall of the main bedroom is the entertainment center, which can be viewed easily from the rest of the living area. The sofa and U-shaped dinette are located side by side, making conversation a bit awkward if they're both maxed out.
These seating areas also flank the galley-style kitchen, whose facilities include a refrigerator, microwave, corner sink, three-burner range, and small pantry. Outside, toward the back of the trailer, you'll find an additional two-burner range and refrigerator. This outdoor fridge is a great perk if you like to keep a few extra cold ones close at hand when you're enjoying the sunset.
Through a second rear entrance, you can access the bathroom, complete with a tub and shower combination. There's also a rear bunkhouse with a set of double bunk beds, a TV/wardrobe combo, and a second single bunk set atop a J-cube sofa. The bunkhouse can feel cramped if it's packed to the gills, but the large window, equipped with a generous amount of floor space, help to brighten things up.
---
2020 Jayco Jay Flight 33RBTS
| | | | |
| --- | --- | --- | --- |
| Length | Dry Weight | GVWR | Sleeps |
| 37 ft 8 in | 8733 lbs | 10,950 lbs | 11 |
The 33RBTS represents a step up in the luxury department. The large entertainment center includes a fireplace option, and a center island lends grace and distinction to the main living area. There's also an outdoor kitchen, complete with refrigerator, sink, and two-burner range.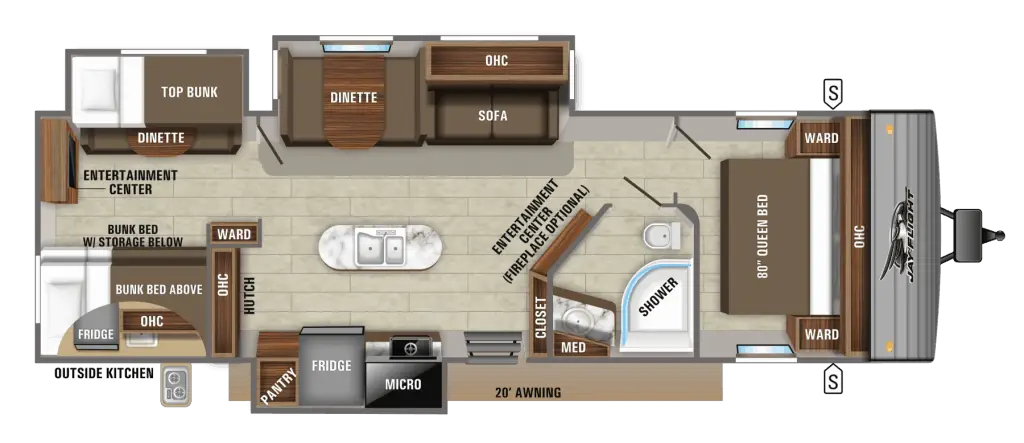 As you enter, you'll be greeted by that entertainment center/fireplace combo, with the dinette and sofa located conveniently across the room. However, we should point out that the configuration of the dinette means that some of the occupants will have their backs to the TV.
To the left is the kitchen, with a three-burner range, refrigerator, microwave, and pantry. The island is situated in the center of the living space and includes a double sink and plenty of counter space.
As with the rest of the trailers in this series, the master bedroom includes a queen-sized bed and two wardrobes, as well as a window on either side of the bed. The bathroom is located just outside, though it can be accessed from the living area just as easily. Facilities include a stall shower, toilet, and sink.
The rear bunkhouse is practically an apartment unto itself. One bunk features a lower storage unit, while the other is situated above a second dinette area. The room also has its own entertainment center, as well as a small wardrobe. Larger groups who don't like to miss out on their screen time will find plenty to love about the 33RBTS.
---
2021 Jayco Jay Flight 38BHDS
| | | | |
| --- | --- | --- | --- |
| Length | Dry Weight | GVWR | Sleeps |
| 40 ft 6 in | 8440 lbs | 10,950 lbs | 12 |
Take a look at the 38BHDS if none of the other models are quite large enough for your taste. Measuring over 40 feet in length, this unit sleeps up to 12 people and features a floor plan that's convenient for the whole family.
The main bedroom is located in the rear, accessed through the unit's only entrance. While some might find this configuration off-putting, it's actually a plus if Mom and Dad tend to retire much later than the kiddos. A huge dresser and wardrobe round out the master bedroom, which is roomy enough to dance around in.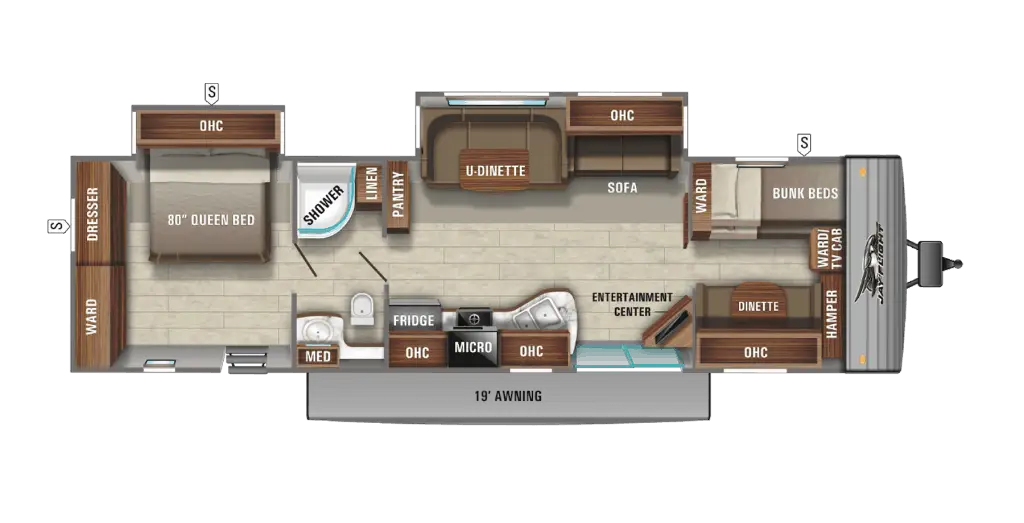 The bathroom facilities are sandwiched between the master bedroom and the living area, but separated by a narrow hallway. On one side are the toilet and sink, with the shower and linen closet taking up residence across the hall. This layout allows two people to get ready at once, with sufficient privacy on both sides.
The galley-style kitchen includes a double sink, three-burner range, refrigerator, and microwave. A small pantry can be found alongside the U-shaped dinette, which is situated beneath a broad window. The snug sofa seats two people and faces the entertainment center, which is tucked into a corner beside two more windows.
A bunkhouse with twin bunks can be found toward the front of the trailer. This area also includes a second dinette and plenty of storage, including a hamper, which is a nice touch. While this unit has no outdoor kitchen, a 19-foot awning provides plenty of shade.
---
The Bottom Line
Now that we've gone through the specifics, is there a clear standout on this list?
It's hard to say. The 24RBS has generous bathroom facilities, but it might not offer enough space, especially if you like to prepare fancy meals while camping. On the other hand, the 38BHDS can sleep a lot of people, but there's no fireplace or full-sized bathtub, which could be a turnoff for die-hard glampers.
The other three floor plans have perks and drawbacks of their own—it's up to you to decide which one would best suit your family's needs.
Best of luck, and happy camping!
Check out our article on: Best Travel Trailer With Quad Bunks? (5 Examples)