Adventure-seeking families would do well to invest in a travel trailer that can comfortably accommodate the entire crew. Unlike tent camping, which is a turnoff for some people, traveling with a camper trailer provides the perfect combination of freedom and accessibility.
For families of four to six people, a quad bunkhouse configuration is likely the best bet. Here are our picks for the best travel trailer with quad bunks.

What Does "Quad Bunks" Mean?
A travel trailer with a quad bunk configuration will typically feature a sleeping area with two sets of bunk beds. Often, the layout will also include a separate sleeping area with a full- or queen-sized bed as well. Also referred to as a "bunkhouse layout," this configuration is exceptionally popular with large groups.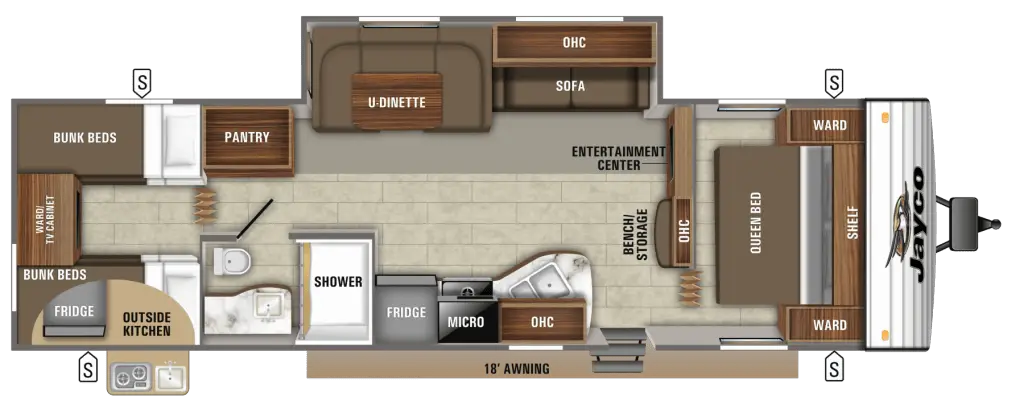 How Do You Decide Which Is The Best Travel Trailer With Quad Bunks?
What should you look for in a travel trailer with a quad bunk layout? Some of the criteria match what you should look for in every camper: quality, value, and convenience. Here are a few key features that are unique to the bunkhouse configuration.

Separate Bunk Areas
With travel trailers and fifth wheels, the bunk beds are typically located in one or two separate rooms, sometimes with slide-outs to make the areas more spacious. That's what sets these units apart from other motorhomes that put the bunk beds right smack in the middle of the common living space.

Storage Space
Even if everybody has enough room to sleep, there might not be space for all of their belongings. Make sure there's sufficient storage beneath the bunks for stowing gear.

Interior Height
Although we would prefer it if all travel trailers could boast a generous interior height, it's crucial if you're traveling with four or more people. Low ceilings make the space feel cramped as it is–add in a few extra bodies, and you'll be surprised at how quickly the charm wears off.

Best Travel Trailer With Quad Bunks: Product Review Guide
2019 Jayco Jay Flight 32 TSBH
Specs:
Length: 35 feet, 2 inches
Height: 11 feet, 2 inches
Width: 8 feet
Dry Weight: 8,625 pounds
Sleeps: 11
Fresh Water: 80 gallons
Gray Water: 32.5 gallons
Black Water: 39 gallons
Awning Size: 18 feet
The Jayco Jay Flight features a front bedroom with an 80-inch mattress for Mom and Dad, with a separate bunkhouse located in the rear of the trailer.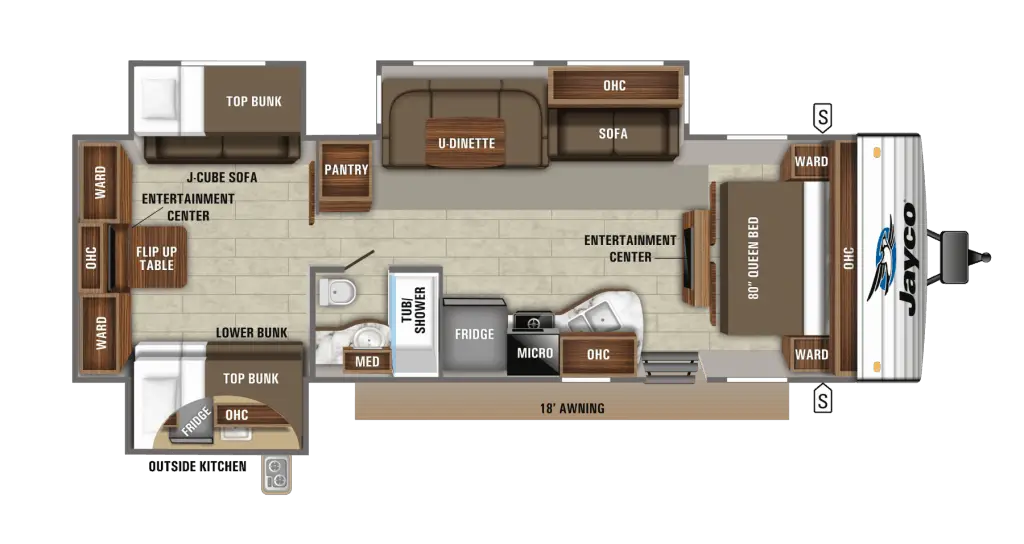 The bunks are situated in two slideouts, with one that converts from a J-cube sofa with another bunk overhead. This bunkhouse contains its own entertainment unit, but the TV isn't included–you'll have to mount one yourself.
This is a spacious unit with tons of storage space. The well-appointed bathroom has a skylight and both an indoor and outdoor shower. Measuring 36 feet 2 inches in length, it's large enough for big families but not too difficult to maneuver.
---
2018 Highland Ridge Open Range Roamer
Specs:
Length: 34 feet
Height: 12 feet, 9 inches
Width: 8 feet, 3 inches
Dry Weight: 9,657 pounds
Sleeps: 9
Fresh Water: 50 gallons
Gray Water: 62 gallons
Black Water: 31 gallons
Awning Size: 19 feet
This unit offers four slideouts that are easy to manipulate, giving you extra space with a minimum of hassle. We're especially fond of the lack of carpeting, which makes the floors much easier to clean, even if you bring the four-legged members of your family along.
The bunkhouse is located in the rear of the trailer and features a dinette area that can be converted into a bunk, with another one overhead. The two bunks on the opposite side come equipped with storage drawers, and the lower bunk converts into a couch for daytime.
The master bedroom with queen-sized bed is accessed through French doors–a nice touch. A lounger in the living area can be converted into a queen-sized bed, meaning that this unit can sleep up to nine people.
---
2019 Palomino Puma 31DBTS
Specs:
Length: 34 feet, 4 inches
Height: 11 feet, 1 inch
Width: 8 feet
Dry Weight: 8,363 pounds
Sleeps: 9
Fresh Water: 51 gallons
Gray Water: 35 gallons
Black Water: 32 gallons
Awning Size: 18 feet
The master bedroom and bunkhouse are located on opposite ends of this sizable trailer, offering plenty of privacy for both kids and parents.
One of the lower bunks is converted from a Jiffy sofa, and a built-in entertainment system gives the bunkhouse a cozy and appealing vibe. There's also a sofa located next to the U-shaped dinette, allowing the whole family to gather together.
The Puma 31DBTS measures just over 36 feet long, which is impressive considering how roomy it appears once you're inside. The one thing we're not too thrilled about is the carpeting, which is more difficult to maintain than in some comparable models. If you decide to go with this travel trailer, make sure to pack a travel vacuum.
---
2018 Prime Time Tracer Breeze 31BHD
Specs:
Length: 34 feet, 6 inches
Height: 10 feet, 7 inches
Width: 8 feet
Dry Weight: 6,300 pounds
Sleeps: 10
Fresh Water: 48 gallons
Gray Water: 30 gallons
Black Water: 30 gallons
Awning Size: 19 feet
The Tracer Breeze 31BHD has a GVWR of 6,300 pounds, making it slightly heavier than most of our other listings. Still, for a bunkhouse-style travel trailer, it's still relatively lightweight.
The bunkhouse is located in one of the two slideouts, with three standard-sized bunks and one slightly larger one with additional storage space beneath it. There's plenty of shelf space, and the screened windows and ceiling vent help to keep the space from feeling too stuffy.
Kitchen and bathroom areas are both well-appointed, with state-of-the-art features and creative lighting. The master bedroom offers a queen-sized bed with foam mattress, along with a spacious wardrobe.
---
2019 Forest River Cherokee Grey Wolf 29TE
Specs:
Length: 33 feet
Height: 10 feet, 5 inches
Width: 8 feet
Dry Weight: 5,960 pounds
Sleeps: 10
Fresh Water: 46 gallons
Gray Water: 38 gallons
Black Water: 38 gallons
Awning Size: 15 feet
The rear bunkhouse in the Cherokee Grey Wolf 29TE offers four bunks, and both the dinette and sofa can be converted into beds as well, which brings its total sleeping capacity up to 10.
The master suite contains a queen-sized bed with twin nightstands and a pair of wardrobes for additional storage. We love the fact that the master bedroom has private access to the dual-entry bath, so there's no need to walk through the living space for late-night trips to the toilet.
The trailer itself offers two entry doors as well, giving it an especially residential feel. An abundance of cabinets and outdoor storage compartments allows you to bring along as much gear as you like.
There's even an outdoor kitchen for family cookouts, and an outdoor shower to allow you to fully experience the wilderness. Best of all, with a generous interior height of 78 inches, you won't have to worry about bumping your head against the ceiling.
---
In Conclusion
All of the units on this list are comfortable and well-appointed, and suitable for families of six–sometimes more. For larger groups, or people who just want a little extra space to spread out, we would heartily recommend the Forest River Cherokee Grey Wolf 29TE.
Not only does it contain enough storage space to accommodate a whole baseball team, it includes nifty features like a bathroom skylight and farmhouse-style sink in the kitchen to give it that homey feel.
Best of luck, and happy camping!
Check out our article on: 13 Eco-friendly RVs: Evaluating Fuel Efficiency and Green Features