A toy hauler can add a fresh element of fun to your outdoor adventures. When you're able to bring goodies like ATVs, dirt bikes, jet skis, or snowmobiles along for the ride, you're opening the door to a whole new world of possibilities.
If you're worried that your driveway or side yard might not have enough room to accommodate one of these giants, fear not. There are travel trailers on the market that are large enough to hold all your cargo, yet small and lightweight enough to make for easy driving.
2020 Jayco Octane Super Lite 209
2020 KZ Escape E180TH
2019 Cruiser RV Stryker ST-2313
2019 Forest River No Boundaries NB10.6
2020 Grand Design Momentum G-Class 21G
How To Choose The Best Toy Hauler Travel Trailer
So, you've determined that you're looking for a fairly compact model—one that measures under 30 feet in length. That's a tall order, but these units do exist. The question is, what other features should you keep an eye out for? Here's a list to help you narrow down your options.
Dry Weight
The dry weight of a travel trailer refers to how much the unit weighs before any cargo, gear, passengers, fuel or other fluids are added. The dry weight is similar to the unloaded vehicle weight (UVW), except that the latter typically includes the weight of a full fuel tank and fresh water tank (see Tank Capacity, below).
Knowing the dry weight is important because you don't want to overtax your towing vehicle. Remember—a lighter unit will be able to hold more toys and equipment, as long as the cargo area is large enough to accommodate them.
Exterior Height
Once you've determined that the trailer should be fewer than 30ft in length, it's time to consider the exterior height of the rig. The maximum allowable height for RVs and travel trailers varies depending on which state you're in, but 13 feet 6 inches is the limit for most regions. It's a good idea to check the local regulations before setting out on multi-state trips, just in case.
For your convenience, we've included the exterior height measurements for each featured trailer in our Product Review Guide below. However, be aware that these numbers refer only to the height of the trailer itself, and don't allow for extras like air conditioners or roof racks. If you're planning on installing one of these extras, try to find a unit that has a lower-than-average profile to begin with.
Tank Capacity
Travel trailers with kitchen and/or bathroom facilities will be outfitted with a fresh water tank. This tank is used to hold clean water that can be used for washing dishes, showering, cooking, and even drinking (as long as the tank receives proper maintenance).
The size of the fresh water tank is largely dependent on the sleeping capacity of the trailer (see Maximum Sleep Count, below). Since you're in the market for a trailer that measures below 30ft in length, there's a good chance that this tank will have a relatively low capacity—say, 30 to 50 gallons.
If the trailer has a bathroom, there should also be a black water tank included. This tank is used to hold the waste water from the toilet—and sometimes the shower and sink, if there's no gray water tank available. A large black water tank is convenient for rigs that sleep a lot of people, but it's in your best interests to empty the tank as often as possible.
Maximum Sleep Count
How many people will be coming along on your camping expeditions? Will it just be you and a partner, or do you have a large family? Is there any chance you'll be inviting friends to join you from time to time?
The answers to these questions should help you decide which toy hauler will best suit your needs. When in doubt, opt for a rig that can comfortably sleep more people than you expect to bring. It's better to have too much space than not enough.
One other suggestion: Pay attention to the size of the bed in the main sleeping area. If you're used to a king-sized bed and the unit is just large enough to accommodate a full, you could be in for some uncomfortable nights.
Bonus Features
When it comes to travel trailers in general, you'll have no shortage of extras to choose from. Some of the goodies you might encounter include:
Outside grill or cooking station
Wi-Fi booster
USB docking ports
LED lights
Outdoor speakers
Retractable awning
Before you shell out the cash, think carefully about whether you're likely to take advantage of these bonus features on a regular basis. A well-appointed outdoor patio and grilling station with a fabulous awning and LED lighting will look awfully impressive in the showroom, but it might seem somewhat out of place in the wilds of Wyoming. Keeping a realistic image of your lifestyle will help you to choose the unit that's right for you.
Product Review Guide
2020 Jayco Octane Super Lite 209
| | | | | | |
| --- | --- | --- | --- | --- | --- |
| Length | Dry Weight | Height | Fresh Water Tank | Black Water Tank | Sleeps |
| 25 ft 3 in | 5520 lbs | 11 ft 4 in | 53.2 gals | 45.4 gals | 6 |
If it's luxury and convenience you're after, then the Octane Super Lite 209 could be just the ticket. Despite its relatively small size—it measures just over 25 feet in length—this trailer combines the comforts of home with the instant gratification of a mobile garage.
The sleeping area is well-appointed, with a queen-sized bed and wardrobe. The bathroom is pocket-sized, but nonetheless equipped with a tub and shower in addition to the toilet and sink. Kitchen amenities include a two-burner range, a double sink with cutting board cover, and a conveniently located refrigerator. There's also a USB charging port for keeping cell phones and laptops in working order.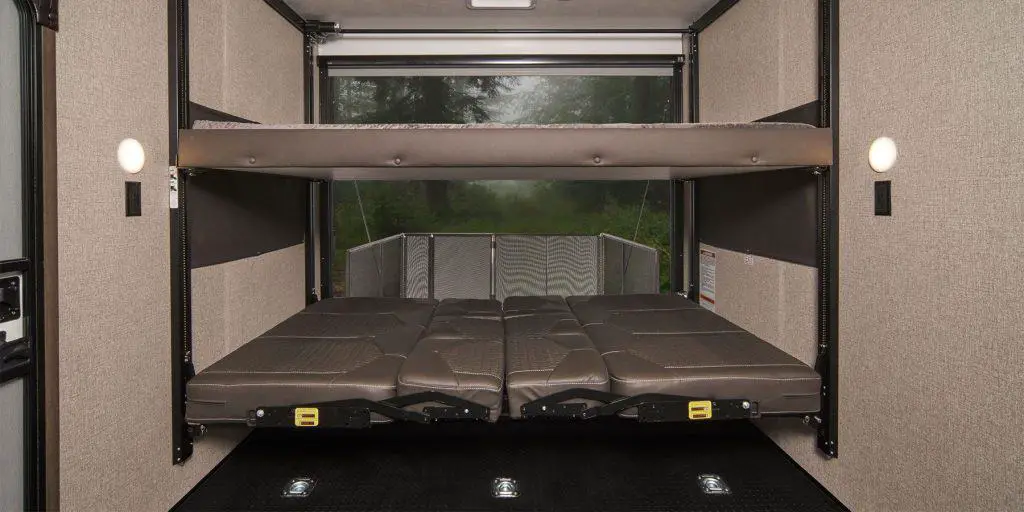 LED lights can be found on both the interior and exterior of this unit, which sleeps a maximum of six people. The cargo area measures eight and a half feet long and comes with a seven-foot spring-assisted ramp for easy loading and unloading.
Considering the generously appointed bathroom area and the fact that the rig sleeps six people, we think the fresh water tank could be a tad larger, but that's a minor quibble. The Octane Super Lite 209 is an attractive and functional model with a ton of potential.
---
2020 KZ Escape E180TH
| | | | | | |
| --- | --- | --- | --- | --- | --- |
| Length | Dry Weight | Height | Fresh Water Tank | Black Water Tank | Sleeps |
| 21 ft 6 in | 3,210 lbs | 8 ft 11 in | 38 gals | 32 gals | 5 |
The KZ Escape E180TH has a fiberglass sidewall construction and lightweight aluminum body that makes it easier to create extra space for the equipment you'll be bringing along. Although it might not be large enough to accommodate larger recreational products like jet skis, it's perfect for transporting bicycles, kayaks, and surfboards.

The cargo bay measures nine feet long, with a six-and-a-half foot ramp. There's a miniscule sleeping area with a bed that's just barely large enough for two, along with an overhead cabinet and pass-through storage area.
The bathroom sits adjacent to this area and includes a shower and toilet, but no sink. To wash your hands, you'll have to adjourn to the kitchen area, which is also equipped with a two-burner stove and refrigerator. A flip-out sofa rounds out the sleeping accommodations.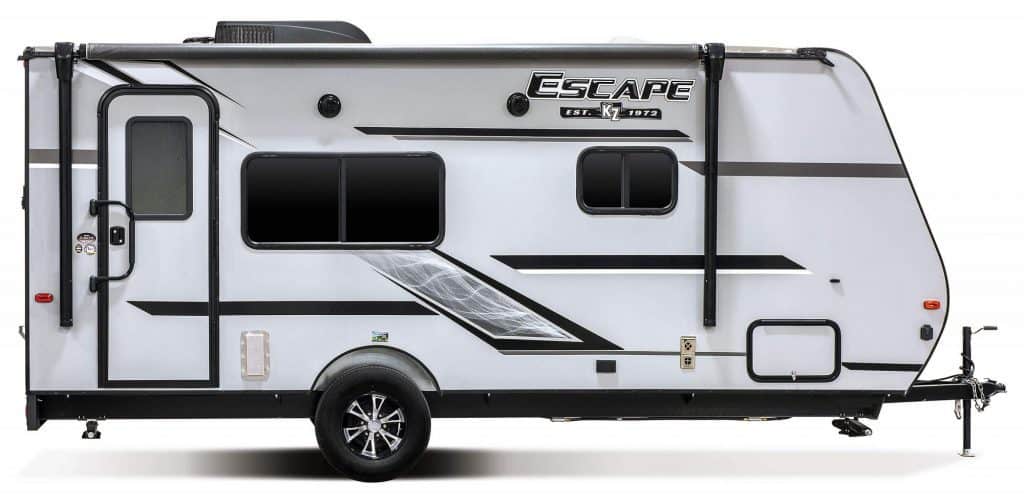 The E180TH has a 13-foot retractable awning, giving the exterior a boost in the aesthetic category. That's a huge plus, because the interior can seem a trifle cramped, especially if you try to bring along the five people that KZ claims as the unit capacity. If you buy this rig, we would recommend limiting the party to two or three people.
---
2019 Cruiser RV Stryker ST-2313
| | | | | | |
| --- | --- | --- | --- | --- | --- |
| Length | Dry Weight | Height | Fresh Water Tank | Black Water Tank | Sleeps |
| 27 ft 6 in | 6451 lbs | 12 ft 9 in | 98 gals | 30 gals | 6 |
This unit is designed for outdoor enthusiasts who want to put equal emphasis on both the toys and the living accommodations. In our opinion, it succeeds in both regards.
The interior is characterized by LED lighting, designer accent walls, and cabinet doors with hardwood frames. The vaulted ceiling gives it a roomy feel, despite the fact that its exterior height comes in below the 13.5-foot average. The king-sized bed in the main sleeping area is sure to contribute to a good night's rest after a day spent four-wheeling or kayaking.
The kitchen is both attractive and functional, with an eight-foot cubic refrigerator and a high-rise faucet in the sink. The LED lighting on the patio, USB charging port, and solar prep keep the Stryker on the cutting edge, technology-wise. And the cargo bay measures a whopping 13.4 feet long, making it one of the most generously appointed garage spaces on our list.
Because we like to have the option of boon-docking (that is, parking in one spot without access to water or electrical hookups), we love the generous 98-gallon fresh water tank and 30-gallon black water tank on this rig. Although it's among the longest models on our list, we think it's well worth the expense as long as your towing vehicle can accommodate the extra weight.
---
2019 Forest River No Boundaries NB10.6
| | | | | | |
| --- | --- | --- | --- | --- | --- |
| Length | Dry Weight | Height | Fresh Water Tank | Black Water Tank | Sleeps |
| 13 ft 10 in | 1763 lbs | 7 ft 5 in | 30 gals | None | 2 |
At just under 14 feet, this is one of the smallest and most lightweight models on our list. Because it can only comfortably sleep a maximum of 2 people, it's not a good choice for families. For singles and couples, however, it's worth a closer look.
Maneuverability is the best reason to invest in the NB10.6. This low-profile trailer is easy to tow and even easier to park, even if you tend to frequent crowded RV parks. It measures just 7 feet 5 inches tall, so you won't have to worry about clearance, even if you install a rooftop air conditioning unit. Even better, it has a dry weight of just 1763 pounds, so it could conceivably be towed by a medium-duty truck or SUV.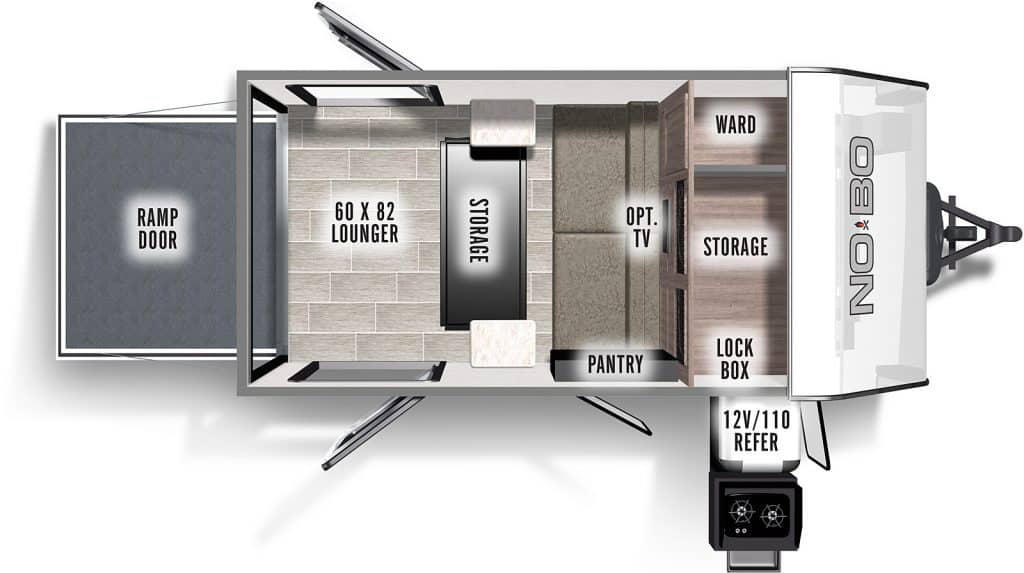 Of course, this reduced weight and size comes at a price, figuratively speaking. Unlike most of the units listed here, the NB10.6 is designed mainly as a storage unit for the accessories you'll be bringing along. The living space resembles a glorified tent, with a couple of cushioned seats that can be converted into a queen-sized bed for sleeping.
There are no bathroom facilities, and the kitchen appliances are optional and must be purchased separately. The garage space can only hold small recreational equipment, such as motorbikes and stand-up paddleboards. That said, if you're looking for a basic trailer that can pull double duty as a place to sleep, this unit has the tools for the job.
---
2020 Grand Design Momentum G-Class 21G
| | | | | | |
| --- | --- | --- | --- | --- | --- |
| Length | Dry Weight | Height | Fresh Water Tank | Black Water Tank | Sleeps |
| 26 ft 11 in | 6370 lbs | 12 ft 1 in | 100 gals | 39 gals | 6 |
The Momentum G-Class 21G is another luxury option, especially when the toys have been unloaded. Because of its clever configuration and a number of thoughtful design touches, it's even suitable for travelers who don't plan on bringing a ton of gear along with them.
The raised floor of the garage area has the effect of enlarging the cargo space, despite the fact that the unit measures just over 26 feet long. When the recreational equipment is out of the way, the cargo bay can be reconfigured into a seating area, with the ramp pulling double duty as a patio. It's also possible to remove the sofas entirely to provide more space for the recreational accessories.
The master bedroom is outfitted with a comfortable queen-sized bed, twin nightstands, and two USB charging outlets. The headboard is tucked into a slide-out, which makes the space seem deceptively larger. An adjacent bathroom offers a large shower and overhead skylight, in addition to the flush toilet and sink. This bathroom can be accessed from either the living room or the master bedroom.
The 21G also includes a kitchen area with stainless steel sink, three-burner range, oven, microwave, and a double-door refrigerator. All of the appliances are state-of-the-art and very attractive. Because the unit can sleep up to six people, the 100-gallon freshwater tanks comes in especially handy. We think this offering is the ideal choice for large families or groups of outdoor-loving friends traveling together.
---
The Bottom Line
Which rig should you choose? That depends largely on the type of gear you'd like to bring, the size of your party, and your comfort level when it comes to towing a large trailer.
Of the units listed here, however, we find that the Grand Design Momentum G-Class 21G offers the best of both worlds.
It comes equipped with a roomy cargo bay, the master bedroom is cleverly designed, and the comfortable living space offers all the amenities you'll require—and perhaps a few extras you hadn't thought of. In short, it delivers on every level we can think of.
Best of luck, and happy camping!
Check out our article on: Forest River Toy Hauler Reviews