Camping is more than just a hobby—it's a series of adventures. Why not liven things up by bringing along a few accessories to help you make the most of your time outdoors?
For this roundup, we've chosen five top-notch toy haulers for you to choose from. Since every rig is different, we'll lay out specific details about the floor plans to help you make an informed decision.
Thor Outlaw 38MB
Thor Outlaw 37GP
Thor Outlaw 38KB
Newmar Canyon Star 3921
Newmar Canyon Star 3927
About Class A Toy Haulers
If you're wondering what sets this class of motor home apart from the rest, don't worry. The difference is fairly simple, and it has nothing to do with quality.
Defining the Classes
"Class-A" refers to the kind of motorhome that looks like a long tour bus. The design is streamlined, meaning you can't tell from the outside where the cab ends and the living space begins.
By contrast, the C designation refers to a motorhome that features a cab-over profile, with a sleeping area that juts out over the cockpit. These are generally smaller than their class-A counterparts. B models are even smaller, resembling overgrown minivans.
Once you've learned the difference, you should be able to tell what kind of motorhome you're looking at from a single glance.
What Is A Toy Hauler?
Now that you understand the difference between the classes, let's talk about toy haulers.
Toy haulers are campers that are designed to carry recreational equipment. Examples may include kayaks, jet skis, snowmobiles, or four-wheelers. These campers are equipped with a special garage area for holding all your favorite "toys."
You'll find plenty of toy haulers in classes C and A. The configuration is also available in fifth wheels and other camper trailers.
However, there's no such thing as class B toy haulers. If you're looking specifically for this type of rig, then you should scratch B models off your list.
5 Amazing Class A Toy Hauler Floor Plans
Thor Outlaw 38MB
| | | | | | | | |
| --- | --- | --- | --- | --- | --- | --- | --- |
| Length | Width | Height | GVWR | Cargo Area | Fresh Water Tank | Black Water Tank | Sleeps |
| 39 ft 9 in | 8 ft 5 in | 13 ft 4 in | 26,000 lbs | 10 ft 2 in | 150 gals | 40 gals | 8 |
As a brand, Thor has basically cornered the market on class A toy haulers. Let's start by taking a look at the Outlaw 38MB.
This model offers a rear bedroom with queen-sized bed, optional jackknife sofa, and drop-down bunk. There's also a 39-inch TV located in this space. The bedroom sits over the cargo bay area, which measures 10 feet 2 inches long.

A second sleeping area with another queen bed can be found just outside the master bedroom. This space also includes a wardrobe and a 32-inch television, so everyone can drift off to whatever programming they prefer.
Kitchen space is ample, including a corner sink, microwave, residential-sized refrigerator, and stovetop. The bathroom facilities face the kitchen, with a pocket door for privacy. A sink, shower, and toilet are all located within this space, which is smaller than you might expect from an RV this size.
Rounding out the interior is a sizable living space with dinette, sofa, and optional drop-down bunk. There's a coffee table in between the driver's seat and the passenger side, giving the cockpit a nice homey vibe.
---
2018 Thor Outlaw 37GP
| | | | | | | | |
| --- | --- | --- | --- | --- | --- | --- | --- |
| Length | Width | Height | GVWR | Cargo Area | Fresh Water Tank | Black Water Tank | Sleeps |
| 38 ft 9 in | 8 ft 5 in | 13 ft 3 in | 26,000 lbs | 10 ft 2 in | 150 gals | 43 gals | 8 |
For a motor home that offers just as much outdoor living space as indoor, consider the Thor Outlaw 37GP. In addition to an excellent floor plan, this unit offers two patio decks—one to the rear of the unit, and another alongside the garage area.
The roomy cockpit is accented by a coffee table for those morning fueling sessions. Just behind it are an expanding sofa and two removable pedestal tables, facing a 50-inch LED television set. There's a drop-down bunk located in this area as well, which helps to boost the sleeping capacity.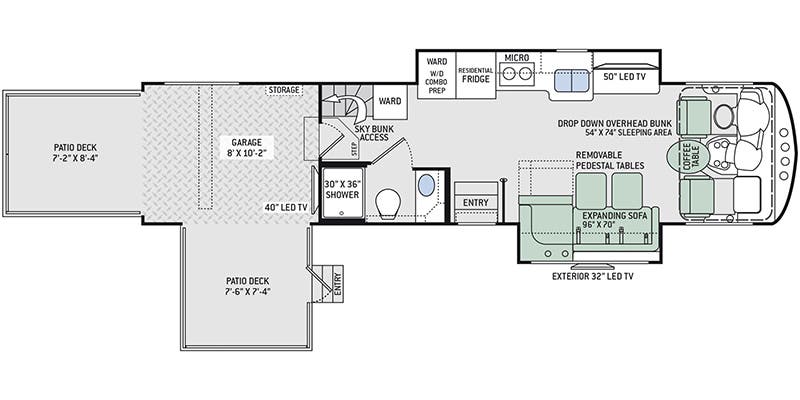 Just across from the entryway, you'll find the galley-style kitchen area. Appliances include a residential fridge, microwave, two-burner range, and double sink. The area isn't that large, but there's enough space for you to prepare a decent meal.
Before you exit onto the rear patio, you can step into the bathroom area. The space is outfitted with a toilet, sink, and pocket-sized shower. The location isn't all that convenient to the indoor facilities, but it works well if you're spending most of your time outdoors.
---
2021 Thor Outlaw 38KB
| | | | | | | | |
| --- | --- | --- | --- | --- | --- | --- | --- |
| Length | Width | Height | GVWR | Cargo Area | Fresh Water Tank | Black Water Tank | Sleeps |
| 38 ft 9 in | 8 ft | 13 ft 3 in | 26,000 lbs | 10 ft 2 in | 150 gals | 40 gals | 12 |
The Thor Outlaw 38KB combines a king-sized bed with a class-A toy hauler—something that's extremely difficult to find in today's market. While the layout is fairly similar to the other Outlaw floor plans, this one is far and away the most luxurious.
Step inside and extract a cold beer from the refrigerator, located just to the left of the entrance. If you walk a step or two further, you'll find yourself in the kitchen, appointed with a large sink, microwave, and stove with two burners on the cooktop. Because we like to enjoy an alfresco cocktail in the evenings, we especially appreciate the easy access to the fridge.

To the right of the entrance is a dinette set and "Comfort Lounge" sofa, configured to allow for convivial conversation. A drop-down bunk can be lowered from above the cockpit, which includes the Outlaw line's signature center coffee table. The sleeping capacity on this model is a whopping 12, so you can bring a bunch of friends along.
A television set can be found above the dinette, so viewing is easiest for those seated on the sofa. The setup makes it possible to watch the tube while you're preparing dinner, which is an excellent perk.
Like most of Thor's Outlaw models, this one includes a bathroom with stall shower, sink, and toilet. The sink and toilet configuration are fine, but stepping out of the shower can be a bit awkward. The shower is also on the snug side for an RV this big, particularly when the freshwater tank holds 150 gallons.
A wardrobe and washer-dryer setup are situated outside the bathroom area. If you like to take lengthy trips, this is an appealing feature. So is the inclining king-sized bed, which is located right across from the laundry facilities.
This model also includes a patio deck area, but only one, unlike the dual patios found on the 37GP unit. In the interest of being thorough, we should also point out that the 38KB measures only 8 feet wide, so it's slightly narrower than the previous Outlaw models.
---
2016 Newmar Canyon Star 3921
| | | | | | | | |
| --- | --- | --- | --- | --- | --- | --- | --- |
| Length | Width | Height | GVWR | Cargo Area | Fresh Water Tank | Black Water Tank | Sleeps |
| 39 ft 11 in | 8 ft 5.5 in | 12 ft 11 in | 26,000 lbs | 10 ft | 75 gals | 40 gals | 10 |
Newmar's Canyon Star 3921 marks another entry into this race. As toy haulers go, it features a relatively small cargo area. However, as motor homes go, it has a great deal to offer.
This floor plan begins when you step up into the kitchen area, which is appointed with a double sink, ample overhead storage, a mid-sized refrigerator, a pantry, and a two-burner range. A dinette and facing sofa are located just behind the cockpit. Both the driver's and passenger seats include a swivel function, which is a nice touch when you've settled in for the night.
Adjacent to the kitchen, you'll find the bathroom area. The facilities include a flush toilet, corner shower, and sink. These features aren't huge, but they're attractive and functional.
The bedroom space offers a queen-sized bed, wardrobe space, and an overhead cabinet for the TV. The ramp is located just off the bedroom.
While the layout isn't as lavish as some of the competition, this is a comfortable and efficient motor home. The cargo space is large enough for you to bring a few bikes or kayaks along, and the living area encourages the whole family to gather together.
---
2019 Newmar Canyon Star 3927
| | | | | | | | |
| --- | --- | --- | --- | --- | --- | --- | --- |
| Length | Width | Height | GVWR | Cargo Area | Fresh Water Tank | Black Water Tank | Sleeps |
| 39 ft 11 in | 8 ft 5.5 in | 12 ft 11 in | 26,000 lbs | 10 ft | 75 gals | 40 gals | 11 |
A later Canyon Star model, this one featuring a total sleep count of 11. That means that the rig has been updated to improve the living space, giving the interior a more luxurious feel.
As you can tell from the specifications, this model has a great deal in common with the 3921. The basic footprint is the same, with a rear bedroom including a queen-sized bed and wardrobe space. There's also a dresser included, something that was lacking in the 2016 version.
Likewise, the bathroom has the same configuration, but the toilet is situated in a way that makes it easier to move around. A miniscule pantry area can be found in the area outside the bathroom, which helps to open up the kitchen space.
The kitchen is still equipped with a double sink, along with a refrigerator and three-burner range. A TV is situated above the dinette set, so it can be viewed from the jackknife sofa. The swivel chair feature is still in place for the seats on the passenger's and driver's sides.
---
In Conclusion
These class-A toy haulers give you plenty of room to relax once you've arrived at your destination. In truth, thanks to the generous cargo space they provide, they deliver much more than that. Motor homes that also function as toy haulers are some of the most versatile and comfortable recreational vehicles you'll find.
Best of luck, and happy camping!
Check out our article on: Best 5th Wheel Toy Hauler Under 35 Feet