Having access to your own private bathroom facilities is one of the unsung pleasures of RV travel. When you don't have to rely on public accommodations, the road ahead just gets that much broader and brighter.
What's more, there's no need to invest in a giant class A motorhome in order to take advantage of this perk. There are popup campers that offer the same benefit, albeit with some creative differences.
Since popups tend to be more affordable (not to mention more manageable) than their hard-top counterparts, this is a great alternative for beginners. Read on to find out more about the best 5 pop up campers with bathrooms.
How To Choose the Best Pop Up Camper With A Bathroom
What sets the best popup campers with bathrooms apart from the rest?
Some of the characteristics are the same ones you'd look for in any camper, no matter what the type. Others are unique to popups, and a few focus exclusively on the bathroom region itself. Here are the most important features to keep in mind throughout your search.
Gross Vehicle Weight Rating (GVWR)
Before you decide to purchase a towable camper, you'll need to make sure your vehicle is capable of towing it. That's where the gross vehicle weight rating comes in.
The GVWR refers to the maximum loaded weight of the unit in question. That includes the weight of the rig itself, in addition to cargo, fluids, passengers, and supplies—in other words, everything that goes into the camper. It's very important not to exceed this weight rating when loading up, as it can cause damage to the trailer and make it unsafe for transport.
Sometimes, you'll see the term "maximum loaded trailer weight" used in place of GVWR. This can cause confusion in first-timers, but don't worry—the terms are interchangeable.
Once you've determined the GVWR of the camper, check it against your vehicle's towing capacity. It's just as important not to exceed the amount of weight that your vehicle can safely handle.
In addition to putting undue strain on the transmission, it can cause the engine to overheat, which is the last thing you want on a road trip. Too much weight can also make the load more difficult to maneuver, so it's in your best interests to remain within your vehicle's "comfort zone."
Sleeping Capacity
The next most important question to ask yourself is how many people will be traveling with you on a regular basis. Will it be just yourself and a spouse or partner? Children? Do you plan on inviting friends or relatives to join you on most of your excursions?
The last thing you want is to end up with a camper that's not large enough to fit everyone. The space can get cramped enough as it is, particularly with popups. Families should err on the side of caution, and consider investing in a camper that's slightly larger than they think they'll need.
Also, bear in mind that the number itself can be misleading. The manufacturers might say that the unit sleeps 5, when in reality that fifth "bed" is barely larger than a bench. Whenever possible, check out the interior of the camper to gauge the dimensions of each sleeping berth.
Fresh Water Tank Capacity
This is a good feature to take note of whenever you're shopping for a camper that offers running water, but it's especially important if there's a shower involved.
Since popup campers have limited space, their fresh water tanks will generally fall within the 20-25 gallon range. Some might be able to hold a bit more than that, but if it's any less, you probably won't get much use out of the shower feature.
Black Water Tank Capacity
For the uninitiated, the black water tank is the receptacle that holds the waste material from the toilet. Not every popup camper will come equipped with one of these tanks—you may have to invest in a separate portable waste dispenser. If the unit does have a black water tank, expect a capacity of about 5 gallons or so.
Despite the capacity limitations, we think the campers that include black water tanks are far more convenient. You don't have to worry about shopping for a portable tank, and the setup will be more streamlined and discreet. Bear in mind that with a receptacle this small, you'll be making frequent trips to the RV dump station—but not nearly as frequently as you would be leaving the campsite to find a bathroom otherwise.
Bathroom Features
Take a close look at what's included in the bathroom setup. Is there a shower or a sink area, or just a cassette toilet? If there is a shower, is the freshwater tank large enough to accommodate it? Some fancier models are even equipped with recirculating toilets, which break down and deodorize the waste instead of simply storing it. As a bonus, recirculating toilets won't deplete the reserves of your freshwater tank.
Also, consider the layout of the bathroom fixtures. Depending on how many people will be traveling (and how well they all get along), certain configurations will work better than others.
Best 5 Pop Up Campers With Bathrooms: Product Review Guide
Forest River Flagstaff Hard Side Pop-Up Camper T21DMHW
| | | | | |
| --- | --- | --- | --- | --- |
| GVWR | Sleeps | Fresh Water Tank | Black Water Tank | Bathroom Features |
| 3353 lbs | 3 | 26 gals | 5 gals | Cassette Toilet, Shower with Door |
With a queen-sized bed and a convertible sofa, this unit is a sweet option for couples or families with one small child. The sofa bed isn't really large enough to comfortably accommodate a grown person, so buyers should keep their long-term traveling goals in mind before making their decision. Those who decide to take the plunge should find much to love about this camper.
Classified as an "expandable camper," this hard-sided unit has a sturdier feel than traditional popups. Its relatively low GVWR means it can be comfortably towed by a light duty truck or SUV. It also has an attractive A-style frame that can fit comfortably in a smaller RV site.
The roomy kitchen includes a dinette and a micro-cabinet with plenty of floor space Adjacent to this space is a sink and three-burner stove. The bathroom offers a cassette toilet with a five-gallon black water tank, along with a shower outfitted with a plexiglass door.
Since the fresh water tank holds a generous 26 gallons, there should be plenty of water for each traveler to enjoy a shower at the end of a long day. Best of all, there's a six-gallon hot water heater to ensure that the spray will be nice and warm. Of course, multiple bathers will have to wait for a while between turns to allow the tank to heat back up again.
Forest River Rockwood HW296
| | | | | |
| --- | --- | --- | --- | --- |
| GVWR | Sleeps | Fresh Water Tank | Black Water Tank | Bathroom Features |
| 5000 lbs | 6 | 26 gals | 12 gals | Flushable Toilet, Shower with Curtain |
Yes, this is another offering by Forest River, but it differs from the Flagstaff version in several important respects. First of all, it's much larger, with a sleeping capacity of 6. It also hews closer to the public's idea of a traditional pop-up model, with a tent-like structure sitting atop a hefty trailer. Most importantly, the bathroom fixtures are equipped to handle the additional capacity.
While this rig is definitely heavier than some of the competition, it can be towed by most full-sized SUVs and half-ton pickups. The slide-out section gives the interior a spacious feel, while a retractable awning increases the comfort level of the outdoor area.
Sleeping areas include a king- and a queen-sized bed, along with a convertible sofa. A medium-sized refrigerator and a three-burner range round out the kitchen facilities. Any family with teens or preteens should appreciate the amount of living space, which is especially impressive for a popup unit.
The bathroom is well-appointed too, equipped with a shower and flushing toilet. The fresh water tank holds a generous 6 gallons, while the black water tank holds up to 12. There's also a 12-gallon gray water tank to handle the shower and sink runoff.
---
Jayco Jay Sport 12SC Camping Trailer
| | | | | |
| --- | --- | --- | --- | --- |
| GVWR | Sleeps | Fresh Water Tank | Black Water Tank | Bathroom Features |
| 3250 lbs | 8 | 28.2 gals | 5 gals | Cassette Toilet, Shower with Curtain |
This is an oversized popup with a clever design and lots of thoughtful touches to make it truly feel like home away from home. Jayco is known for using quality materials for every aspect of their campers and RVs, and this offering provides a sterling example of everything the company does best.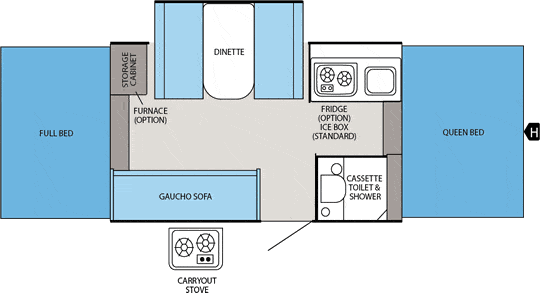 The Jay Sport 12SC features a king-size bed and a queen-size bed, as well as two convertible sofa beds. While the company claims that the rig can sleep eight people, we think the sofa beds are better suited for one person each. This isn't necessarily a drawback—it just means the camper is better suited for two couples with one child each, or some similar combination.
The bathroom facilities are modest yet serviceable, with a cassette toilet and a small shower with a privacy curtain. Although the black water tank comes with the standard 5-gallon capacity, the fresh water tank holds a whopping 28.2 gallons, which should increase the camper's appeal to families with teens.
The kitchen area includes a comfy dinette, along with a sink and a two-burner range. There's even a sweet little retractable awning with screened sides, which gives the unit the feel of a lakeside cottage.
---
Coachmen Clipper Classic 1285ST
| | | | | |
| --- | --- | --- | --- | --- |
| GVWR | Sleeps | Fresh Water Tank | Black Water Tank | Bathroom Features |
| 3296 lbs | 6 | 23 gals | N/A | Cassette Toilet, Shower with Curtain |
This is an impressively lightweight yet roomy popup camper, with a wet bath located just inside the entrance. The bathroom features can be closed off from the living space with the included privacy curtain. Shoppers should be aware that this unit does not come equipped with its own black water tank—you'll have to provide a separate waste receptacle. As popup campers with bathrooms go, however, this one has plenty to recommend it.
The fresh water tank holds 23 gallons, with a 6-gallon hot water heater for added comfort. The toilet and shower combo takes up very little space, leaving more elbow room for campers who want to relax at the end of a busy day. There's also a sliding storage unit that's perfect for holding recreational gear, such as bicycles and inflatable kayaks.
With one king- and one queen-sized bed, the Clipper Classic can comfortably sleep 4 people. Although the manufacturers claim that it can actually hold up to 6, we wouldn't recommend it—at least, not with full-grown people. A few small children might be able to wedge themselves into the second bed if necessary. The kitchen offers a two-burner range and sink, along with a sizable dinette and small storage area.
---
Aliner Somerset Utah Pop Up Camper
| | | | | |
| --- | --- | --- | --- | --- |
| GVWR | Sleeps | Fresh Water Tank | Black Water Tank | Bathroom Features |
| 3500 lbs | 5 | 20 gals | N/A | Marine Toilet with Privacy Curtain |
With the Somerset Utah, Aliner offers a cozy yet well-appointed camper that contains everything a small family should need for a few days in the rough. Unlike most Aliner campers, which (as the name suggests) typically feature an A-frame design, this one is a traditional pop up, complete with a toilet fixture for added convenience.
The Somerset Utah offers two king-sized beds and a slide-out bed, meaning 5 people can sleep in comfort within its walls. The dinette seats up to 6 people, and a stove and sink can be found in the kitchen area.
The bathroom area includes a toilet that can be curtained off for privacy, but no shower. Since the fresh water tank holds only 20 gallons, this is probably for the best. However, it also means the camper is better suited for long weekends than for extended trips.
The toilet is a marine-style unit, meaning that it's a dry toilet; there's also no black water tank included. This adds a certain degree of challenge to the disposal activities. On the plus side, we appreciate the fact that the toilet can be covered up with a countertop to make the interior seem more spacious. Speaking of which, there's certainly enough space here to bring along a cassette toilet if you'd like.
---
In Conclusion
Once you know what to look for, it should be easy to select the right popup camper with a bathroom. The important thing to remember is that not all units offer the same features.
When one says "bathroom," it might simply mean that there's a small toilet included, while others might feature nifty showers with generously-sized hot water heaters. Keep an eye out for the specifications we've listed above, and you'll be on track to select a camper that will suit all your needs.
Best of luck, and happy camping!
Check out our article on: How Much Do Pop Up Campers Weigh? (Average Camper Weight)