For campers who are apprehensive about towing a full-sized travel trailers, a lightweight pop up campers is an appealing option.
They might also be a good fit if you'd like to upgrade from tent camping but still prefer a no-frills approach.
Also, because of there small size, pop up campers are easy to store for the winter and can be towed by a lot of smaller SUV vehicles.
What Does An Average Pop Up Camper Weigh?
Because of the broad spectrum of choices available, a pop up camper might weigh anywhere from 600 to 4,500 pounds. As far as the average weight, you can expect pop up trailers to fall on the lower end of the spectrum—units weighing around 2,000 pounds are typical but you can find smaller 8 foot box pop campers under 1,500 pounds.
What Is A Pop Up Camper?
You've probably seen a pop up camper before, even if you didn't realize it at the time. These small lightweight units, which are also known as tent trailers or fold-out campers, are partially constructed out of canvas.
This allows them to fold down to a more manageable size than typical RVs, while still providing many of the comforts of home.
Pop up campers come in a variety of sizes and styles. Sleeping areas (complete with mattresses) are standard, but some of the more sophisticated models will come equipped with kitchen or bathroom facilities.
Because of their canvas construction, they don't offer much protection from the elements, and are therefore recommended only for warm-weather camping. But with a lower cost of a larger travel trailer, this might be just what your looking for.
How Much Towing Capacity Do I Need For A Pop Up Camper?
Since you probably won't be investing in a brand-new vehicle just to be able to tow your camper, you should be sure to choose a model with a weight that fits within the towing capacity of your current car or truck.
If you don't have a truck or SUV, look for a smaller pop up trailer with minimal amenities. People with larger vehicles have a bit more leeway as far as size and weight are concerned, but it's nevertheless important to check the towing capacity before making a purchase.
The towing capacity of a vehicle can sometimes be found in the owner's manual, especially if it's a larger rig that's equipped to carry heavy loads. If you can't find it in the manual, take down your VIN (vehicle identification number) and do a brief Internet search.
You might be able find the information by simply entering your vehicle's year, make and model into the search engine, but since the towing capacity may vary based on the trim and overall package, it's faster and more accurate to use the VIN.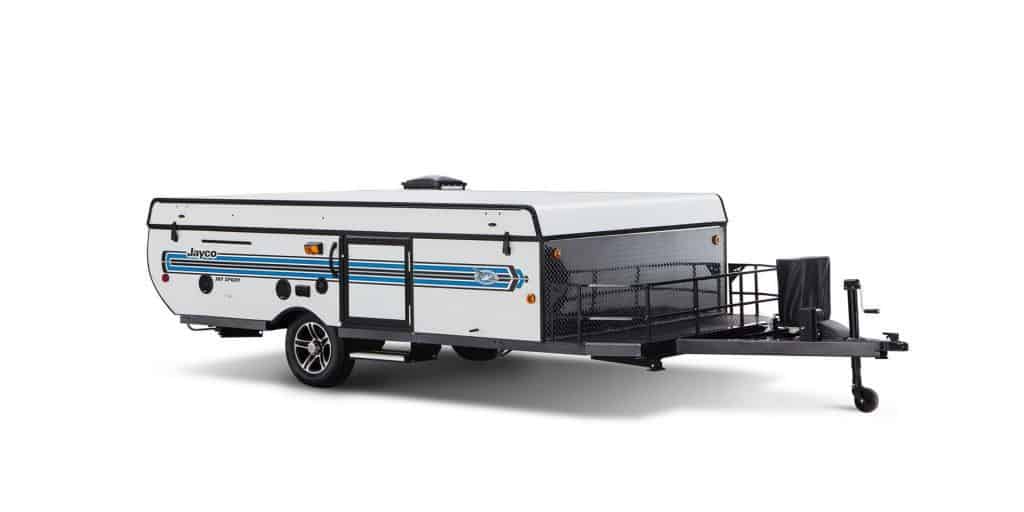 Understanding Weight Terms
Your vehicle's towing capacity isn't the only number that you need to concern yourself with. When it comes to towing a sizable load, there are several other factors to consider.
Here's a guide to help you understand some of the terms you're likely to encounter in your search for pop up camper weight.
UVW—Unloaded Vehicle Weight
Think of this as the baseline weight of a pop up camper . The number refers to the total weight of the unit itself, with a full tank of gas (if applicable). There's no way to fudge this number—the camper will always weigh at least this much, and considerably more once it's loaded with all your gear.
CCC—Cargo Carrying Capacity
This is the next-most important number to remember before you hitch up the trailer: The total weight of the gear and provisions that the unit is capable of holding.
You'll want to weigh everything you're planning to pack, in order to keep the total within the CCC.
The best way to do this is to start with the essentials, like water and sleeping gear. The little things will add up faster than you'll expect, so ask yourself if an item is really necessary before adding it to the pile.
GVWR—Gross Vehicle Weight Ratio
The GVWR refers to the amount of weight that your vehicle can safely carry—including the gear and passengers inside.
That's why it's just as important to take your own weight into consideration when packing, as well as the weight of the other members of your party (including pets).
The weight of the hitch is also taken into account for the GVWR, so make sure to get that information from the manufacturer.
It can be easy to overlook this factor and put too much stress on the vehicle as a result. Remember that when it comes to this kind of camping, less is often more.
GAWR—Gross Axle Weight Rating
Similarly, the GAWR is the amount of weight that the trailer is capable of supporting. When you add together the UVW and the CCC plus the passenger weight, the number should be lower than the GAWR.
If it's any higher, the trailer could collapse in transit, which would be a catastrophe on several levels.
As a rule of thumb, try to keep your gear and cargo weight below your vehicle's towing capacity. The more you pack, the more stress you'll put on the trailer and the vehicle itself. Packing light will also save you money on fuel in the long run.
For more tips on how to load your pop up camper, check out this YouTube video.
Other Tips and Guidelines
Remember that water weighs eight pounds per gallon. Since you can't skimp on this basic necessity, make sure your water supply is the first thing that you pack.
Pack the camper so that most of the weight is distributed toward the front. Experts recommend putting 60 percent of the cargo weight in the section of the camper closest to the towing vehicle. If the balance is off, you'll have a much harder time towing the camper.
Remember to drive more slowly than you normally would when towing a trailer. Even though pop up campers are lighter and more maneuverable than their larger counterparts, you'll still need to allow extra time for braking and turning.
Make sure you're abiding by the laws of whatever states you'll be driving in (for an example, see What You Need To Know About Brakes, below).
What You Need To Know About Brakes
As a general rule, trailer brakes are required if the total weight of the trailer exceeds 3,000 pounds but since pop up campers weigh less than other trailers, they may not be necessary. Since this law may vary from state to state, however, you should look into having a trailer brake controller installed in your vehicle no matter how heavy your load is.
Trailer brakes are more than just a handy feature—they could end up saving your life and the lives of your fellow motorists.
In addition to keeping your pop up camper from bashing into your vehicle when you're stopped on an incline, they give you much better control over the entire load. They're an especially invaluable resource if you plan on doing a lot of driving and stopping in heavy traffic.
Vehicles that are capable of towing 3,000 pounds or more will usually already have the trailer brake control package included. If yours doesn't, check with your mechanic about having one installed.
In Conclusion
Pop up campers represent a terrific upgrade from tent camping. They require very little setup, you can bring along more gear (within reason), and they offer more protection from the rain and wind than a regular tent.
They're also more versatile, allowing you to pull over and set up camp in parking lots and rest stops, instead of restricting you to dedicated campsites.
These nifty little units have several advantages over their larger counterparts as well. Because pop up campers weigh less and have a more aerodynamic profile, you'll get better gas mileage when towing a pop up.
This makes the towing process far less intimidating as well, especially for novices. Perhaps the best argument of all: The simpler the unit is, the less work you'll have to put into maintaining it.
In short, pop up campers were basically tailor-made for the carefree adventurer. No matter what size or style you choose, you're bound to create many miles of happy memories in your pop up camper.
Best of luck, and happy camping!
Checkout our article on: 5 Best Pop Up Campers With Bathrooms