Families who enjoy the "glamping" experience are the ideal candidates for mid bunk fifth wheels and travel trailers. These units are equipped with all the comforts of home, plus a few extras that you might not have considered. This guide will walk you through some of the top-rated mid bunk RVs on the current market.
2021 Jayco North Point 377RLBH
2021 Forest River Cherokee Arctic Wolf 298LB
2021 Keystone Cougar 368MBI
2021 Palomino Puma 32MBDS
2021 Coachmen Chaparral Lite 30BHS
2021 Heartland Milestone 377MB
About Mid Bunk Travel Trailers

You've probably heard of bunkhouse travel trailers, which have a separate bunk area in addition to the master bedroom. Mid bunk travel trailers have the same thing, only the bunk section is located in the middle of the unit instead of in the rear.
This layout might sound strange, but it can actually be quite convenient. For one thing, the bunkhouse is often situated in a slide-out. That means you can use it when you need it and reconfigure that segment of the trailer when fewer people are traveling.
Speaking of reconfiguration, the bunks can often be stored away during the daytime. This gives you more living space to enjoy—a perk that comes in especially handy on rainy days. Some units even include a desk or writing table in the space that's typically taken up by the bunk.
As you might have suspected, mid bunk RVs are usually quite large. Many of the most attractive models measure over 40 feet long, which can make them difficult to tow. For this reason, we would recommend investing in one only if you're comfortable hauling a larger rig. You also need to make sure your towing vehicle can accommodate the extra weight.
6 Great Mid Bunk Travel Trailers
2021 Jayco North Point 377RLBH
| | | | | | |
| --- | --- | --- | --- | --- | --- |
| Length | Exterior Height | Dry Weight | Freshwater Tank | Black Water Tank | Sleeps |
| 42 ft 11 in | 13 ft 5 in | 14,040 lbs | 75 gals | 50 gals | 9 |
You can always count on Jayco to make a solid offering in just about every category. The North Point 377RLBH adheres to that rule with a mid-bunk trailer that's equipped with plenty of enticing features.
The private bunk area includes a loft to maximize the space, along with a flip-top bunk and tri-fold sofa. The space can easily be converted to a work station during the day.
As for the master bedroom, it's outfitted with a queen bed and walk-in closet. Buyers have the option of upgrading to a king-sized bed if desired. The bathroom is situated between the bunk area and the master bedroom and features a large shower and linen closet.
The rear living space converts into another sleeping area, with a hide-a-bed sofa in addition to theater seating. This is the spot that will invite large families to gather for long evenings of game-playing and movie-watching when the weather isn't cooperating.
In addition to an attractive main kitchen with a center island and double sink, the 377RLBH offers an outdoor kitchen situated beneath one of the sizable awnings. A tailgate TV is included in this setup, so you can watch the game while you make dinner.
---
2021 Forest River Cherokee Arctic Wolf 298LB
| | | | | | |
| --- | --- | --- | --- | --- | --- |
| Length | Exterior Height | Dry Weight | Freshwater Tank | Black Water Tank | Sleeps |
| 34 ft | 12 ft 11 in | 9048 lbs | 49 gals | 35 gals | 8 |
There's plenty to love about the Cherokee Arctic Wolf 298LB, especially given the fact that it measures just 34 feet long. As mid-bunk trailers go, this is relatively compact. Because the dry weight comes in under 10,000 pounds, it's actually pretty easy to maneuver.
One of the slide-outs contains the mid-bunk room, which is outfitted with an overhead loft. A second fold-out houses a table with four chairs, a TV setup, and an electric fireplace for chilly evenings. The pantry is located conveniently behind the TV area, making it easy to grab a snack.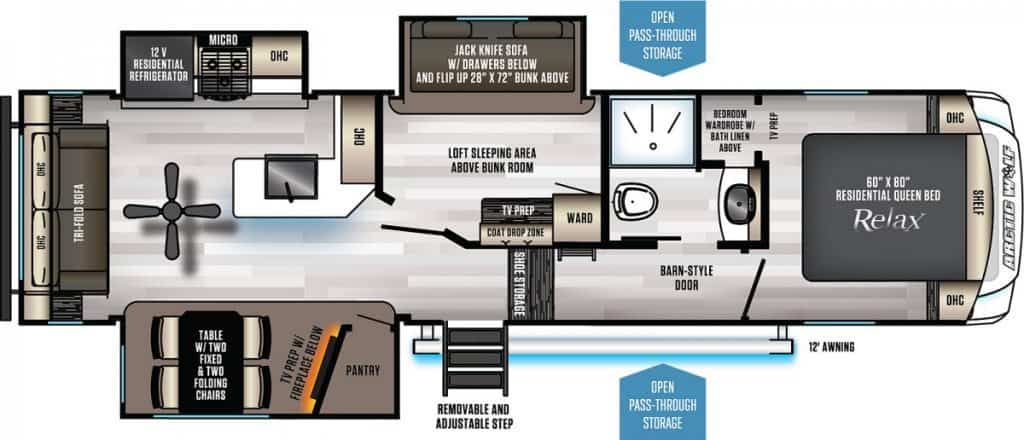 The front-facing master suite includes a bathroom that can also be accessed from the hallway outside. An oversized rear window takes up residence above the rear tri-fold sofa, affording residents exquisite views of the outdoors.
While this unit doesn't offer an exterior kitchen, the indoor facilities include a farmhouse-style sink and wraparound counter, along with a large overhead fan. If you would prefer to set up a grilling station outdoors, there's a lovely 12-foot awning running along the passenger side of the rig.
---
2021 Keystone Cougar 368MBI
| | | | | | |
| --- | --- | --- | --- | --- | --- |
| Length | Exterior Height | Dry Weight | Freshwater Tank | Black Water Tank | Sleeps |
| 39 ft 4 in | 12 ft 7 in | 11,695 lbs | 81 gals | 38 gals | 10 |
The Keystone Cougar 368MBI is another modestly-sized option, measuring in at just under 40 feet long. With a freshwater tank that holds a generous 81 gallons, it's a great option for families who like to enjoy a hot shower after a long day of outdoor adventures.
The configuration is fairly standard, with a front-facing master bedroom that contains a queen-sized bed. You can upgrade to a king bed if you'd like, but in our opinion, this makes the area feel awfully cramped. In either case, there's room on both sides of the bed for a small nightstand. A huge wardrobe takes up much of the forward wall.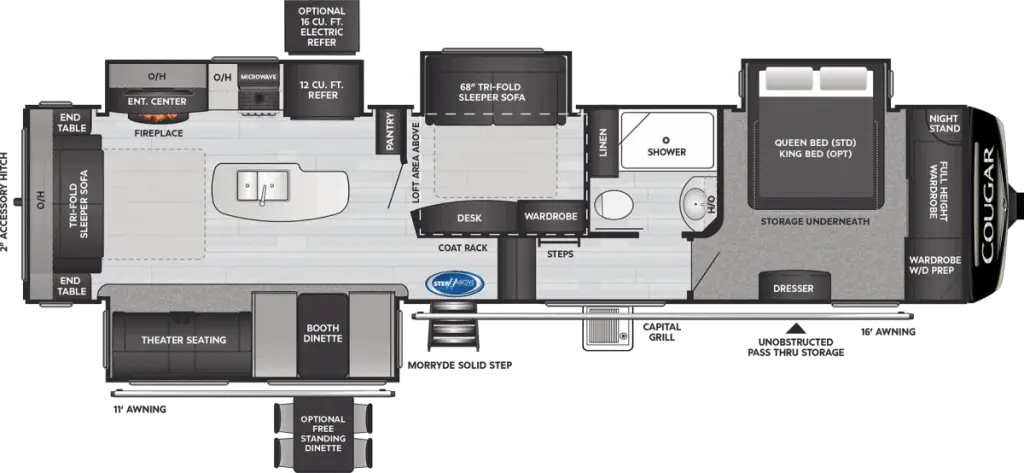 Bathroom facilities are easily accessible and include an oversized shower. The extra bunk room contains a tri-fold sleeper sofa and loft area above. There are also entertainment centers in both bedrooms, which is an excellent perk.
A third entertainment center takes up residence in the rear of the camper, along with an electric fireplace and theater seating. There's also another tri-fold sleeper sofa along the rear wall.
The kitchen appliances are well thought out and generously sized, with a 12-cubic foot refrigerator and double sink. A grill setup can be found just outside the main entrance.
---
2021 Palomino Puma 32MBDS
| | | | | | |
| --- | --- | --- | --- | --- | --- |
| Length | Exterior Height | Dry Weight | Freshwater Tank | Black Water Tank | Sleeps |
| 38 ft 7 in | 11 ft 1 in | 8,833 lbs | 43 gals | 35 gals | 9 |
Although it's not as elaborate as some of the units listed here, the Palomino Puma 32MBDS is a lovely offering. Despite its modest dimensions, it's capable of sleeping up to 9 people—although it's a good idea if all those people are members of a close family.
This sweet bunkhouse travel trailer situates the kitchen facilities in one of the two slideouts, which has the effect of opening up the living space. It also means that the bunk room doesn't need to be hidden away, so all the RVers can enjoy a nap during the day.
The bunk area consists of a flip-up bunk with a sofa underneath. It's located right next to the bathroom, which offers a small stall shower and linen closet. The master bedroom is sparsely furnished but comfortable, with a queen bed flanked by a closet on each side.
The kitchen appliances consist of a microwave, stovetop, refrigerator, and large sink set into a center island. A set of comfy chairs and a U-shaped dinette face the entertainment center. If you'd like, the unit can be configured to include an electric fireplace beneath the TV. A wide sofa beckons from the rear wall, bringing the Puma's total sleeping count up to 9.
---
2021 Coachmen Chaparral Lite 30BHS
| | | | | | |
| --- | --- | --- | --- | --- | --- |
| Length | Exterior Height | Dry Weight | Freshwater Tank | Black Water Tank | Sleeps |
| 37 ft | 12 ft | 9,535 lbs | 40 gals | 33 gals | 8 |
Coachmen's mid-bunk option makes excellent use of three slideouts to make the residents' lives as easy as possible. If there are 8 people or fewer in your party, take a look at the Chaparral Lite 30BHS.
Upon entering, you'll be faced with the bunk room, which contains a set of flip-up bunks measuring 30 by 74 inches. The space also offers overhead storage and a spot that's specifically dedicated to storing shoes. In the master bedroom, one of the slideouts makes room for a wardrobe to complement the queen-sized bed.
The bathroom facilities consist of a corner stall shower, toilet, and sink. There's also a linen closet that appears when the bathroom slideout is fully engaged.
The living space offers a dinette, theater seating, and a plush sofa that form a U-shape around the entertainment center. The kitchen is centrally located and has plenty of counter space, a double sink, a microwave, a refrigerator, and an oven and stovetop with a three-burner range.
---
2021 Heartland Milestone 377MB
| | | | | | |
| --- | --- | --- | --- | --- | --- |
| Length | Exterior Height | Dry Weight | Freshwater Tank | Black Water Tank | Sleeps |
| 41 ft 9 in | 13 ft 6 in | 13,065 lbs | 50 gals | 80 gals | 8 |
If you want a rig with plenty of elbow room, look no further than the Heartland Milestone 377MB. The name alone conjures up thoughts of special occasions, and you're bound to have plenty of them when you're enjoying life in this RV.
Curl up on the rear sofa with a good book, or settle into the theater seats to take in a movie on the inconspicuous entertainment center. After preparing breakfast in the galley kitchen, sit down with the family in the dining nook and plan out the day's adventures. There's also a small camp kitchen located just outside the entrance.
The bunk area has its own bathroom, making this a superb choice for families with teenagers. The second bathroom is located in the master suite and offers a stall shower and two entrances. A small slideout is used to accommodate the wardrobe space, making the bedroom seem especially spacious.
---
In Conclusion
We hope our overview of mid-bunk travel trailers has given you all the information you need to move forward. The configuration isn't the best fit for everyone, but if you have a large family and a generous towing package, you just might want to hit the road in one of these babies.
Best of luck, and happy camping!
Check out our article on: 6 Amazing Mid Bunk Fifth Wheels