Each family has different needs when it comes to bedroom configurations. This is something you should consider when shopping for travel trailers as well.
If you're looking for trailers under 5000 lbs that also includes a bunkhouse floor plan, our list should include one that suits your family, as well as your budget.
2018 Coachmen Clipper Ultra-Lite 21BH
2020 Jayco Jay Flight SLX 174BH
2020 KZ Sportsmen Classic 181BH
2017 Lance 2185
2020 Forest River R-Pod RP-172
2018 Livin Lite Camplite CL21BHS
2018 Forest River Flagstaff Micro-Lite 23LB
2018 Venture Sonic Lite SL169VBH
About Bunkhouse Travel Trailers
Bunkhouse travel trailers are favored by families with older children who can't share the same bed. In addition to freeing up floor space, the bunkhouse configuration provides each member of the group with the privacy they need.
RV manufacturers understand that there's a growing market for this type of trailer. As a result, the leading brands offer a myriad of options, from 20-foot models to sprawling fifth-wheel trailers that resemble luxury apartments. Since smaller travel trailers are easier to tow and more cost-effective overall, it's nice to have so many lightweight options to choose from.
Important Considerations
Once you've narrowed your search to include only bunkhouse travel trailers, think about what other features you might enjoy.
If you frequently travel through cooler regions, you might enjoy a built-in fireplace. Foodies will want to seek out a well-appointed kitchen, preferably with a stove that includes at least three burners. Boondockers—people who enjoy camping off the grid—would prefer a travel trailer with a decent bathroom and a stall shower.
Once you know what you'd like to get out of your camping experience, finding the right bunkhouse travel trailer should be a cinch.
Best Bunkhouse Travel Trailers Under 5000Lbs: Product Review Guide
2018 Coachmen Clipper Ultra-Lite 21BH
| | | | |
| --- | --- | --- | --- |
| Dry Weight | Length | Number of Bunk Beds | Sleeps |
| 4,069 lbs | 30 ft 6 in | 2 | 6 |
This Coachmen Clipper 21BH has one of our favorite layouts, not to mention a host of useful appliances that are sure to enrich your time on the road.
To the right of the entrance, you'll find a queen-sized bed flanked by wardrobes on either side. The main living area is outfitted with a convertible dinette, pantry, and kitchen with double sink and three-burner range. A generously sized refrigerator can be found to the left-hand side of the dinette.
In the rear of the trailer are the bunk beds, a single set measuring 28 inches wide by 72 inches long. This bunkhouse is a tad cramped, as it shares the rear space with the rather large bathroom. The good news? This bathroom includes a full-sized tub as well as a shower, with a linen closet and medicine cabinet to round out the amenities. Unfortunately, whoever sleeps in the bunk beds will be sharing a wall with the toilet.
---
2020 Jayco Jay Flight SLX 174BH
| | | | |
| --- | --- | --- | --- |
| Dry Weight | Length | Number of Bunk Beds | Sleeps |
| 2945 lbs | 21 ft 6 in | 2 | 6 |
The Jayco Jay Flight SLX 174BH has a configuration similar to that of the previous offering. The main difference is the positioning of the queen-sized bed, which faces the entry wall instead of the rear of the trailer. In our opinion, this is rough on the person who gets the inside half of the bed, but that's a minor quibble.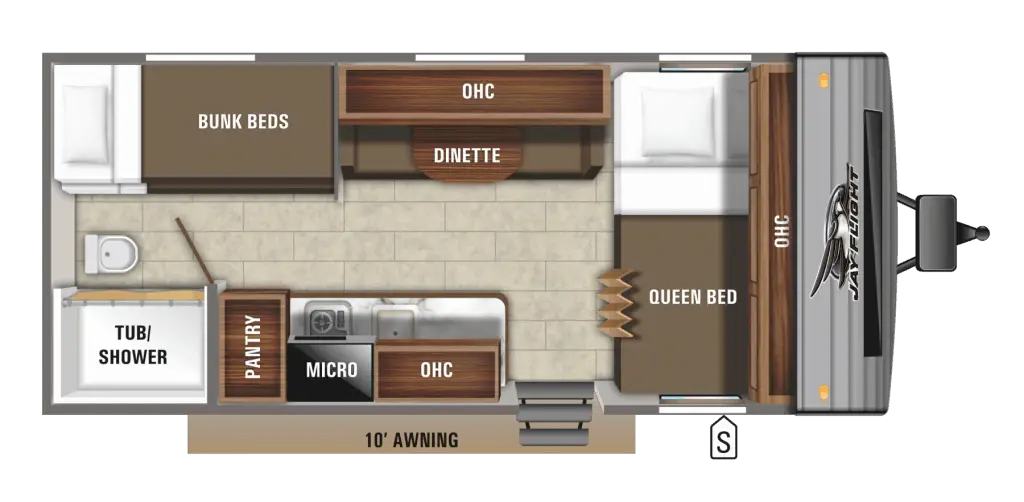 The dinette is long yet snug, with an overhead storage cabinet directly overhead. The kitchen amenities include a microwave, pantry, sink, compact refrigerator, and two-burner range. Considering the cozy conditions, the counter offers a decent amount of prep space.
The rear bunkhouse is adjacent to the bathroom facilities and equipped with a set of narrow single bunks. Like the Coachmen Clipper, the SLX 174BH includes a tub/shower combination. Be forewarned that there's no sink in the bathroom—you'll have to exit to the kitchen area if you want to wash your hands.
---
2020 KZ Sportsmen Classic 181BH
| | | | |
| --- | --- | --- | --- |
| Dry Weight | Length | Number of Bunk Beds | Sleeps |
| 2840 lbs | 20 ft 6 in | 2 | 6 |
The Sportsmen Classic 181BH is a stick-built trailer, meaning its frame is built of aluminum rather than fiberglass. That makes its low dry weight of 2840 pounds even more impressive. Construction materials aside, however, this is a minimalist yet comfortable travel trailer that includes everything a small family should need.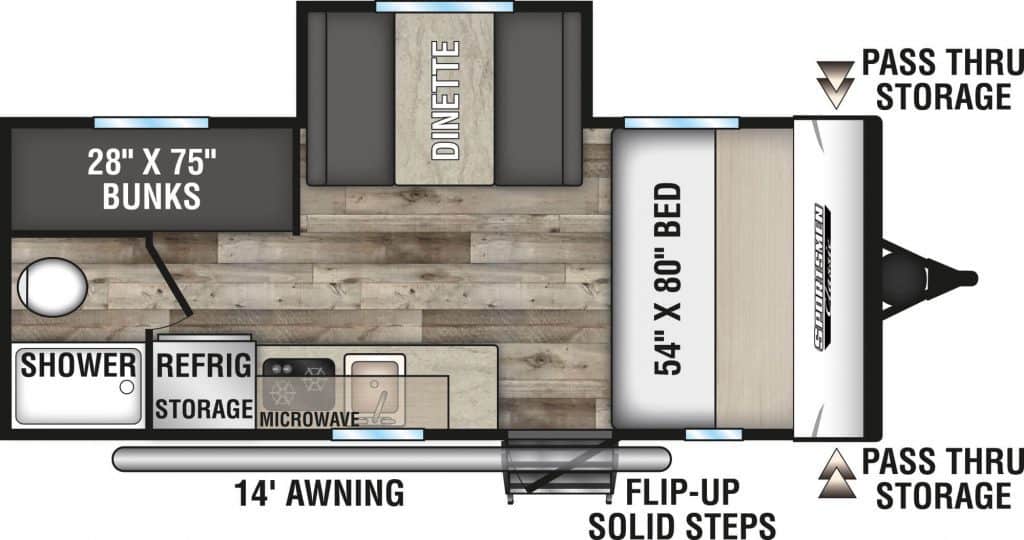 The queen-sized bed takes up the entire front section of the trailer, with pass-through storage located overhead. At the foot of the bed is a convertible dinette, but we wouldn't recommend using it as a bed except on very rare occasions. When it's converted, the living space becomes uncomfortably cramped.
The kitchen includes a sink, two-burner range, and refrigerator, but not a ton of storage or counter space. The bunk beds are large enough to accommodate young teenagers, measuring 28 by 75 inches. Bathroom facilities are minimal, featuring just a toilet and stall shower. This isn't a luxury option, but it's just right for families of three to four people who want a slight upgrade from tent camping.
---
2017 Lance 2185
| | | | |
| --- | --- | --- | --- |
| Dry Weight | Length | Number of Bunks | Sleeps |
| 4210 lbs | 25 ft 8 in | 2 | 7 |
Of all the units listed so far, the Lance 2185 offers the most privacy—for those dwelling in the rear bunkhouse as well as the master bedroom. It features dual entry, with one door located in the rear and the other adjacent to the queen-sized bed. This allows for easy access to the bathroom when you're outside enjoying nature.
The galley-style kitchen offers a large sink, three-burner range, refrigerator, and overhead storage. A tiny entertainment center offers travel trailer something to look at while relaxing at the U-shaped dinette. There's also an adequate amount of storage available in the master bedroom, with twin wardrobes and additional space available under the bed.
The rear bunks are situated just to the left of the rear entrance, with the toilet and shower just across the hall. A second sink is located on the right-hand side of the entrance, making it possible to wash your hands just before exiting the trailer. Because this means we don't have to touch as many handles after washing up, we find this to be an especially nice touch.
---
2020 Forest River R-Pod RP-172
| | | | |
| --- | --- | --- | --- |
| Dry Weight | Length | Number of Bunks | Sleeps |
| 2487 lbs | 18 ft 4 in | 2 | 4 |
Unlike the majority of the units on our list, this one makes the bunk beds the focal point of the living space. Measuring 42 inches wide by 74 inches long, they're located to the right-hand side of the entrance, with additional storage space available underneath. As for Mom and Dad, they'll have to convert the rear dinette into a bed whenever they want to catch a few winks.
While we realize this configuration might be a deal-breaker for some, the R-Pod RP-172 does have its finer points. The dinette is huge and comfortable, serving as the ideal spot for viewing the TV whether it's been converted to a bed or not. The kitchen is serviceable, with a two-burner range, sink, and compact refrigerator, but the dinette table will have to pull double duty as prep space. Alternatively, you can put a board over the sink area.
If it's a spacious bathroom you're after, the R-Pod is not for you. While there is a shower unit in addition to the toilet, the two are practically stacked on top of one another. For this reason, we would recommend this unit to families who prefer RV parks and campgrounds to the wilderness.
---
2018 Livin Lite Camplite CL21BHS
| | | | |
| --- | --- | --- | --- |
| Dry Weight | Length | Number of Bunks | Sleeps |
| 3630 lbs | 24 ft 10 in | 2 | 6 |
Campers who enjoy having extra counter space are sure to appreciate the Camplite CL21BHS, with its cleverly designed galley kitchen. While the appliances are minimal—just a two-burner range and rectangular sink in addition to a small refrigerator—you'll have plenty of room to do all your dicing and chopping.
Rounding out the amenities are a queen-sized bed with a closet on either side, a U-shaped dinette, and a rear bunkhouse. Across from the bunks, which run parallel to the trailer, you'll find the bathroom, equipped with stall shower and toilet. We especially love the outdoor shower on this rig—a feature that reminds us why we enjoy camping so much in the first place.
Note that the bunk beds measure just 28 inches wide, which doesn't give sleepers much elbow room. Additionally, they're located right beside the toilet, with only a thin wall in between.
---
2018 Forest River Flagstaff Micro-Lite 23LB
| | | | |
| --- | --- | --- | --- |
| Dry Weight | Length | Number of Bunks | Sleeps |
| 4121 lbs | 23 ft 9 in | 2 | 6 |
Take a look at the Flagstaff Micro-Lite 23LB if you want a bunkhouse travel trailer that's equipped with all the comforts of home—and perhaps a few extra. Along with the interior amenities, this unit includes an outdoor gas grill and 15-foot awning, the perfect setup for evening picnics.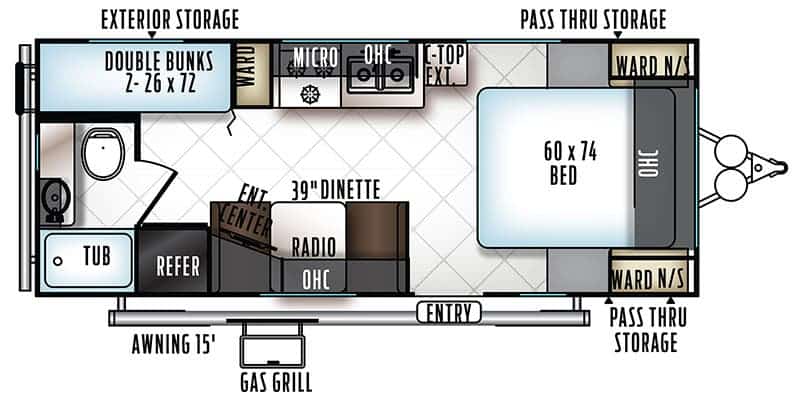 When you enter the trailer, you'll be greeted by the master bedroom, complete with queen-sized bed and twin wardrobes, as well as additional overhead storage. An entertainment center and radio are situated above the dinette. A refrigerator sits nearby, allowing you easy access to your favorite beverages while you watch TV.
Across from this setup, you have the kitchen, which is generously outfitted with a double sink, three-burner range, and microwave. The bunkhouse includes its own wardrobe, along with the two narrow beds. Although the bathroom space is fairly small, there's enough room for a tub/shower combo, a toilet, and a vanity with a built-in sink. While it's slightly heavier than most of the units on our list, we think the Micro-Lite 23LB is an excellent upscale offering.
---
2018 Venture Sonic Lite SL169VBH
| | | | |
| --- | --- | --- | --- |
| Dry Weight | Length | Number of Bunks | Sleeps |
| 2990 lbs | 21 ft 4 in | 2 | 4 |
The Sonic Lite Sl169VBH includes a Murphy bed rather than a regular master bedroom, which helps to open up the floor space during daylight hours. As a result, this unit sleeps a maximum of just four people. When the bed is folded into the wall, a free-standing table and two chairs take its place, with the closets on either side standing at the ready.
To the rear, a bunkhouse offers sleeping space that's ideal for two teenagers, with the beds measuring just under 88 inches in length. The bathroom is conveniently located just outside and outfitted with a toilet, sink, and tub/shower combination. Additional storage space can be used as either a wardrobe for the bunkhouse or a pantry for kitchen staples.
The kitchen is sprawling but sufficient, including a sink, refrigerator, and two-burner range. Outside the main entrance, relax beneath the 11-foot awning and take in the sunset before retiring for the night.
---
The Bottom Line
A bunkhouse travel trailer will do more than provide your family with a place to sleep. With the features that these lightweight travel trailer models have to offer, you can lay the foundation for a lifetime of unique memories—starting today.
Best of luck, and happy camping!
Check out our article on: Best Travel Trailer With Quad Bunks