Do you want your camping adventures to become year-round events? Are you looking for a travel trailer that will be able to keep you warm when the cold weather sets in?
If so, you're in luck. There are a number of RVs and travel trailers available that are specifically designed for winter campers. In this guide, we'll take a closer look at five of the highest-rated ones to determine whether or not they're worth your money.
2020 Jayco Redhawk 26XD
2021 Forest River Cherokee Arctic Wolf 251MK
2020 Keystone Montana 3781RL
2020 Heartland Bighorn 3995FK
2018 Jayco 327CKTS Eagle
RVs and Travel Trailers for Winter: What To Look For
4 season RVing differs from traditional summer RVing in many respects. If you've never experienced it before, you might not understand which features translate well to colder climates. Here are the ones you should pay closest attention to when making a decision.
Insulation
For this type of camping, you'll need a rig that's properly insulated. Look for the highest R-value available if you'll be using the RV in colder climates. For campers, the R-value should be around a 10 for the walls and a 20 for the ceiling. Often, the company will advertise an "arctic package" or something similar. This means that extra insolation can be included for an additional price.
There are three different types of insolation for RVs and travel trailers: spray foam, foam board, and fiberglass.
Spray foam uses a combination of chemicals to create a compound that will harden once the foam has been applied. Because it can expand to cover hard-to-reach corners, it's an efficient option for the lower portion of the RV, where the floor and water tanks are located. Most manufacturers will restrict its use to these areas.
Foam board is a more popular choice, one that's present in many RV models. It's made up of panels that are built into the walls and ceiling. Because it's water-resistant and flame-retardant, it can help to extend the life of the camper by reducing the risk of damage due to condensation.
Fiberglass used to be more popular, but time has not been kind to this method. Although it's cheap and easy to install, it's also prone to water damage. That makes it more susceptible to mold, which spells death for the panels–once they're moldy, you'll have to replace them immediately.
As a final note, pay attention to the windows—where they're located and how many there are. Features like skylights might seem appealing in the summer, but when the weather turns, they're just another way that heat can escape. The best 4 season RVs will windows that can be well-sealed to keep the living space warm when the wind is howling outside.
Furnace
This is something you wouldn't pay a great deal of attention to if you planned to store your RV during the cooler months. For year-round camping, however, you'll want to make sure the furnace cranks at least 30,000 BTUs.
Plumbing
The plumbing system should be equipped with a special heating feature to keep the pipes from freezing. You should also plan on adding RV antifreeze to the system by pouring it down the shower drain and flushing it down the toilet. For obvious reasons, this trick won't work for the freshwater tank. If the water tanks don't have a heating function, you'll need to pack your drinking water separately.
Slide-Outs
Because ice and snow can damage the slide-out mechanisms, it's a good idea to steer clear of them when possible. Using them in the winter also allows more cold air to seep in. If the trailer does have slide-outs, look for the ones that have awnings attached. These will help to prevent snow and ice damage.
Price
While we hate to address the elephant in the room, it must be said: RVs and travel trailers that are designed for cold weather camping don't come cheaply. You can expect to spend more on a 4-season travel trailer than you would for a 3-season unit. However, keep in mind that winter campers will give you a greater return on your investment in the long run.
5 Tips For Camping In Colder Weather
There are a few other precautions you can take when you're braving the elements in your RV. Here are some of the hacks we've learned over the years:
Park with the front or the rear of the trailer facing the wind, rather than broadside.
2. Try to find a parking spot that has some type of wind barrier in front, like a building or a row of trees.
3. When you're at a campground, use the bathhouse as much as possible to cut down on the amount of gray water you generate. You'll also conserve power this way.
4. Clean the exterior vents well before setting out.
5. Also, make sure the batteries are fully charged and all the tanks are full.
Pack plenty of warm clothing and blankets, just in case the power fails.
Best RVs and Travel Trailers for Winter and Cold Weather: Product Review Guide
2020 Jayco Redhawk 26XD
| | | | | |
| --- | --- | --- | --- | --- |
| Type | GVWR | Length | Furnace | Sleeps |
| Class C Motorhome | 14,500 lbs | 28 ft 8 in | 31,000 BTUs | 7 |
A class C motorhome with splendid ambiance, the Redhawk 26XD is custom-made for chilly nights. Measuring just under 29 feet in length, it's small enough for novices to handle yet roomy enough to offer the ultimate in camping luxury.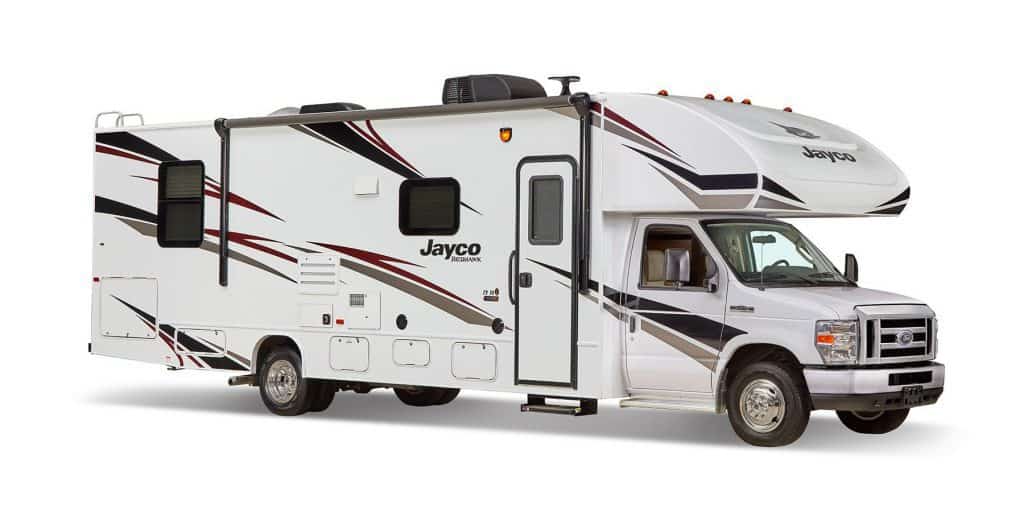 A queen-sized bed in the rear is supplemented by a sturdy bunk in the cabover and a pull-out sofa with plump cushions. What with the wardrobe in the bedroom and the storage space available beneath the dinette benches, you'll have plenty of room for all your gear.
The bathroom is small but serviceable, with a stall shower in addition to the sink and toilet. A three-burner stove, refrigerator, and double sink make up the kitchen facilities.
With foam board insulation and a 31,000 BTU furnace, you'll stay nice and warm in the Redhawk 26XD. Thanks to the patio awning, you should be able to get good use out of it during the summer months as well. The unit comes with a hefty price tag, but if you're enthusiastic about year-round camping, it's a bargain.
---
2021 Forest River Cherokee Arctic Wolf 251MK
| | | | | |
| --- | --- | --- | --- | --- |
| Type | GVWR | Length | Furnace | Sleeps |
| 5th Wheel | 11,620 lbs | 29 ft | 35,000 BTUs | 4 |
The Cherokee Arctic Wolf 251MK is one of the most luxurious models in our roundup. With its comfortable theater seats, high ceilings, and electric fireplace, it's more than just a place to sleep–it's a true home away from home.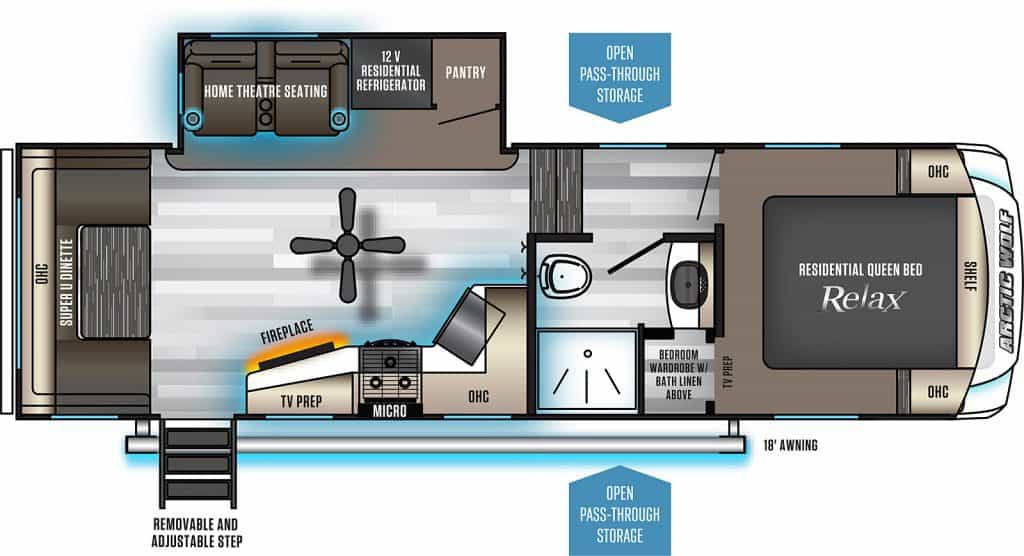 A queen-sized bed dominates the sleeping area, which also includes a sizable wardrobe. The bathroom sits adjacent to the bedroom and features a stall shower, sink, and toilet. The door to the bathroom is configured so that it's just as accessible from the living area as it is from the bedroom. A three-burner stove, farm-style sink, refrigerator, and microwave round out the kitchen facilities.
Be aware that the Arctic Wolf 251MK sleeps just four people, so it's not suitable for larger families. Couples or families with just one or two children, meanwhile, will be pampered and cozy in this model.
---
2020 Keystone Montana 3781RL
| | | | | |
| --- | --- | --- | --- | --- |
| Type | GVWR | Length | Furnace | Sleeps |
| 5th Wheel | N/A | 41 ft | 35,000 BTUs | 4 |
Outdoor enthusiasts who love to cook will gravitate toward this luxury fifth wheel. The kitchen includes an 18-cubic foot refrigerator and a separate island for prep, in addition to a giant pantry. A convection microwave and three-burner cooking range round out the options. With a kitchen like this, you might feel as if you've never left home.
The perks don't end there. The Montana 3781RL features an electric fireplace, a bathroom with dual sinks and a large stall shower, and a sleeping area with a queen-sized bed. The sofa can be converted into a bed also, and the free-standing dinette is the perfect place to gather in the evenings. When you invest in the Four Season Living package, you'll get insulated in-floor water lines, dual attic vents, and heated and insulated holding tanks and dump valves.
Despite its size, this fifth wheel has a sleeping capacity of just four people. If you happen to have four people who like to spread out, however, they're in for a treat.
---
2020 Heartland Bighorn 3995FK
| | | | | |
| --- | --- | --- | --- | --- |
| Type | GVWR | Length | Furnace | Sleeps |
| 5th Wheel | 16,500 lbs | 42 ft 10 in | 40,000 BTUs | 6 |
The Heartland Bighorn 3995FK is outfitted with a furnace that cranks out a whopping 40,000 BTUs, which should be enough to keep you toasty even on the coldest January nights. While it lacks the frills of some models listed here, the layout is impressively designed and quite spacious for a fifth wheel camper trailer.

You may never want to get out of the huge, plush king-sized bed, situated in a rear sleeping area that also includes a roomy wardrobe. The bathroom is easily accessible from the sleeping area, with an oversized shower and a floor that sits level so there's no danger of tripping over the threshold.
The kitchen offers an 18-cubic foot refrigerator and a three-burner cooking range with a built-in oven in addition to the microwave. Best of all, the walls have an R-value of 11, while the floor and ceiling are rated at a cozy 38.
This unit sleeps up to six people, but we think that's pushing it–five would probably be our limit if given the choice. There's plenty of room for everyone to gather, though, and the durable construction and powerful furnace make this an excellent choice for roughing it in chilly climates.
---
2018 Jayco 327CKTS Eagle
| | | | | |
| --- | --- | --- | --- | --- |
| Type | GVWR | Length | Furnace | Sleeps |
| 5th Wheel | 13,250 | 38 ft 4 in | N/A | 4 |
Jayco stocks many quality units, and this one is especially well suited for wintry expeditions. The 2018 model ranks so high on the cozy scale, you'll want to become a full-timer–that is, if you aren't already.
The bathroom in the Eagle model is larger than you might expect from a fifth wheel trailer, with a linen closet, sink, shower, and toilet. The kitchen facilities are impressive, too, with a hutch and oversized 21-cubic foot refrigerator.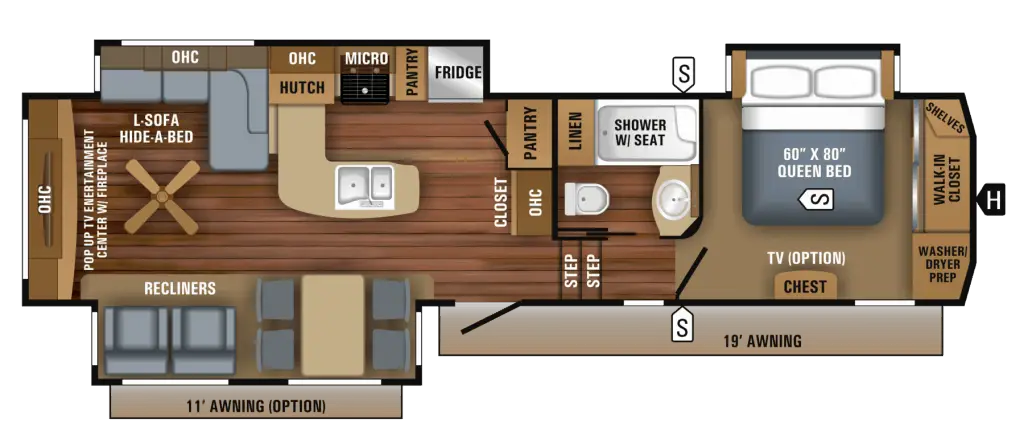 The bedroom sports not only a queen-sized bed, but a walk-in closet and washer-dryer combo. Reclining chairs and a plush sofa round out the comfortable living area.
If you're hoping to take the 327CKTS out year-round, you should invest in a cold-weather package with a tankless water heater and double-pane windows. Once the rig is equipped with all these goodies, you'll be ready for any type of weather they can dish out.
---
In Conclusion
All of the campers listed above are quality 4 season models, designed to keep you warm when the icy weather sets in. Which one you choose depends on your budget, the the size of your party, and the amenities you prefer. Using the guidelines we've mentioned should help point you in the right direction.
Best of luck, and happy camping!
Check out our article on: How To Keep RV Pipes From Freezing While Camping