Having a master bedroom is nice, but if you frequently travel with more than 4 people, a second sleeping area is a must.
Our list of 2 bedroom travel trailers should serve as a fine introduction to this unique category.
Why Buy A Travel Trailer With 2 Bedrooms?
Families with teens and preteens don't need to ask this question. It's a given that everyone will want to have their own space, even during the day. Having two separate bedroom areas affords larger families the privacy they need.
More often than not, the second bedroom in these travel trailers will have a bunkhouse configuration. Often located in the rear, a bunkhouse consists of one or more sets of–you guessed it–bunk beds. Sometimes, the area will contain a flip-top bunk and/or a convertible sofa, which makes the space more versatile.
Even if you think you don't need the extra space, consider what you'd like to get out of your RV experience. If you had the room, would you invite friends to join you on your adventures? Do you often bring your pets along? Does anyone in the group need to telecommute to work while on the road?
If the answer to any of these questions is yes, you might appreciate having 2 bedrooms. In the section below, we'll provide you with detailed information about the floor plans for 6 popular 2 bedroom travel trailers.
6 Great 2 Bedroom Travel Trailers
2021 Jayco Jay Flight Bungalow 40LOFT
The 2021 Jayco Jay Flight Bungalow 40LOFT travel trailer has one of the most economical floor plan on our list. Instead of taking up more of its 41-foot length with a second bedroom, it situates the bunkhouse in a loft area above the master suite. This is a cozy setup that's sure to appeal to preteen children who want to swap ghost stories when the lights are off.
The master bedroom contains a queen bed (Jayco also offers a king-sized option for this unit), along with a wardrobe, dresser, and washer/dryer prep. In the loft, you'll find two bed mats separated by a nightstand, a wardrobe, and a small counter area.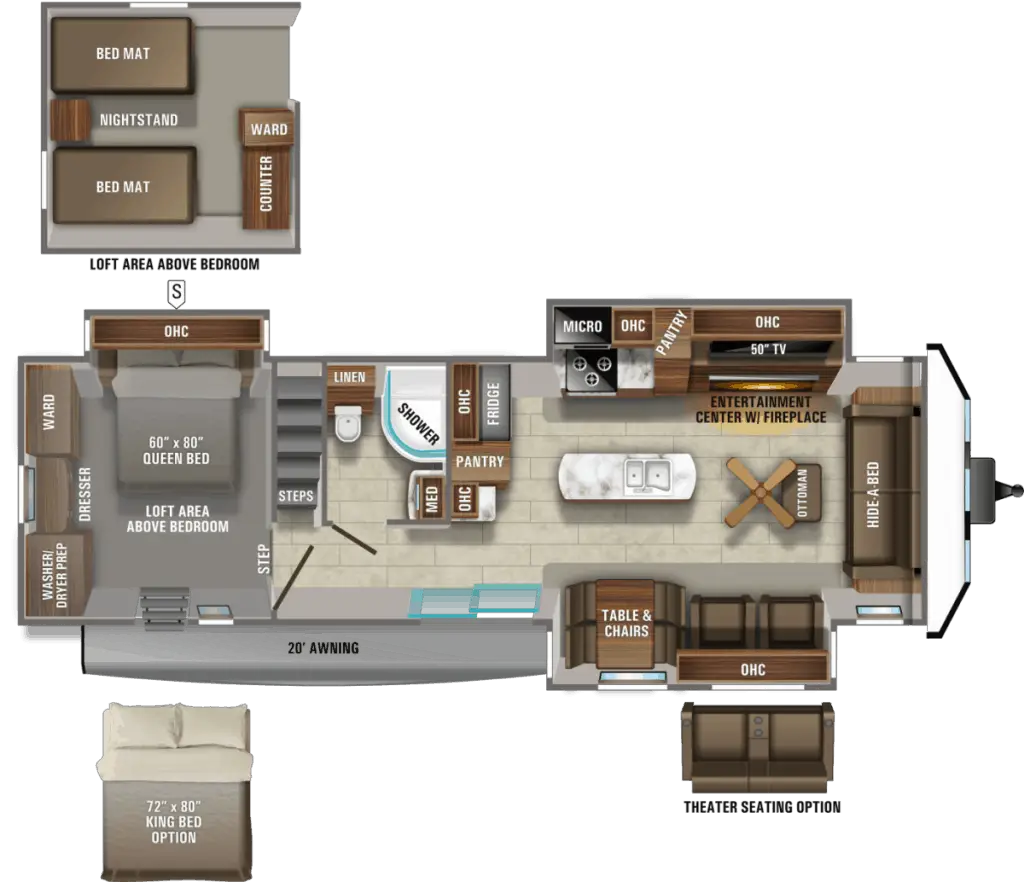 Just outside the bedroom area is the bathroom, which manages to find space for a medicine cabinet and a linen closet, as well as a stall shower. The front-facing living space includes a large TV, built-in electric fireplace, optional theater seating, and a convertible sofa with ottoman. An overhead fan keeps the area cool during the hotter days of the year.
The kitchen offers a large center island with double sink, a three-burner stovetop, microwave, fridge, and two pantries. Instead of a booth setup, the dining area opts for a table and chairs, which makes it easier for everyone to get up and move around. There's also a 20-foot awning along the exterior on the passenger side.
| | | | | | |
| --- | --- | --- | --- | --- | --- |
| Length | Dry Weight | GVWR | Freshwater Capacity | Black Water Capacity | Sleeps |
| 41 ft 1 in | 11,795 lbs | 13,350 lbs | 38 gals | 39 gals | 8 |
2019 Highland Open Range Ultra Lite UT2510BH
It's all right there in the name: the 2019 Open Range Ultra Lite UT2510BH travel trailer is a lightweight alternative for families who don't mind roughing it. This two bedroom travel trailer is comfortable enough for a few nights' sleep, but it doesn't have the same generous amenities as some of the other travel trailers listed here.
The main entrance leads into the central living area, with a U-shaped dinette and full kitchen setup. Appliances include a double sink, refrigerator, and stovetop with three-burner range, but there's minimal counter space.
The master bedroom is located in the front of the trailer and contains a queen bed and wardrobe space. In the rear is the second bedroom, with a full bed and small closet.
The bathroom is situated in between the living space and the rear bedroom, which is an awkward configuration for two reasons. First of all, it's too far away from the master bedroom.
Second of all, you have to walk through the bathroom to get to the second sleeping area. That's better than if it were the other way around, but it's still a strange setup. At least the bathroom is fairly spacious, including a shower option along with the toilet and sink.
| | | | | | |
| --- | --- | --- | --- | --- | --- |
| Length | Dry Weight | GVWR | Freshwater Capacity | Black Water Capacity | Sleeps |
| 29 ft 3 in | 5,385 lbs | 7,400 lbs | 51 gals | 29 gals | 8 |
2018 Forest River Wildwood 37BHSS2Q
An ideal two bedroom travel trailer floor plan option for two couples traveling together, the 2018 Forest River Wildwood 37BHSS2Q features one bedroom on each end of the travel trailer. This gives campers an impressive amount of privacy to go along with the well-appointed living space.
Both the front and the rear bedrooms are virtually identical, with queen-sized beds flanked by wardrobes on either side. The one in the rear has a third wardrobe located along the opposite wall.
It also has its own entrance and better access to the bathroom, which is situated just outside. We're still not crazy about this configuration, but the bathroom setup is ample, with a radius shower, linen closet, vanity, medicine closet, and additional wardrobe space.
The galley kitchen groups the fridge, microwave, three-burner stovetop, and double sink along the passenger-side wall, which is a convenient layout. There's not a lot of counter space, but you can always put a board over the sink if you need more room to chop vegetables.
The dinette and sofa can be converted to make additional sleeping space, and both offer decent views of the corner TV set by the main entrance. This unit doesn't offer much in the way of outdoor amenities, but it is equipped with an 18-foot awning.
| | | | | | |
| --- | --- | --- | --- | --- | --- |
| Length | Dry Weight | GVWR | Freshwater Capacity | Black Water Capacity | Sleeps |
| 39 ft | 7,659 lbs | N/A | 39 gals | 27 gals | 8 |
2021 Winnebago Minnie Plus 31BHDS
Our list wouldn't be complete without a model from the Winnebago lineup. The 2021 Minnie Plus 31BHDS travel trailer is equipped with a rear bunkhouse, master bedroom, and outdoor kitchen, making it a great fit for families of up to 8 people. If you don't have that many kids, ask yours to invite their friends along so you can show off this remarkable unit.
The front-facing master bedroom offers a queen bed and dual entrances. To the rear is the bunkhouse, with a trifold couch and three bunks. There are USB outlets located next to every sleeping location, which is sure to appeal to the teen crowd. The room even comes with its own entertainment center.
While the bunkhouse has better bathroom access than the master bedroom, at least you don't have to walk through one of them to get to the other.
The bathroom also has an exterior entrance, which is an awesome perk when you're enjoying the outdoor kitchen. Speaking of which, this setup isn't the most generous one we've seen, but it does come with a sink and second fridge, as well as a pull-out cooking range.
The interior kitchen is well-appointed but small, with a sink, refrigerator, three-burner range, and corner pantry. An entertainment center is conveniently located along the wall it shares with the master bedroom on the other side.
Additional seating can be found opposite the kitchen. Buyers can choose between a U-shaped dinette or a dining table and chairs, and a tri-fold sofa or theater seating. It's a matter of personal preference, but we think the dinette and theater seating combo is the coziest option.
| | | | | | |
| --- | --- | --- | --- | --- | --- |
| Length | Dry Weight | GVWR | Freshwater Capacity | Black Water Capacity | Sleeps |
| 35 ft 6 in | 7,440 lbs | 9,995 lbs | 50 gals | 28 gals | 8 |
2017 Dutchmen Rubicon 2500
This is an older version of the Dutchmen Rubicon 2500, but adventurers are sure to appreciate the fact that it's a toy hauler travel trailer. That means it's equipped with a cargo bay where you can store bicycles, kayaks, and other recreational equipment.
The cargo area on this model measures 14 feet long and comes with a spring-assist ramp door for loading your gear. Above this space is the rear bunkhouse, with two power bunks that can be converted into sofas. The living room contains a roll-over sofa and table that can be used for additional sleeping space during the day.
The galley kitchen is located along the driver's-side wall and consists of a small double sink, three-burner range, refrigerator, and pantry. An entertainment center is tucked into the corner outside the bathroom. These facilities are also on the snug side, but they do manage to squeeze in a stall shower. Note that the freshwater tank holds an impressive 82 gallons, so everyone can bathe even if the rig is filled to capacity.
A front-facing master bedroom offers a queen bed, wardrobe, and nightstand. There's no direct bathroom access, but the facilities are located just outside the door.
As for outdoor amenities, the toy hauler aspect is really all this unit has going for it. For some groups, however, that should be more than enough.
| | | | | | |
| --- | --- | --- | --- | --- | --- |
| Length | Dry Weight | GVWR | Freshwater Capacity | Black Water Capacity | Sleeps |
| 31 ft 6 in | 7,545 lbs | N/A | 82 gals | 42 gals | 8 |
2021 CrossRoads Sunset Trail Super Lite SS242BH
The 2021 CrossRoads Sunset Trail Super Lite SS242BH has a dry weight of 5,231 pounds, making it a good choice if you don't have a heavy-duty towing rig. There's also an outdoor camp kitchen complete with a second refrigerator, which allows you to spend most of your days relaxing in the fresh air.
Unlike most of the travel trailers on our list, this one offers a king-sized bed as a standard option. The master bedroom also has a fair amount of storage space, but no dresser or entertainment center.
The living area has a layout that would be confusing if the space was any bigger. On one wall, you have a U-shaped dinette and refrigerator, while the rest of the kitchen facilities and the entertainment center take up residence on the opposite side. Fortunately, all of these things are still in close proximity to one another, so it's not a serious issue.
While the bathroom includes a generously-sized shower, the freshwater tank in this unit holds only 45 gallons. Be sure to mention that to any campers who are notorious for taking a long time in the shower.
The bathroom facilities are adjacent to the rear bunkhouse, which includes a set of bunks that measure 50 by 74 inches. Be forewarned that this sleeping space is cramped to the point of feeling claustrophobic. Just outside is a wardrobe that can also be used as a pantry if you don't need the extra closet space.
| | | | | | |
| --- | --- | --- | --- | --- | --- |
| Length | Dry Weight | GVWR | Freshwater Capacity | Black Water Capacity | Sleeps |
| 28 ft 11 in | 5,231 lbs | 7,600 lbs | 45 gals | 30 gals | 8 |
In Conclusion
As you can see, the second bedroom doesn't have to add a great deal to the weight or length of the travel trailer. That's great news for novices who aren't comfortable towing a larger rig, but would appreciate the privacy that comes with having 2 bedrooms.
Best of luck, and happy camping!
Check out our article on: Best RV Surge Protector
Recent Posts