When it comes to travel trailers, you want to make sure you're getting the best one you can afford. After all, it's not just another investment—it's your home away from home.
That said, like most of us, you might have to stick to a budget. That's why we've put together this list of the best travel trailers for the money. When you've finished reading, you'll know what to expect from these budget-friendly options.

Coachmen
Jayco
Riverside
Keystone
Forest River
What Exactly Is A Travel Trailer?
Unlike traditional motor homes, which have built-in driving controls in the cab area, travel trailers are campers that are designed to be towed behind a vehicle.
While they share many similarities with the larger fifth-wheel trailers, they're attached to a tow hitch rather than mounted on the truck bed itself.
Travel trailers offer a more flexible and versatile camping experience than larger motorhomes, which are often seen towing automobiles behind them anyway.
Since they don't need to incorporate a cab area for driving, they can also feature more living space. These benefits, among many others, make travel trailers a great choice for shoppers seeking budget-friendly options.

What To Look For In A Travel Trailer
Whether this is your first time shopping for a travel trailer or an upgraded purchase, there's no such thing as too much preparation. Savvy buyers are capable of sniffing out inferior products, often just by passing through. Keep the following categories in mind when you're ready to head out to the lots.

Materials
Sometimes, it can be hard to tell at first glance whether the fabric and hardware are built to go the distance. However, if you perform a thorough enough inspection on a low-quality unit, you're bound to find a few telltale signs.
First of all, inspect the seats and other furniture. Does the upholstery "catch" on your fingertips when you run a hand over it?
If so, it's probably cheap material that will wear off after just a short period of use. If the fabric passes the test, take a look at the screws and other hardware that's keeping the furniture bolted into place.
Are there any loose, broken, or missing parts? It goes without saying that you shouldn't be seeing any of these in a brand-new unit.

Layout
We understand that different folks have different needs as far as layout is concerned. However, make sure the furniture is positioned so that you can move through the space easily.
If you find yourself frequently tripping over things or positioning yourself awkwardly just to get from one place to the next, it's best to rethink your options.

Appliances
Even if the appliances and furniture appear to be high-end, take a good look at their configuration. Has the toilet seat been properly installed? Is the showerhead at a convenient height? What about the faucets and the oven hood?
Convenience is only a small part of the issue—if any of these elements were put together in a slapdash fashion, it will have a negative impact on the life of the travel trailer.

Customer Service
This one can be difficult to pin down before you've made a purchase since manufacturers will typically bend over backward in order to land a sale.
Take a look at their warranty information, and educate yourself on what is and isn't included. You might have to do some additional research beforehand to determine whether the company has a reputation for living up to its commitments.
Fortunately, if you're reading this roundup, you're already off to a good start!
Once you've decided which travel trailer to purchase, you should perform some preventative maintenance to help keep the unit in shape.
Best Travel Trailers For The Money: Product Review Guide
The following travel trailers have received consistently high marks from reviewers who were shopping on a tight budget. After careful review, we've determined that these brands represent the best wallet-friendly travel trailers on the current market.

Coachmen
Coachman has been transforming prospective buyers into happy campers since 1964, and they continue to offer a range of options to suit every budget and lifestyle.
Backing up brand-name recognition with a commitment to quality, their RVs rank among the most durable and versatile models you'll find.
Most of the Coachmen's units are available in a variety of different floor plans in the same price range, so if you aren't comfortable with one version, you can always ask to see another.
For example, their Freedom Express travel trailer comes in sizes ranging from 22 to 36 feet, with sleeping configurations that can be altered to suit your family and lifestyle.
The appliances and furniture are solidly built, with plenty of eye appeal. An attractive accent wall in the master bedroom lends a particularly homey touch.
Also, just because money is tight right now doesn't mean you should be denied the opportunity to upgrade later on. With Coachmen travel trailers, you'll have plenty of options when it comes to dressing up the space.
---
Jayco
Jayco offers several affordable options, including some that are priced below $10,000. This is an exceptionally low price for a new RV, but you'd never know that from the quality, which is exceptional in its own right.
Available in sizes ranging from 16 to 36 feet, the Jay Flight SLX is one of Jayco's most sought-after budget models.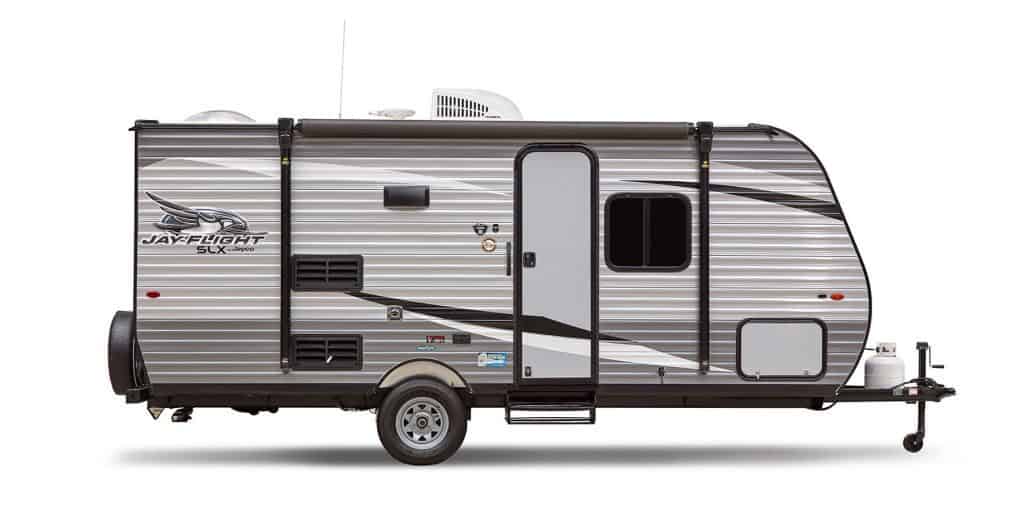 There are 17 floor plans to choose from, which is a relatively small number in the travel trailer world, but it should be easy enough to find one that suits your needs, especially for smaller groups.
This unit also includes a furnace and 8,000-BTU air conditioner—two features that are typically found only in high-priced models.
On the whole, Jayco delivers as a budget option, but there have been a few customer complaints regarding leakage and poorly installed bathroom fixtures.
These shouldn't deter you from investing in one of their units, but to be on the safe side, make sure you perform a thorough walk-through before making your selection.
---
Riverside
For the ultimate in old-style RVing, consider the Riverside Retro Travel Trailer. This cozy model is as easy to tow as it is on the wallet, and appealing from the inside out.
We especially love the blue-and-white vinyl booth in the dining area and the extra cabinet space, both of which invite campers to whip up their favorite comfort foods while on the road.
Additionally, the Retro's small footprint allows it to fit in just about anywhere—you won't have to worry about whether or not the campground's RV sites are large enough to store your unit.
---
Keystone
If you're looking for more space, Keystone offers a number of affordable travel trailers that are large enough to accommodate bigger families.
In addition to the basic creature comforts, some of their models boast memory foam mattresses, cell phone charging docks, and big-screen TVs.
While the control boards can be difficult to navigate, especially for first-timers, Keystone's offerings are among the most durable and sought-after models on the market.
---
Forest River
You'll find this brand listed in plenty of "Best Of" articles, but we're not afraid to follow the crowd—at least, not when they're right.
Forest River is a company that has acquired many other brands throughout its history and including Coatchamen, Palomino among others. They have only been in the game since 1996, but have built a strong resume in that time.
Forest River's offerings are known to be durable and dependable, with a handful of options that are lightweight enough to be towed behind a small SUV.
The models on the smaller end of the spectrum are likely to be less expensive, but rest assured that they haven't sacrificed quality in the name of affordability.
---
Conclusion
Which one of these travel trailers offers the best value for the money? It's a close call—so close, in fact, that we would rule it a tie between Riverside and Keystone, depending on what you're looking for.
The Riverside Retro is the perfect option for couples, with its cute and cozy interior and nostalgic overtones.
Meanwhile, larger groups and families should find plenty to love about the Keystone offerings, especially the Hideout, which steps up the RV game with plenty of thoughtful and homey touches.

Best of luck, and happy camping!
Check out are article on: Is There A Kelley Blue Book For RVs