When you're shopping for an RV, you want to make sure you have enough room to store it. Small RVs are also easier to maneuver, which is why many consumers prefer to look for units that measure under 30 feet in length.
All of the class A models on our list adhere to this criteria. Let's take a closer look at what this means.
What Is A Class A Motorhome?
A class A RV is easily identified. These are the RVs that have a streamlined appearance, with no distinction between the cab and the living space. From the outside, they resemble tour buses. Inside, the driver and passenger can carry on conversations with the rest of the people in the rig.
Class B motorhomes are similar in this respect, but they're also smaller than their Class A counterparts. Also known as camper vans, class B models are exceptionally easy to drive.
Meanwhile, class C RVs have a cab area that's entirely separate from the living space. They're equipped with cabover features, which are typically used as sleeping areas. They have a boxy appearance and can be tricky to maneuver, particularly in high winds.
Best Class A Motorhomes Under 30 Feet
2020 Jayco Alante 27A
| | | | | | |
| --- | --- | --- | --- | --- | --- |
| Length | GVWR | Towing Capacity | Freshwater Tank | Black Water Tank | Sleeps |
| 29 ft 11 in | 18,000 lbs | 5,000 lbs | 72 gals | 49 gals | 8 |
Despite its relatively small stature, this class A motorhome from Jayco is chock-full of modern conveniences. If you're looking specifically for a rig that has a king-sized bed as its base option, you might want to take a closer look at this one.
The Alante 27A is equipped with comfortable seats and a center table in the cockpit. A drop-down bunk option is available overhead.
Just behind the passenger seat is the main entrance, which leads into the snug dining area. This space includes a dinette set, jackknife sofa, a 39-inch TV, and a couple of overhead storage units.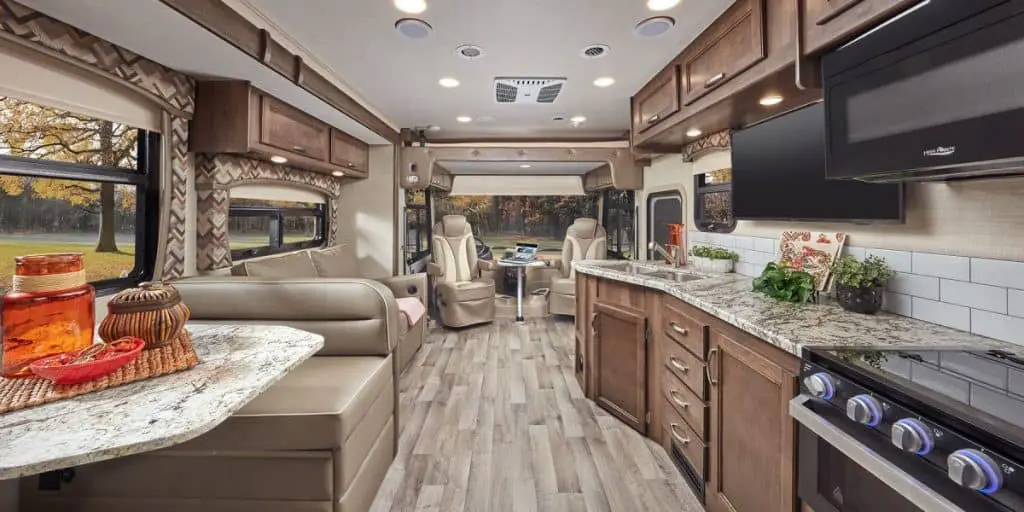 The L-shaped kitchen consists of a double sink, microwave, and three-burner range. There's not a great deal of counter space, which is our only quibble with this setup. A refrigerator and pantry are located on the other side of the rig.
Bathroom facilities include a toilet, sink, and corner stall shower. They're situated in the rear of the RV, in close proximity to the master bedroom. Because the freshwater tank holds up to 72 gallons, everyone in the family can enjoy a hot shower at the end of the day.
2020 Coachmen Pursuit Precision 27DS
| | | | | | |
| --- | --- | --- | --- | --- | --- |
| Length | GVWR | Towing Capacity | Freshwater Tank | Black Water Tank | Sleeps |
| 28 ft 9 in | 16,000 | 8,000 | 50 gals | 38 gals | 8 |
The 2020 version of the Coachmen Pursuit Precision 27DS has a configuration that's strikingly similar to that of the Jayco Alante. With a rear-facing master suite that includes a king-sized bed, a centrally located kitchen, and optional bunk above the cockpit, this class A RV makes excellent use of its 28-foot 9-inch length.
The passenger area of the cockpit includes a work station, which can come in handy on long trips. The center table has an attractive oval design and built-in cup holders for that all-important dose of morning joe. Because the rig is relatively easy to maneuver, two adults can easily switch off on driving duty.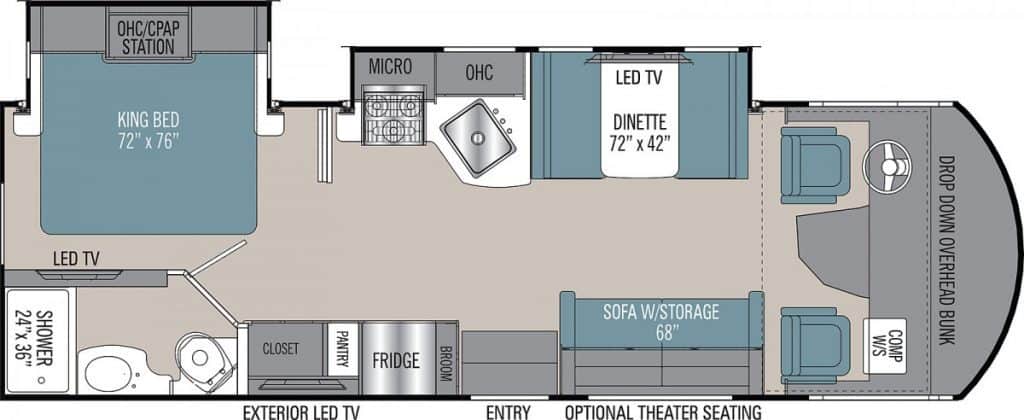 The convertible sofa can be reconfigured into theater seating for viewing the 40-inch TV above the dinette. Another 32-inch TV can be installed along the exterior wall on the passenger side. The kitchen consists of a microwave, large sink, three-burner range, refrigerator, pantry, and broom closet.
A half-wall separates the master bedroom from the bathroom, which is small but adequate. There's also a second 32-inch TV in the bedroom, which comes in handy if Mom and Dad want a little private viewing time in the evenings.
2018 Winnebago Vista 27PE
| | | | | | |
| --- | --- | --- | --- | --- | --- |
| Length | GVWR | Towing Capacity | Freshwater Tank | Black Water Tank | Sleeps |
| 28 ft 8 in | 18,000 lbs | N/A | 51 gals | 50 gals | 7 |
This is a slightly older version of the Vista 27PE, but in our estimation, a good Winnebago never goes out of style. It's also one of the few models that adheres to the 30-feet-and-under requirement, giving it superb maneuverability.
The cockpit includes a set of swivel chairs, dual cup holders, and a removable center table. The overhead loft contains an extra bed measuring 48 inches wide by 80 inches long.
Just behind the passenger seat is a convertible sofa, which is great for kids but too short and narrow to accommodate most adults. During the day, it serves as a good spot for watching TV, as does the sizable dinette.
The entry point is centrally located along the passenger side and leads directly into the kitchen. Here, you'll find a double sink, three-burner stovetop, fridge, pantry, and storage cabinet. We find the configuration of the counter to be slightly awkward, but you can always place a board over the sink for extra chopping space.
A sliding door gives the master suite an extra degree of privacy, and the king-sized bed is accented by twin nightstands. This room also includes an option for a second TV set.
While the bathroom includes a stall shower, the freshwater tank is on the small side for a unit that sleeps seven people. Unfortunately, the only way to access the bathroom is through the bedroom, which could be problematic for families and larger groups.
2020 Holiday Rambler Admiral 28A
| | | | | | |
| --- | --- | --- | --- | --- | --- |
| Length | GVWR | Towing Capacity | Freshwater Tank | Black Water Tank | Sleeps |
| 29 ft 3 in | 16,000 lbs | N/A | 50 gals | 37 gals | 7 |
The Holiday Rambler Admiral 28A offers two slideouts, which really opens up the living space. One slideout is located in the master bedroom, while the other one gives travelers more elbow room in the kitchen area.
Above the cockpit, there's a queen-sized drop-down bed that's ideal for teens and preteens. The jackknife sofa and convertible dinette bring the maximum sleep count up to 7. The main TV is located above the dinette area, but there's a second one in the master bedroom.
In the kitchen, you'll find a three-burner range, a convenient overhead microwave, double sink, pantry, and residential-sized refrigerator. An attractive backsplash adds eye appeal, but the counter space is sadly limited.
Along with the king bed and 32-inch LED TV set, the master bedroom includes a large wardrobe. The bathroom can only be accessed through this bedroom space, but it does offer a stall shower.
Outside, relax beneath the electric awning and take in a movie on the 50-inch exterior TV set. The unit also includes plenty of USB ports for keeping devices charged up while you're on the road.
2017 Forest River Class A FR3 25DS
| | | | | | |
| --- | --- | --- | --- | --- | --- |
| Length | GVWR | Towing Capacity | Freshwater Tank | Black Water Tank | Sleeps |
| 26 ft 7 in | 16,000 lbs | N/A | 57 gals | 41 gals | 5 |
Measuring just over 26 and a half feet long, the Forest River FR3 25DS is one of the most compact models listed here. Fortunately, slideouts in the master bedroom and kitchen/dining area help to maximize the unit's potential.
A small bunk folds down over the cockpit, which includes a passenger work station. The main entrance is just behind the passenger seat, giving the living area a more convivial vibe.
Just to the left of the entrance, you'll find the kitchen facilities, which are conveniently configured in a single row. Amenities include a three-burner range, refrigerator, sink, microwave, and pantry. There's also a 32-inch LED TV located above the counter space.
On the driver's side is a dinette with wrap-around booth and a closet that can be used for either a wardrobe or pantry space. A linen closet can be found just outside the bathroom, which is conveniently located near the king-sized bed in the rear.
Large families, take note: The FR2 25DS has a maximum sleep count of 5. If you regularly travel with 6 or more people, this isn't the model for you. Also note that this is one of the older models listed here, so the appliances might not be as state-of-the-art as you'd expect.
2018 Thor Windsport Motor Coach 27B
| | | | | | |
| --- | --- | --- | --- | --- | --- |
| Length | GVWR | Towing Capacity | Freshwater Tank | Black Water Tank | Sleeps |
| 29 ft 3 in | 18,000 lbs | 8,000 lbs | 50 gals | 40 gals | 8 |
No class A motorhome list would be complete without a model from Thor's lineup. Like the previous two models, the Windsport Motor Coach 27B takes advantage of a pair of slideouts in the master suite and kitchen/dining nook.
This unit comes with an exceptionally well-appointed cockpit that includes four cup holders and a full-sized coffee table. The drivers-side armrest has a cup holder of its own, so the person behind the wheel has full access to their caffeine supply at all times. The overhead bunk measures 54 by 74 inches, so it's suitable for two people.
TVs can be found above both the dinette and oversized sofa, making it convenient for everyone to watch the game. Kitchen facilities include a double sink, three-burner stovetop, microwave, fridge, and pantry.
A pocket door lends privacy to the large master suite, which contains a huge wardrobe and king-sized bed. As is the case with many RVs of this type, you have to go into the bedroom area to get to the bathroom. That shouldn't be an issue for couples, but it might get problematic if you're traveling with several companions.
In Conclusion
When you buy a class A motorhome that measures under 30 feet in length, you'll get the best of both worlds. The rig will be easy to drive, but it will provide you with all the comforts you would expect from an RV in this class. Best of all, it won't take up too much space when it's time to store it during the off season.
Best of luck, and happy camping!
Recent Posts