The Forest River Wolf Pup is a small yet efficient travel trailer that's become quite ubiquitous lately. The question is, is the Wolf Pup a good camper, or is its popularity undeserved? Most importantly, should you think about buying one?
Our ultimate guide will provide you with the answers you need to make a decision.
The Forest River Wolf Pup: An Overview
The Cherokee Wolf Pup travel trailers are lightweight and therefore easy to maneuver, even for first-timers. If you're in the market for a small trailer that can double as a home-away-from-home for your family, then these models are definitely worth a look.
Despite their diminutive size, each of these models features a strong build that should withstand many seasons of camping. Forest River is one of the leading RV manufacturers in North America, and has spent years cultivating a strong reputation that's well-deserved.
Most of the models in this lineup are travel trailers, but there is one toy hauler in the mix. That would be a great choice if you like to take bicycles, surfboards, or other gear along on your camping trips.
All the Wolf Pup campers share similar features. The differences lie in the floorplans, all of which have their pros and cons. Only you can decide which of these great travel trailers would be the best fit for your family and lifestyle.
Safety features like strong and sturdy windows, carbon monoxide indicators, smoke alarms, and stabilizer jacks set the Wolf Pup line apart. You'll also appreciate extras like the indoor-outdoor speaker system, USB charging stations, outdoor shower, and theater setup.
Wolf Pup Models & Specs
To make it easier for you to compare the various models at a glance, we've compiled this list of specifications. Below, you'll find detailed overviews for each model.
| | | | | | | | | | |
| --- | --- | --- | --- | --- | --- | --- | --- | --- | --- |
| Model | 14CC | 16BHS | 16FQ | 16HE | 16PF | 16TS | 17JG | 18TO | 18RJB |
| Length | 19 ft 1 in | 21 ft 5 in | 21 ft 6 in | 22 ft 4 in | 22 ft 4 in | 21 ft 7 in | 23 ft 2 in | 23 ft | 22 ft 7 in |
| Height | 10 ft 6 in | 10 ft 6 in | 10 ft 6 in | 10 ft 6 in | 10 ft 6 in | 10 ft 6 in | 10 ft 6 in | 10 ft 6 in | 10 ft 6 in |
| Dry Weight | 2884 lbs | 3097 lbs | 3031 lbs | 3309 lbs | 3584 lbs | 3204 lbs | 3879 lbs | 3797 lbs | 3435 lbs |
| GVWR | 3900 lbs | 3877 lbs | 3944 lbs | 3920 lbs | 5435 lbs | 3970 lbs | 4999 lbs | 4998 lbs | 4999 lbs |
| Sleeps | 3 | 5 | 3 | 5 | 4 | 3 | 6 | 7 | 3 |
14CC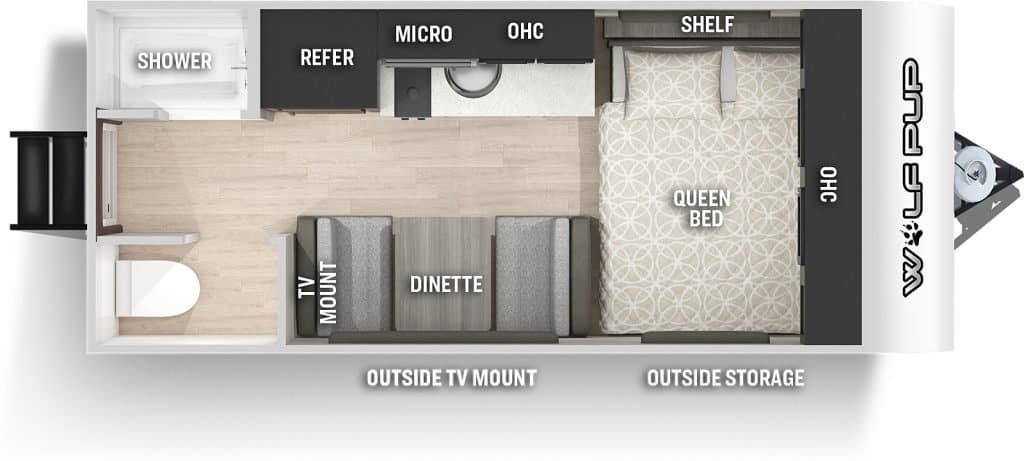 The 14CC represents the best the manufacturer has to offer in terms of convenience and low-maintenance camping.
You'll enter this model from the rear, where you'll find a split bath with a shower to the left and a toilet to the right. The middle section of the travel trailer consists of a kitchenette with sink, fridge, microwave, 2-burner range, small dinette with TV mount, and an overhead storage unit.
The front-facing queen bed takes up the rest of the space, though there is a minimal storage area included. This is one of the smallest campers in the Forest River lineup—best suited for singles or couples.
---
16BHS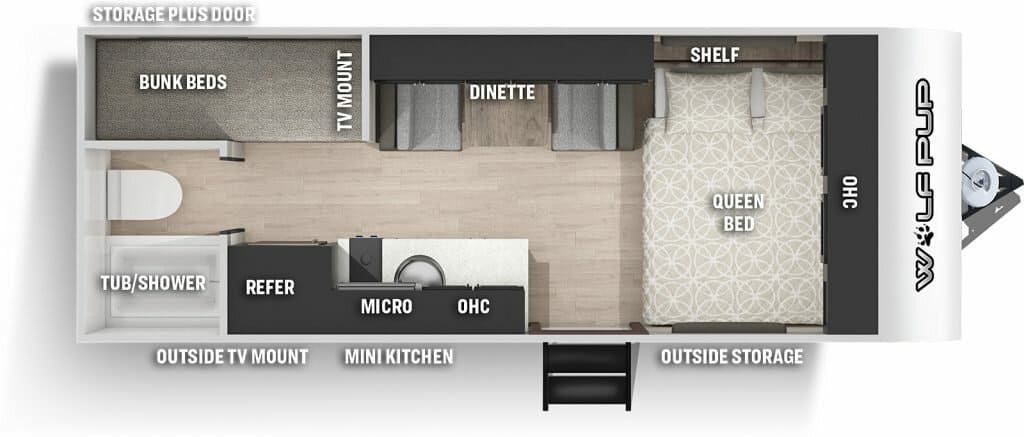 The 16BHS is only a foot or so longer than the 14CC. What sets it apart is the inclusion of a rear bunkhouse, which boosts the sleeping capacity up to 5.
Entering through the side, you'll find a queen bed on your right and a dinette directly across from where you're standing. The kitchen includes a fridge and microwave in addition to a 2-burner range and sink. A small cabinet offers storage space for dry goods.
The bunkhouse includes a TV mount, which is sure to appeal to younger campers. It's also located directly across from the bathroom, with its toilet and tub/shower combo. Though this isn't a large travel trailer, it makes the most of its small space.
---
16FQ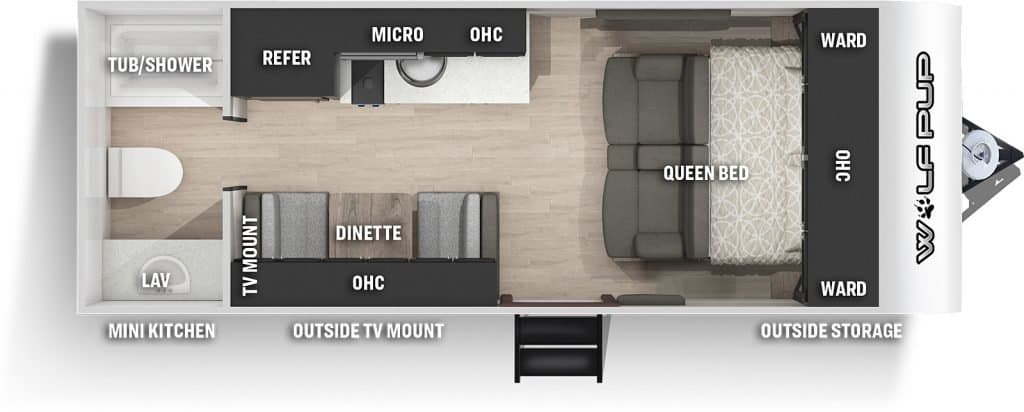 Another side-entry model with a front-facing queen bed, this unit offers a bit more storage space in the sleeping area—and more wiggle room overall.
You'll find actual wardrobes in the bedroom, along with a convertible dinette in the living area. Kitchen amenities include a sink, fridge, microwave, and stove with 2-burner range. The manufacturer has also included an outdoor mini kitchen for those of you who prefer to cook out.
The bathroom also offers more elbow room, with a tub/shower combo as well as a sink and toilet. There's a TV mount near the outdoor kitchen, which should entice even the most reticent campers to come outside.
---
16HE

We're partial to the 16HE because we find rear entry to be a strong feature in travel trailers as small as these. The corner kitchen is another great aspect, as it lends a nice flow to the floor plan.
In addition to the kitchen amenities, which feature a microwave, fridge, sink, and 2-burner range, the 16HE offers a comfy living area with a sofa and convertible dinette. A queen bed rounds out the sleeping area, which also includes a front-facing storage unit.
The bathroom is located across from the rear-facing kitchen, which is convenient during the day but may cause problems at night. Fortunately, the travel trailer is only 22 feet 4 inches long, so you won't have far to walk.
---
16PF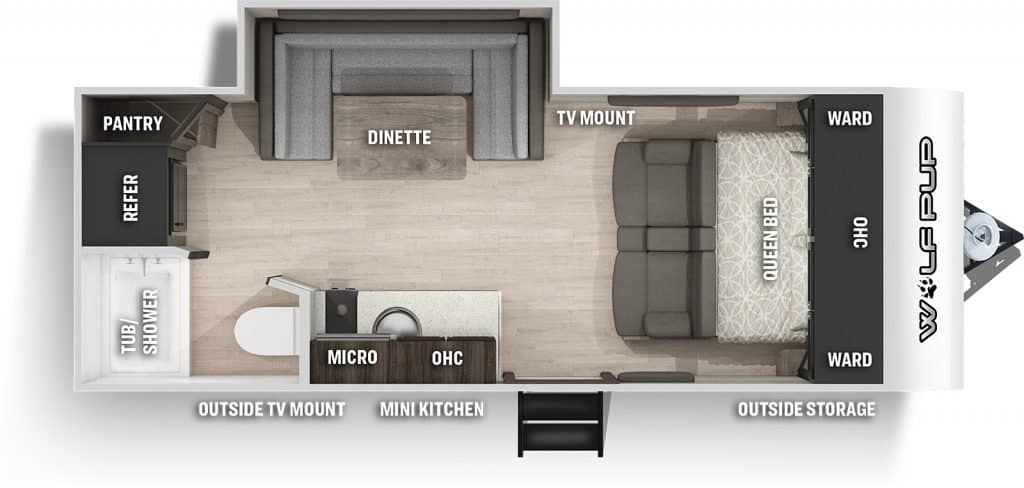 When you walk into the 16PF, you're welcomed by a cozy seating area that includes a sofa and U-shaped dinette. A front-facing queen-sized bed can be found just behind the sofa. The dinette faces the galley kitchen, which offers a sink, microwave, and storage unit as well as a 2-burner range.
The refrigerator is located in the rear, adjacent to a corner bath that includes a toilet and tub/shower combo. This setup is a bit awkward, as you'll have to navigate past the bathroom in order to access the fridge. We do appreciate the ample pantry space, though.
The manufacturer has included a slide-out in the construction of this model. That's where the dinette is located, freeing up the floor space. On the opposite exterior side of the camper, you'll find an outdoor TV mount and mini kitchen with extra storage space.
---
16TS

At just 21 feet 7 inches with a maximum sleeping count of 3, the 16TS is ideal for couples or families traveling with one young child.
The front-facing sleeping area consists of a queen-sized bed, overhead shelf, and TV mount. It offers great access to the bathroom, which is located just across from the side entrance. The galley kitchen can be found to the left and includes a sink, microwave, overhead cabinet, and 2-burner range.
This is another layout that situates the fridge a few steps away from the rest of the kitchen amenities. However, we don't mind that quite so much here because the fridge is located right by the rear-situated dinette, making it easy to grab a cold drink while you're chatting over a meal.
Like several other models in this lineup, the 16TS offers an outside TV mount as well as an outdoor kitchen. It's clear that the manufacturer appreciates the outdoor lifestyle and wants to encourage campers to enjoy the atmosphere in comfort.
---
17JG
When you step into the 17JG, you'll be greeted by a queen-sized bed on your right and a galley kitchen to your left. Across from you is a slideout containing a U-shaped dinette, conveniently located so that families can gather during meal preparation.
The refrigerator can be found toward the rear, adjacent to the bathroom with its toilet and tub/shower combination. Across from this setup, you'll find a set of bunk beds that would be suitable for smaller children but somewhat cramped for teens or adults.
If you're camping with friends or older kids, this might not be the best fit. For families with youngsters, though, it could be just the ticket.
---
18TO
The 18TO is a great camper that utilizes a layout similar to others in this lineup, but somehow seems to make more of the space. Perhaps that's due to the fact that it's one of the longest models here, measuring 23 feet in length.
In addition to the front-facing queen-sized bed, the 18TO offers a comfortable convertible sofa that's tucked into a slideout. Next to the sofa is a dinette, which can also be converted to create more sleeping space.
This living area faces the kitchen amenities, which consist of a 2-burner stove, refrigerator, microwave, sink, and storage unit. The TV mount is located in the rear, along with a bath that includes a combination tub and shower.
---
18RJB
With this model, Forest River has included a toy hauler in an already impressive lineup, providing us with still more evidence that the manufacturer possesses a keen appreciation for the great outdoors.
The 18RJB is more than just a camper—it includes a cargo bay measuring nearly 14 feet long and 4 feet 8 inches wide. That means you can pack your favorite outdoor gear along for the ride.
The bathroom is conveniently situated across from the side entrance, adjacent to the front-facing queen bed. Bathroom amenities include a toilet and a tub/shower combination, but you'll have to decamp to the kitchen to wash your hands.
There's a TV mount across from the kitchen, which includes a refrigerator, sink, microwave, 2-burner range, and overhead cabinet. Be forewarned that this camper only sleeps 3 people.
In Conclusion
Is the Wolf Pup a good camper? In our opinion, it's a great camper.
With this strong lineup, Forest River has created an opportunity for you to customize your camping experience according to your needs. If you're looking for a small travel trailer that offers all the comforts of home, you're bound to find one here.
Best of luck, and happy camping!
Check out our articles on: Best Bunkhouse Travel Trailer Under 26 FT