If you're thinking about switching from tent camping to RV living but are hesitant to take the plunge, a hybrid travel trailer could be the answer.
These campers are a nice compromise between sleeping on the hard ground and living the sweet life in a fancy motorhome.
They're more durable than regular pop-ups, but you'll still be able to hear the sounds of the forest all around you when you go to sleep at night.
In this guide, we'll go over the pros and cons of hybrid travel trailers to help you decide whether this is the right type of unit for you.
What Is A Hybrid Camper?
As you might have guessed, hybrid campers represent the middle ground between hard-sided travel trailers and tent campers. They're constructed like regular travel trailers, but they feature one or more pop-outs made out of tent material.
These pop-outs typically house the sleeping areas, which opens up the rest of the floor space.
Because the pop-outs don't add to the bulk of the camper while it's in transit, hybrids are an excellent "go-anywhere" type of RV.
Of course, there are two sides to every story, which we'll talk more about in the pros and cons segments below.
Benefits Of A Hybrid Travel Trailer
Towing Capability
Because of their design, hybrid campers are more lightweight than their hard-sided counterparts. They also tend to be fairly short, which makes them even easier to maneuver. In general, hybrids measure about 8 feet wide, so they're suitable for travel on most state highways. If you're worried about hauling a heavy camper around, a hybrid travel trailer could be a good place to start.
Cost
These units tend to be less expensive than hard-sided travel trailers for a couple of reasons.
First of all, as we mentioned earlier, they're usually on the smaller side. Campers tend to get more expensive as they get larger, so a rig with a shorter length and lower dry weight will be easier on your wallet.
Also, the materials used to make the tent pop-outs aren't as expensive as the fiberglass construction that's favored by most manufacturers. This helps to keep the costs lower than if the rig were outfitted with traditional slide-outs.
As an added bonus, if your vehicle isn't capable of towing heavy loads, there's no need to invest in a larger heavy-duty truck along with the camper.
That's one of the perks that makes hybrid travel trailers so popular with camping enthusiasts who are shopping on a budget.
Outdoor Exposure
When you sleep in a hybrid camper, you'll be exposed to fresh air and the sounds of nature that made you fall in love with camping in the first place.
If you'd opted for a regular travel trailer, you would feel more like you were sleeping in a house. That's not necessarily a bad thing, but if you truly love the outdoor experience, a hybrid will help to preserve that for you.
Space
When the sleeping areas are located in pop-out sections, it frees up a great deal of floor space. As a result, hybrid campers can feel exceptionally spacious, even if they happen to offer less square footage than hard-sided models.
Even better, you won't have to convert the dinette or sofa to a bed when it's time to hit the sack. The tent beds allow you to add extra sleeping space without co-opting any of the other furniture.
Of course, depending on how many people are in your party, you might have no choice, which is why many hybrids offer convertible furniture just in case.
Off-Road Capability
As a general rule, a hybrid camper can take more punishment should you decide to take it off the beaten path. That said, it's important to check the manufacturer's specifications if you intend to do this regularly.
Make sure the rig is outfitted with dual shock absorbers and heavy-duty brakes, and that it's built from top-notch materials.
Easy Setup
If you're used to tent camping, you'll love the convenience that a hybrid travel trailer offers. The setup is far less time-consuming, meaning you can start enjoying your wilderness adventure much more quickly.
Negatives Of A Hybrid Travel Trailer
Noise
That outdoor exposure that we were talking about earlier? It can be a mixed blessing, especially if you're parked in a noisy campground.
The tent walls aren't very good at blocking unwanted sounds, so if you're a light sleeper, you might want to think twice about buying a hybrid camper.
Security
Hybrid campers don't offer a great deal of protection from would-be predators, either.
Whether you're looking for a little bit of privacy after you turn off the lights or you like to transport a lot of expensive recreational equipment, this can be a huge turn-off.
It's also problematic if you like to camp in rustic areas with potentially dangerous wildlife.
Insulation
Campers who prefer to use their RVs year-round should rule out hybrid trailers as an option.
The tent beds can get chilly at night even in the summer, and they're typically not suitable for winter camping.
If you decide to buy one, make sure your sleeping bags are up to the challenge.
Popular Models
2020 Forest River Rockwood Roo 233S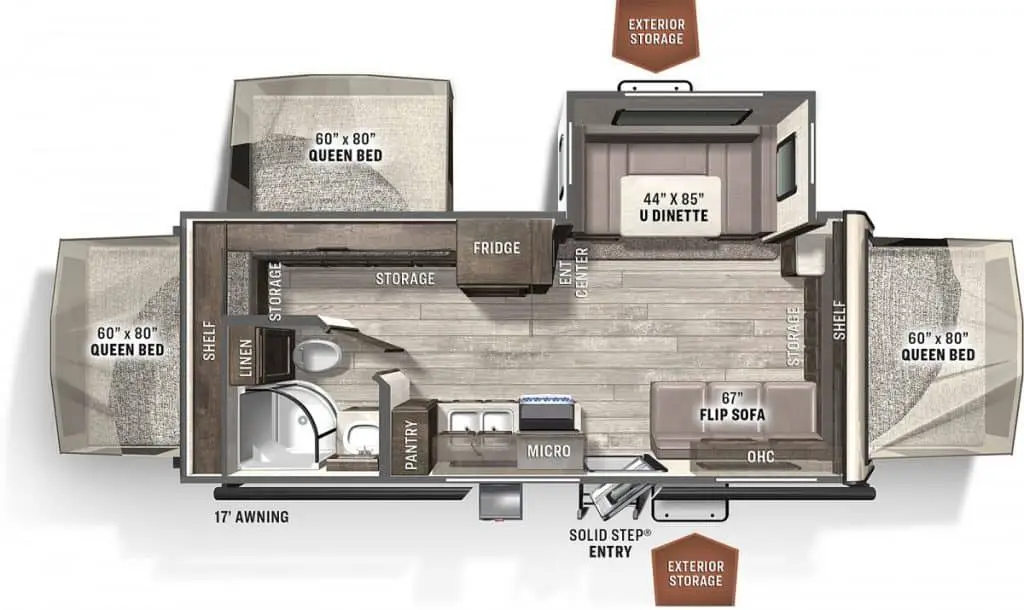 The Forest River Rockwood Roo 233S is a superb choice for groups of six or more. It features no fewer than three pop-outs, each of which measures 60 by 80 inches.
If you have three couples sharing the same camper, this gives everyone their own semi-private sleeping area.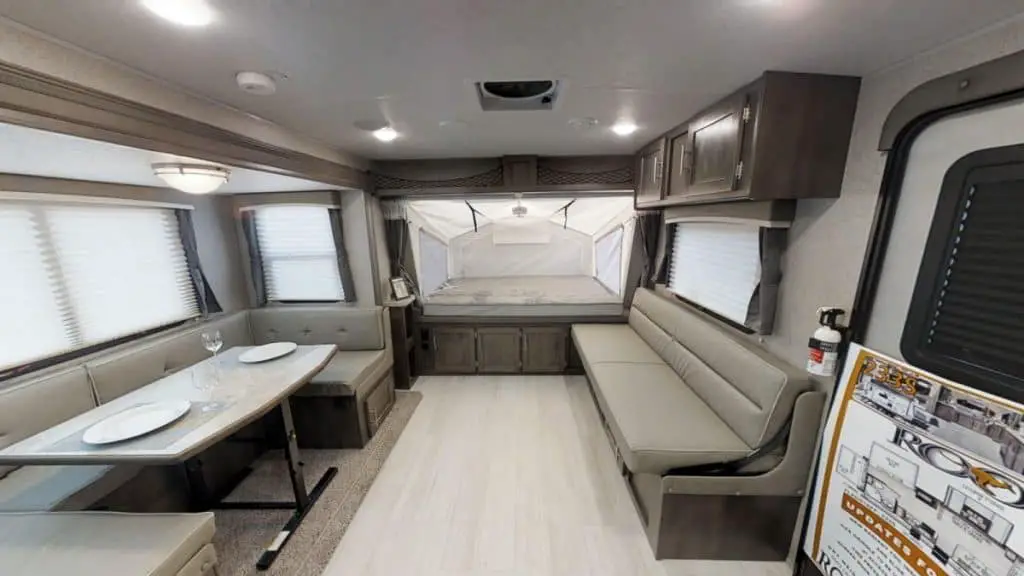 A traditional slide-out is located on the driver's side of the vehicle and houses a U-style dinette set.
Like the sofa on the opposite wall, this can be converted to create extra space for sleeping when necessary, giving the Roo 233S a maximum capacity of 10. Because the rig measures nearly 30 feet long, it can be filled to capacity without feeling too cramped.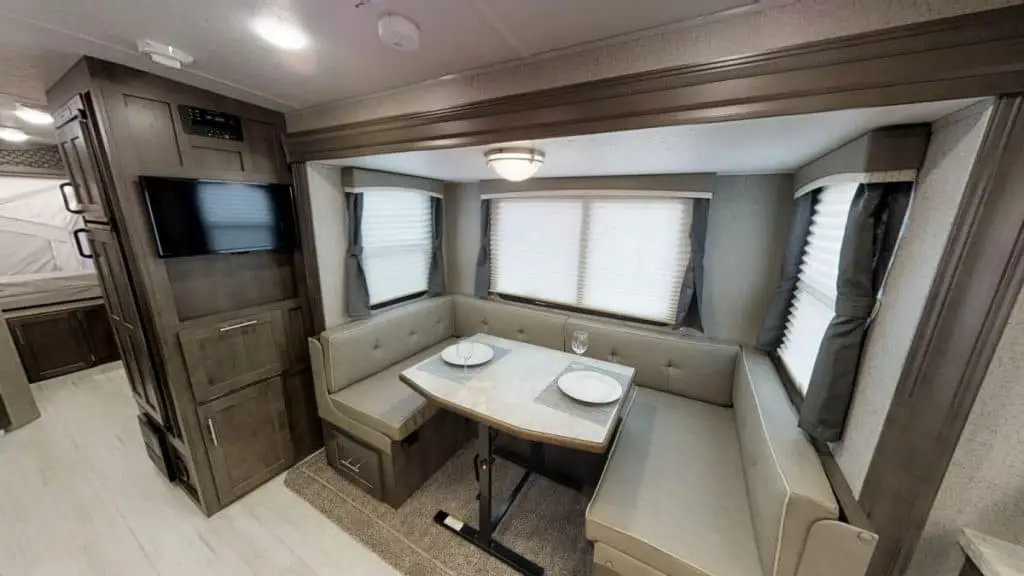 The rear bathroom includes a stall shower and the freshwater tank holds 58 gallons, so the unit is suitable for boondocking. In addition to the generous exterior storage and 17-foot awning, the 233S offers an outdoor gas griddle for cookouts.
| | | | | | | |
| --- | --- | --- | --- | --- | --- | --- |
| Length | Height | Width | Dry Weight | Freshwater Tank | Black Water Tank | Sleeps |
| 29 ft 7 in | 10 ft 5 in | 8 ft | 5,063 lbs | 58 gals | 30 gals | 10 |
2018 Jayco Jay Feather 7 16XRB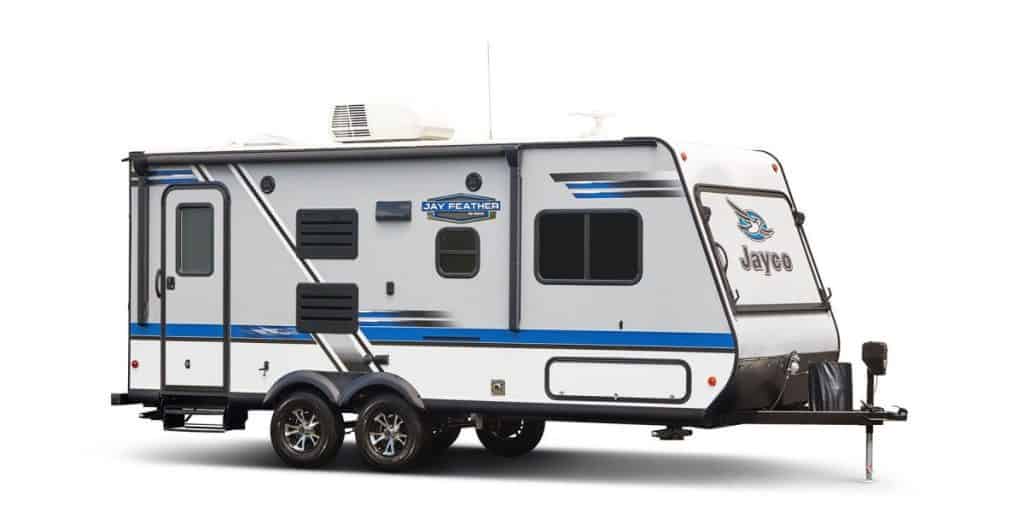 On the small end of the spectrum, we have the Jayco Jay Feather 7 16XRB. The floor plan of the 2018 model is best suited for couples and small families, but the dinette and bench sofa can pull double duty if there are up to 7 people in your party.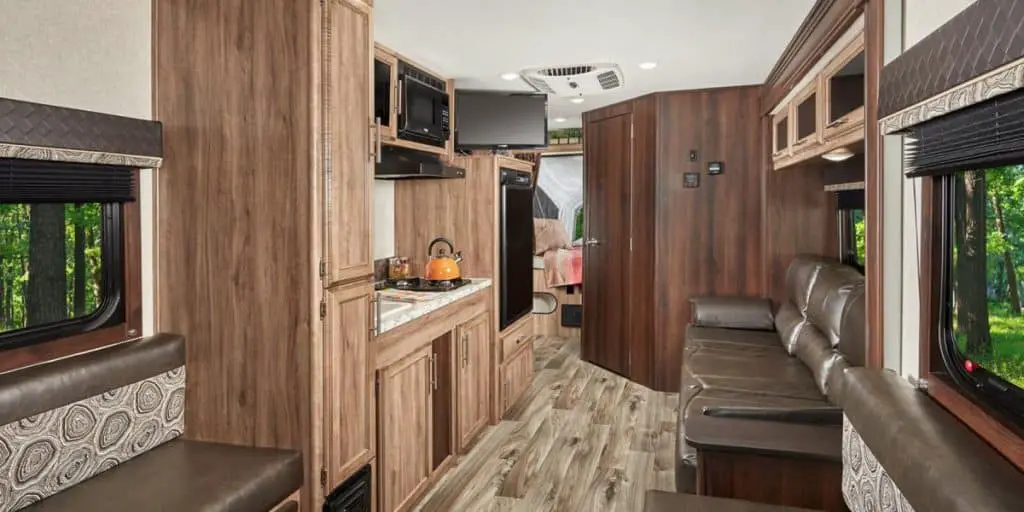 This model offers front and rear tent beds, each with its own storage space. The bathroom includes a shower and is located on the rear driver's side of the trailer, so whomever gets up the earliest should probably take the back "bedroom." In any event, the camper measures just 18 feet 10 inches long, giving everyone near-equal access to the facilities.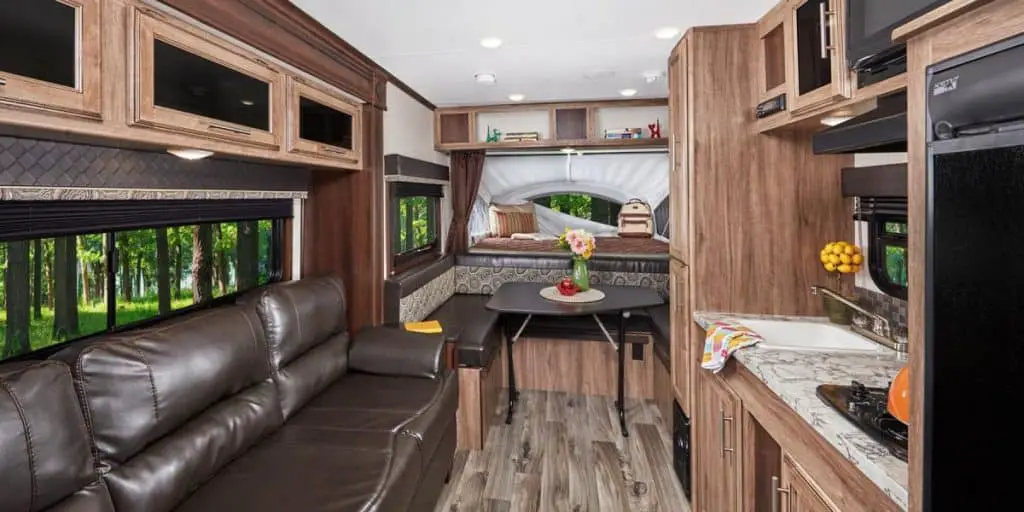 The kitchen area is snug, but it does make room for adequate prep space alongside the two-burner range and sink. The fridge is on the opposite side of the space, so travelers who just want to grab a quick beverage won't be getting in the chef's way.
Unfortunately, there's no outdoor kitchen on this unit. However, a 12-foot awning stretches along the passenger side, inviting you to get outside and enjoy the sights and sounds of the wilderness.
| | | | | | | |
| --- | --- | --- | --- | --- | --- | --- |
| Length | Height | Width | Dry Weight | Freshwater Tank | Black Water Tank | Sleeps |
| 18 ft 10 in | 10 ft | 7 ft 1 in | 2,925 lbs | 25.6 gals | 25.4 gals | 7 |
2021 K-Z Escape E180RBT
K-Z has updated their E180RBT model for the 2021 season, and the results are well worth a closer look. With two tent pop-outs located toward the rear of the trailer, this is one of those RVs that gives everyone equal access to the bathroom area.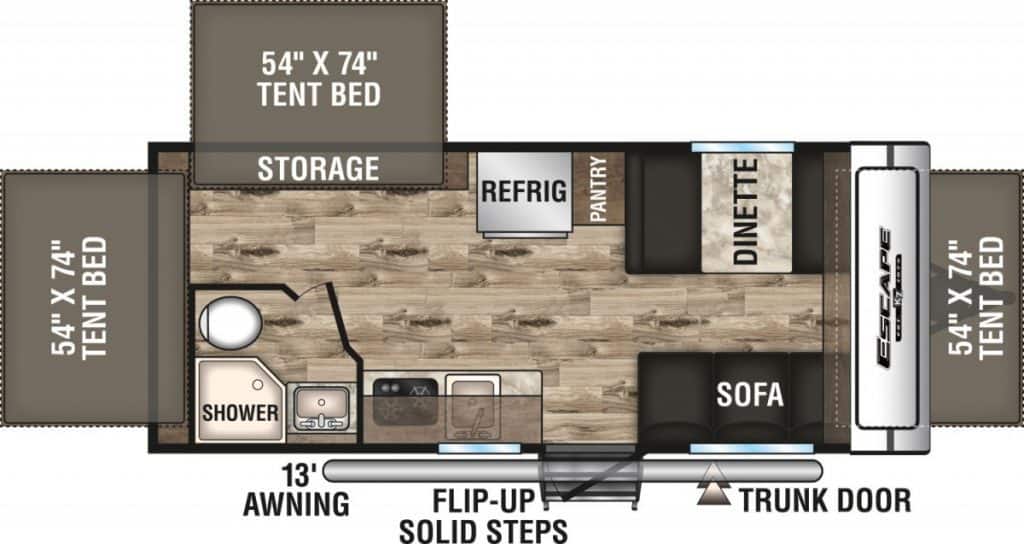 Of course, that's assuming that no one is sleeping on the convertible dinette or sofa. When these units are in play, the E180RBT can sleep 8 people, though it's a rather tight fit. If you're only using the tent beds, the rest of the living space has a cozy yet convivial vibe.
The bathroom facilities include a stall shower, but the toilet is wedged tightly between it and the wall, which can be awkward. The kitchen is on the small side as well, with a two-burner range, microwave, sink, and minimal counter space. A refrigerator and pocket-sized pantry can be found on the opposite side of the rig.
Outside, you can rest beneath the shade of a 13-foot awning. The flip-up steps give this unit an impressively small footprint. The dry weight is only 3,320 pounds, so you don't need an oversized towing vehicle in order to haul it. It also measures under 22 feet long, making it a great option for beginners.
| | | | | | |
| --- | --- | --- | --- | --- | --- |
| Length | Height | Width | Dry Weight | Freshwater Capacity | Black Water Capacity |
| 21 ft 9 in | 9 ft 10 in | 7 ft 6 in | 3,320 lbs | 20 gals | 24 gals |
In Conclusion
While there are pros and cons to every purchase, we truly feel that with a hybrid travel trailer, you'll get the best of both worlds.
Instead of sleeping on roots and rocks with water dripping on your head, you'll get a comfortable bed on which to rest. Instead of hauling a hard-sided camper that requires a heavy-duty pickup truck, you can hitch up a lightweight trailer and take it along on off-road adventures.
What's more, you can do all this sooner rather than later. The low price tag that's attached to most hybrids makes them suitable for almost any budget. Over time, the unit will pay for itself–in both literal and figurative terms.
Best of luck, and happy camping!
Check out our article on: 7 Of Our Favorite Hybrid Travel Trailers