Many first-time RVers aren't prepared for the shaking and jiggling motions that can result when a travel trailer hasn't been stabilized properly. However, these issues are in fact quite common—enough so that there are a number of products such as leveling blocks, wheel chocks, stabilizers, and jacks on the market designed to eliminate them.
If you want to know how to stop your travel trailer from rocking, we're here to help you find the right tools for the job.
Why Do Travel Trailers Rock In The First Place?
The suspension system of a travel trailer is outfitted with springs that keep the ride smooth when the vehicle is in motion. The camper is also supported by a set of tires that helps to evenly distribute the excess weight.
Both the springs and the tires are bouncy by nature, so it makes sense that the trailer should wiggle around when you climb aboard. That doesn't mean you have to live with it.
Most modern motor homes and fifth wheels will be outfitted with automatic leveling systems that take a lot of work out of the process. Travel trailers, on the other hand, require a bit more work from the operator—and a healthy dose of know-how. The rig might not hold completely still when you're through, but the goal is to keep it as immobile as possible when parked.
Products To Keep The Travel Trailer Stable
Items designed to keep a travel trailer level can be sorted into the following categories. Each has its own strengths and weaknesses—it's best to invest in at least one product from every category, just in case.
Leveling Blocks
Leveling blocks are designed to keep the travel trailer from bouncing up and down when you and your family climb aboard. They can also make sure the unit is level when parked on uneven terrain.
Lynx Levelers are some of the highest-rated and most effective leveling blocks on the market. With their distinctive bright orange color and a design that allows them to be stacked in a pyramid configuration, they're as easy to use as they are to spot. These levelers can withstand a great deal of weight and provide an excellent base for other types of stabilizing equipment. They're available in packs of 10, which should be sufficient. However, the price is low enough for us to justify buying two packs, just in case.
If you can't find the Lynx Levelers, Camco's Heavy Duty Leveling Blocks are another good bet. Although they have a more rudimentary design, they're just as easy to use, and rugged enough to get the job done. As a bonus, they're also set at a slightly lower price point, making them a good option for bargain shoppers.
Wheel Chocks
As the name suggests, these devices are designed to keep the tires in place. When you place these behind the wheels, you're creating the most stable environment you can hope for in a unit that was designed for motion. If you've ever been inside a travel trailer that moves when parked, you should be able to appreciate what wheel chocks have to offer.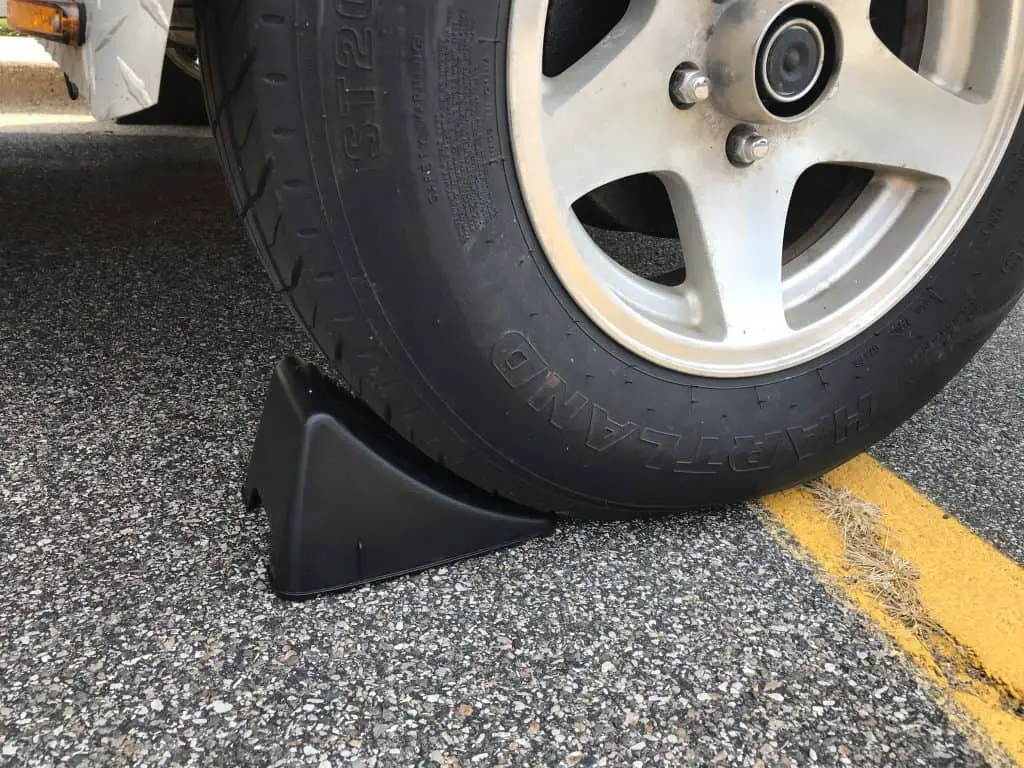 Of all the wheel chocks we've encountered, we would award the top spot to AFA Tooling Chock Blocks. Instead of the smooth surface that characterizes most of the competition, these blocks have a rugged texture that provides a firmer grip for the tires.
The oversized handles are easy to grip, too, which earns them high marks in terms of both safety and convenience. Despite their steep grade, they're small enough to be stored easily behind the backseat of the towing vehicle.
Looking for something that won't break the bank? HIGOOD offers a quality set of tire chocks with built-in rubber traction pads and sturdy handles for gripping. They're also very lightweight and compact, which makes them easier to transport.
Stabilizers/Jacks
Stabilizers (also known as stabilizing jacks) should prevent the trailer from swaying from side to side. When used in combination with leveling blocks, they can work wonders.
Still, it's worth noting that jacks and stabilizers should be used as backup only—it's a bad idea to rely on them to get the job done on their own. Instead, use a set of quality leveling blocks to get the rig into the most stable position possible, then use the stabilizing jacks to keep the trailer from rocking when you move around inside it.
If you're in the market for a great set of stabilizers, look no further than the Stabilizing Scissor Jacks from Eaz-Lift. These units are easy enough for beginners to use and can be adjusted from 4-3/8 inches to 23-3/4 inches high, giving them a versatility that's lacking in the majority of the competition.
With their powder-coated steel construction, they're durable enough to withstand many seasons of use, even in uncooperative weather. Best of all, they're capable of supporting up to 7,500 pounds of weight per jack, making them an excellent fit for most travel trailers. The set includes two scissor jacks and one customized power-drill socket.
Another option comes from Libra, which offers a set of four stabilizing scissor jacks at roughly the same price you'd pay for two sets of the Eaz-Lift version. Since you'll need at least four scissor jacks anyway, the Libra pack represents a more streamlined choice. The set can hold up to 7,500 pounds per jack and includes a crank handle to make the job easier. If you're a novice, the instructions provided are exceptionally clear and easy to follow.
How To Stop A Travel Trailer From Rocking: A Step-By-Step Guide
Now that you know what items you'll need to keep the rig steady, here's a guide to help you do the job properly.
1. Use a lug wrench to tighten the lug nuts on your camper's tires.
2. Check the air pressure in your tires. If they're low, now would be a good time to top them off. A portable air compressor comes in handy here, especially if you're a full-timer who needs to adjust the tire pressure regularly. Don't forget to invest in an extension cord—it will make the air compressor easier to use in the long run.
3. Choose a spot that already appears to be as level as possible. Clear away any debris or large rocks that might make parking difficult. If there are more people in your party, ask them to stand clear of the designated area while you move the travel trailer into position.
4. Place an RV level flat against the doorway to determine which side of the trailer you might need to raise.
5. Use your judgment to estimate how many leveling blocks you might need to make the trailer more stable. Place the blocks near the tires that need to be raised, connecting them to form a small ramp.
6. Slowly drive the trailer up onto the blocks, accelerating gently and keeping the steering wheel as straight as possible. If the tires slip off the blocks, you'll need to back up and start again.
Note: It's imperative that the tires remain completely within the parameters of the leveling blocks. Allowing the tires to hang over the edge can cause serious damage to their construction.
7. Use the level again to make sure the travel trailer is stable. If it needs to be raised higher, carefully back off the makeshift ramp and adjust the leveling blocks before trying again.
8. When the rig is as level as you can get it, place the tire chocks beneath the wheels to hold the trailer in place.
9. Engage the RV stabilizer jacks, placing one in every corner. This means you'll need a total of four stabilizers, so keep that in mind when you're shopping for a set.
For a visual demonstration on how to level and stabilize your travel trailer, take a look at this video tutorial.
Tips
If you've followed the steps above to the letter only to find that the trailer still moves when parked, try one of the following fixes:
If the wiggling comes from the middle of the trailer: Use X-chock tire stabilizers to keep the wheels in place.
If it's the slide-outs that are jiggling: Use a special set of stabilizers for the slide-outs themselves.
If you notice the instability around the rear or the entrance: Add stabilizers beneath the door and rear bumper.
If the trailer is rocking around the sides or the corners: Add another set of scissor jacks to reinforce the ones you've already put in place.
As you've probably guessed, it's better to have too many stabilizing tools on hand than to come up short. Fortunately, if you're camping in a travel trailer, you should have plenty of room to store the supplies you'll need.
The Bottom Line
Now you know: It's perfectly normal for a travel trailer to rock and jiggle around when parked. Their construction makes this movement inevitable, which is why it's up to you to do everything in your power to correct it.
With the aid of leveling blocks, scissor jacks, and tire chocks, you can create a more comfortable environment for yourself and your fellow campers.
Best of luck, and happy camping!
Checkout our article on: Best Leveling Blocks For Travel Trailers