Adventurers who are looking for a little extra privacy—not to mention a reprieve from sleeping on the hard ground—are sure to appreciate what pop-up campers have to offer.
There are a ton of great options available, but not all of them will be worth your money. That's why we've put together this handy guide detailing the top 7 models on the current market.
Trailmanor 2518KB
Forest River Flagstaff T12RB
Jayco Jay Hardwall 12BFD
Coachmen Clipper C12RBSTHW
Aliner Classic—Medium
Coachmen Viking V12RBSTHW
Forest River Rockwood A214HW
Why Buy A Hard Side Pop Up Camper?
Hard side pop up campers represent a compromise between traditional pop ups and larger travel trailers. They're a great choice if your towing vehicle is on the smaller side or if you want to buy a camper but don't have a ton of money to invest. You might also consider this type of camper if you have limited storage space to work with.
Unlike traditional pop-ups, which are made from canvas, hard-side models are easier to care for. They offer better insulation, more privacy, and greater peace of mind.
Each model on our list has its benefits and drawbacks. Take a look to find out if one of them is the right fit for you and your family.
7 Great Hard Side Pop Up Campers
Trailmanor 2518KB
| | | | | |
| --- | --- | --- | --- | --- |
| Towing Length | Towing Height | Towing Width | Dry Weight | Sleeps |
| 18 ft | 6 ft 10 in | 7 ft 11 in | 2580 lbs | 6 |
Let's start with one of the larger units, the Trailmanor 2518KB. The 2518 series offers a few different floor plans, but this one has a sleeping capacity of 6, with sleeping areas in both the front and rear of the RV. Despite that, it's still one of the most lightweight trailers on Trailmanor's list.
A king-sized bed takes up residence in the rear of the trailer. This one has better access to the bathroom facilities, which include a cassette toilet and shower. The only sink is located across the hall, which is slightly awkward, especially since the two-burner stovetop and oven are on the other side of the trailer as well. The second sleeping area consists of a double bed just behind the sizable dinette set.
As the 2518 models go, this one has the least open floor space. However, for families of 5 to 6 people, it's a great option.
---
Forest River Flagstaff T12RB
| | | | | |
| --- | --- | --- | --- | --- |
| Towing Length | Towing Height | Towing Width | Dry Weight | Sleeps |
| 17 ft 5 in | 5 ft 1 in | 7 ft | 2014 lbs | 3 |
Forest River's Flagstaff T12RB weighs in at just over 2000 pounds when unloaded, making it a good fit for smaller towing vehicles. While it doesn't come with many frills, it's an excellent starter unit for people who are hesitant about committing to the RV lifestyle.
The living space consists of a dinette that can be converted to a single bed, kitchen facilities with a sink and three-burner range, and a flip-up bed. There's a tiny cabinet located just inside the door, which can be used to store kitchen supplies or other sundries. Speaking of storage space, there's an impressive amount for a trailer this size, but don't expect to bring your whole wardrobe.
Forest River also offers a gas grill setup just outside the entrance of the Flagstaff T12RB. This is an enticing feature that beckons campers to enjoy the great outdoors instead of hiding out inside.
---
Jayco Jay Hardwall 12BFD
| | | | | |
| --- | --- | --- | --- | --- |
| Towing Length | Towing Height | Towing Width | Dry Weight | Sleeps |
| 22 ft 4 in | 5 ft 10 in | 7 ft 1 in | 2455 lbs | 2 |
The Hardwall 12BFD from Jayco manages to do a lot with very little space. Because it measures just 22 feet 4 inches long, it's easy enough for amateurs to maneuver.
There's a small bathroom area located just inside the door, equipped with a toilet and cool bidet-style setup. We wouldn't expect any bathroom facilities from a trailer this small, so this is a welcome surprise.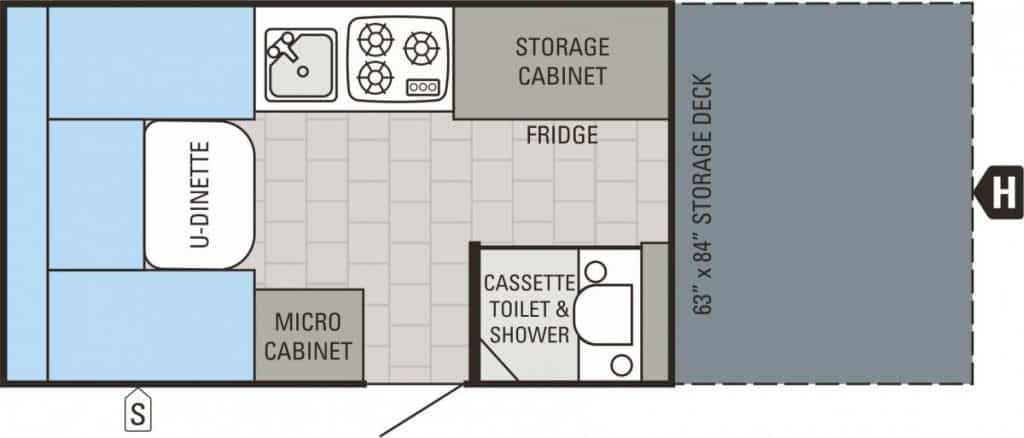 The kitchen is snug but adequate, with a fridge, storage cabinet, sink, and three-burner stovetop. The U-shaped dinette can be converted into a double bed at night. A set of skylights give the living space a bright, airy appearance.
Note that this unit sleeps just two people–there are no beds apart from the convertible dinette set. It could be a great fit for adventurous singles or couples who want to move past tent camping.
---
Coachmen Clipper C12RBSTHW
| | | | | |
| --- | --- | --- | --- | --- |
| Towing Length | Towing Height | Towing Width | Dry Weight | Sleeps |
| 20 ft 2 in | 4 ft 11 in | 7 ft 4 in | 2230 lbs | 4 |
Despite the model name, which is something of a mouthful, the Coachmen Clipper C12RBSTHW is a cozy little pop-up that measures just over 20 feet long. Couples or small families with modestly-sized towing vehicles might want to take a look at this one.
There are no bathroom facilities included, but the living space does make room for a sink and a refrigerator, as well as a two-burner range. To the rear of the trailer is a flip-up bed, and the front-facing dinette can be converted into a second bed that's large enough to sleep two people.

In addition to the sizable window located above the kitchen facilities, the Clipper offers interior LED lighting. This is a nice touch that brightens up the space, and it comes in especially handy when preparing dinner at night.
---
Aliner Classic—Medium
| | | | | |
| --- | --- | --- | --- | --- |
| Towing Length | Towing Height | Towing Width | Dry Weight | Sleeps |
| 15 ft | 4 ft 9 in | 6 ft 6 in | 1590 lbs | 3 |
Aliner is one of the first brands that pops to mind (pun intended) when we think about this type of trailer. With their iconic triangular profile, they resemble cozy Swiss chalets on wheels. The Classic Medium sits right in the middle of the spectrum as a trailer that's neither too small nor too large.
Buyers can choose from two floor plans: One that contains a permanent bed in the rear of the trailer, and one with a sofa that can be converted into a bed at night. Both versions also have a front-facing convertible dinette with storage under both seats.
In both cases, the living space is fairly snug, but the sofa version offers more shelving. This comes in handy if you like to bring a lot of books along on camping trips. The kitchen area has the same configuration for both floor plans and includes a refrigerator, a microwave, a two-burner range, a sink, and a small storage unit.
---
Coachmen Viking V12RBSTHW
| | | | | |
| --- | --- | --- | --- | --- |
| Towing Length | Towing Height | Towing Width | Dry Weight | Sleeps |
| 20 ft 2 in | 4 ft 11 in | 7 ft 4 in | 2230 lbs | 4 |
Another hard-side option from Coachmen, the Viking V12RBSTHW is a rugged little unit with a sleeping capacity of 4. That said, the interior can feel a bit cramped when that many people are inside, making this a better fit for families who prefer to spend most of their time outdoors.
Just inside the entrance, you'll find a kitchenette with refrigerator, sink, and two-burner stovetop. There's also a micro-cabinet for storage. A flip-up bed is configured in the rear of the trailer, and a convertible dinette rounds out the living space.

Coachmen has included plenty of storage space in the makeup of the Viking V12RBSTHW. There's even a quick-release storage box on the exterior just above the towing hitch. If you like to pack a lot of gear for hiking or fishing, this could be the rig for you.
---
Forest River Rockwood A214HW
| | | | | |
| --- | --- | --- | --- | --- |
| Towing Length | Towing Height | Towing Width | Dry Weight | Sleeps |
| 21 ft 2 in | 5 ft 8 in | 7 ft | 2700 lbs | 3 |
If a well-appointed bathroom ranks high on your hit parade, look no further than the Forest River Rockwood A214HW.
The facilities include both a toilet and a shower, with a large sink just outside the door. This front-facing bathroom area shares space with the kitchen commodities, which might be somewhat awkward. Still, for a pop-up trailer in this size range, you'd be hard-pressed to find a more convenient setup.
The bedroom space consists of a flip-up bed and a convertible dinette, bringing the total sleeping capacity up to 3. While the kitchen area is quite snug, consisting of a fridge and two-burner stove in addition to the sink, there's also a gas grill setup outside. The unit contains plenty of exterior storage space as well.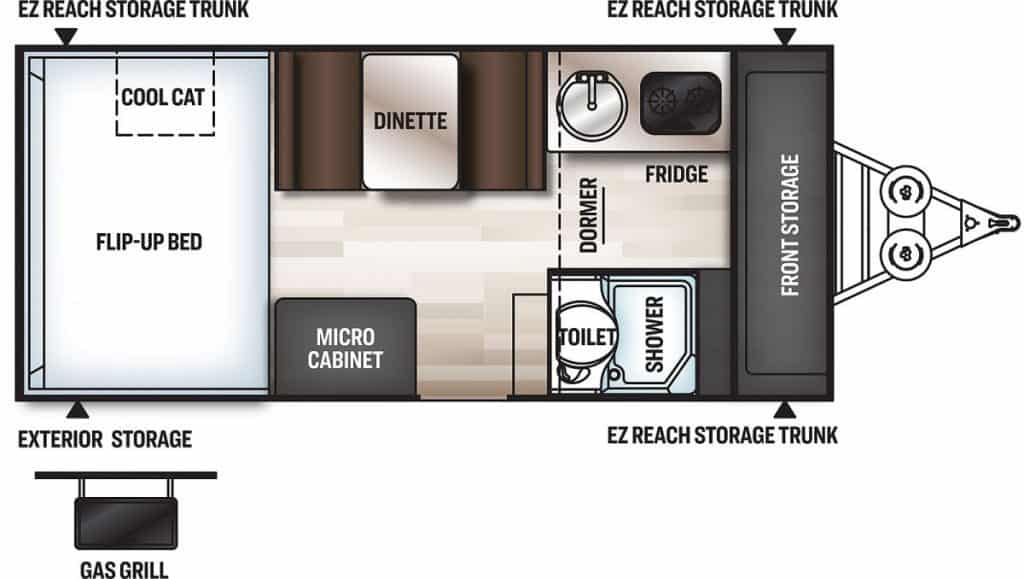 We should mention that while the bathroom offers convenience, the walled-off space makes the interior feel slightly claustrophobic. Consider the Rockwood A214HW only if you're looking specifically for a pop-up trailer that has its own toilet.
---
In Conclusion
Hard-side pop-up campers come in many different styles and sizes. The best way to choose the right model is to decide what you're looking for in advance.
Do you want a rig that can accommodate a large family? How much storage space do you need? Do you plan on doing most of your cooking inside or outside? Will you be satisfied with a comfortable place to rest your head at night, or would you prefer a unit that has a bathroom area?
The answers to these questions will give you a better sense of how to read the market. Once you know what kind of trailer you want, you should be able to find one that meets your criteria.
Best of luck, and happy camping!
Check out our article one: What To Look For When Buying A Used Pop Up Camper (10 Tips)