If you're thinking about purchasing a travel trailer, it's imperative to find out whether or not your vehicle is equipped to handle the job.
In this guide, we'll provide you with a tow rating comparison chart to give you some idea of what to expect from your truck or SUV—or whether you need to invest in a sturdier vehicle for the adventures that await.
How Big Does The Towing Vehicle Need To Be?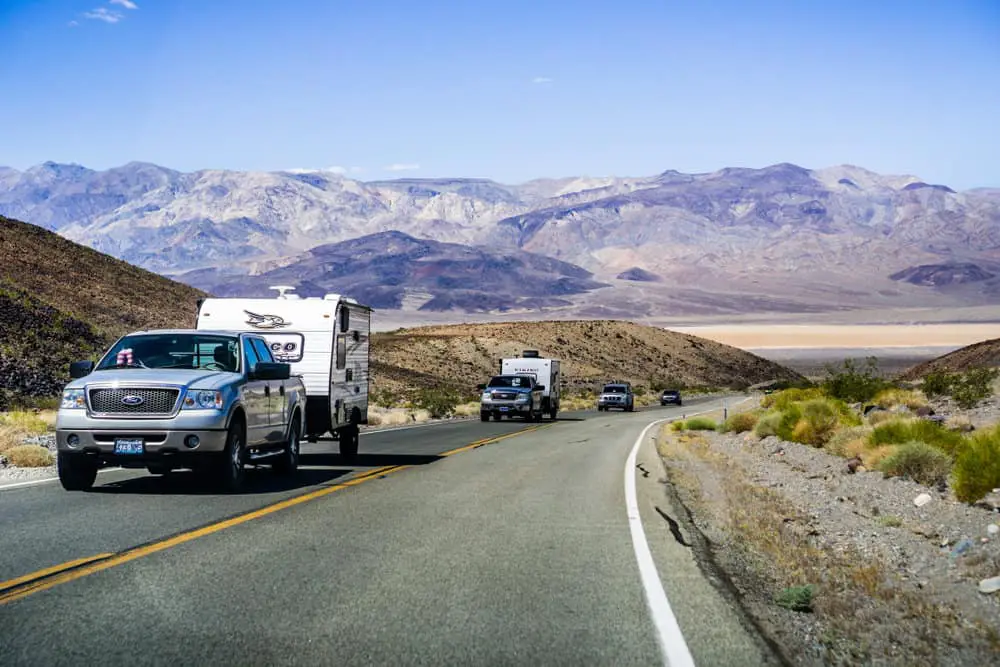 Because every vehicle—and every travel trailer, for that matter—is different, there's no definitive answer to this question. However, we can provide you with some basic guidelines that should point you in the right direction. For a more comprehensive look at some of the most popular campers on the market, see our Comparison Chart below.
In general, a car or smaller SUV can safely tow 1500 pounds, while a mid-size SUV or light-duty pickup truck might be able to handle up to 3000 pounds. Meanwhile, full-sized SUVs and half-ton pickup trucks can tow travel trailers that weigh in at 8000 pounds or more. If the vehicle is fully equipped with a specialized tow package, it's capable of hauling even heavier loads.
Because the tow rating and max payload are closely tied to the axle configuration and engine size, it's best to take a closer look at the vehicle's specifications before making a decision. Most importantly, as far as the tow rating is concerned, don't take the salesman's word for it when you're selecting the travel trailer itself. They're trying to sell you the largest rig you can afford—it won't make any difference to them if your vehicle can't handle the weight.
Why It's Important Not To Overload Your Vehicle
Asking your truck or SUV to tow more than it can handle will lead to numerous issues, both immediately and further down the road. In the short term, you'll be relinquishing a great deal of control. When you tow too much weight, you won't be able to steer as effectively. Even more worrisome? If you need to brake suddenly, the vehicle might be too heavy to come to a complete stop in time.
As far as long-term effects are concerned, the braking system will begin to show early signs of wear and tear. The engine is also likelier to overheat, which means a shorter life for your transmission. In short, it's in your best interests to start with a vehicle that's up to the job.
If you enjoy this article, check out our article on: Best SUVs For Towing A Travel Trailer
Important Definitions
Before shopping for a travel trailer (or a truck for towing a travel trailer), you should understand the distinction between the following terms.
Tongue Weight—How much weight the tongue will put on the hitch
Curb Weight—Weight of the vehicle without any gear or passengers
Dry Weight—Weight of the trailer without any gear, passengers, gas, or water
Payload—Weight of the gear, passengers, and tongue weight of the trailer itself
Gross Vehicle Weight—Combined weight of the vehicle, fuel, gear, passengers, and tongue weight (the sum of the payload and the curb weight)
Combined Gross Vehicle Weight—Manufacturer's specification of how much total weight the vehicle can handle, including the weight of the vehicle itself
Max Trailer Weight—Maximum amount of weight that a vehicle can safely tow (excluding the weight of the vehicle)
Max Tongue Weight—Total amount of weight that the hitch can handle (included in max payload)
Trailer Gross Vehicle Weight—Total weight of the fully loaded trailer, including passengers
Common Travel Trailer Weights
To give you some idea of what kind of camper your vehicle will be able to tow, here are the specifications for some of the most popular travel trailers on the current market.
2020 Winnebago Minnie 2201DS
Length
26 feet 9 inches
Dry Weight
4900 pounds
Max Payload
2100 pounds
Hitch Weight
575 pounds
Sleeps
4
2020 Dutchmen Aerolite 2843BH
Length
33 feet 3 inches
Dry Weight
6904 pounds
Max Payload
2776 pounds
Hitch Weight
753 pounds
Sleeps
10
2020 Coleman Light 2825RK
Length
32 feet 8 inches
Dry Weight
6522 pounds
Max Payload
3158 pounds
Hitch Weight
835 pounds
Sleeps
4
2020 Jayco Feather 22RK
Length
27 feet 8 inches
Dry Weight
5530 pounds
Max Payload
1220 pounds
Hitch Weight
575 pounds
Sleeps
2
2020 Forest River Cherokee Alpha Wolf 26DBH-L
Length
31 feet 6 inches
Dry Weight
5795 pounds
Max Payload
1805 pounds
Hitch Weight
600 pounds
Sleeps
10
Other Considerations
Bear in mind that if the rig is outfitted with slideouts, the weight increases dramatically. One mechanized slideout can add as much as 800 pounds to the trailer's dry weight, so pay close attention to the configuration.
Also, take a look at the outside of the trailer. If the exterior walls are perfectly smooth, then it's constructed of fiberglass. If the walls are bumpy along the edges, you have a "stick-built" trailer with aluminum siding. You can expect a stick-built trailer to weigh nearly 1000 pounds more than a similar-sized model with a fiberglass construction.
Another consideration would be if your looking at purchasing a fifth wheel. A fifth wheel will require additional components in the bed of a heavy duty pickup truck adding weight.
Estimated Weights of Assorted Gear
Here's a list to help you determine how much you can expect your gear to weigh. Remember that it's always a good idea to round up when estimating weight—it's better to assume you have too much weight than to underestimate the amount.
Full fresh water, gray water, and black water tanks: 1000 pounds
Propane Tanks: 100 pounds
Clothing and Linens: About 20 pounds per person
Battery: 75 pounds
Food: 80 pounds
Electronics: 50 pounds
Tools and Leveling Blocks: 60 pounds
Cooking Supplies: 200 pounds
Camping Gear: 50 pounds
If you use this list as a guideline, the necessary gear for a family of four would weigh in at about 1700 pounds. Don't forget to include the weight of all the passengers in the payload when making your calculations, along with the tongue weight.
Towing Capacity Comparison Chart
This chart is designed to show you which vehicles are best for towing certain types of travel trailers. If you aren't sure what category your vehicle falls under, check the owner's manual.
| | |
| --- | --- |
| Vehicle Type | Small SUV |
| Tow Capacity | 1500-2000 pounds |
| Best For | Ultralight Travel Trailers |
| Suggested Models | Jayco Hummingbird, Minicat 310 |
| | |
| --- | --- |
| Vehicle Type | Midsize SUV |
| Tow Capacity | 3500-4000 pounds |
| Best For | Small Travel Trailers |
| Suggested Models | Jayco Jay Sport 10SD, Flagstaff T12RB |
| | |
| --- | --- |
| Vehicle Type | Standard SUV |
| Tow Capacity | 5000 pounds |
| Best For | Small to Medium Travel Trailers |
| Suggested Models | Arctic Fox 1150 |
| | |
| --- | --- |
| Vehicle Type | Large SUV |
| Tow Capacity | 6500-8000 pounds |
| Best For | Medium Travel Trailers |
| Suggested Models | Grand Design Imagine 2400BH, Lance 2465 |
| | |
| --- | --- |
| Vehicle Type | Half-Ton Pickup Truck |
| Tow Capacity | 9000-10,000 pounds |
| Best For | Medium-Heavy Travel Trailers |
| Suggested Models | Travel Lite Evoke Model B, Coachmen Catalina Legacy 303RKP |
| | |
| --- | --- |
| Vehicle Type | 3/4-Ton Pickup Trucks |
| Tow Capacity | 10,000-15,000 pounds |
| Best For | Heavy Travel Trailers |
| Suggested Models | Keystone Cougar 32RLI |
| | |
| --- | --- |
| Vehicle Type | 1-Ton Pickup Trucks |
| Tow Capacity | 20,000-35,000 pounds |
| Best For | Oversized Travel Trailers |
| Suggested Models | Jayco Eagle Premier 375 BHFS, Palomino Puma 32RKTS |
If you're looking for a camper, this chart should help you choose one that can be safely towed behind your existing vehicle. If, on the other hand, you're shopping for a vehicle that's best for towing the camper you already have, then you'll need to flip the weight calculations to determine which size truck or SUV to buy.
FAQs
Is There A Way To Find Out If The Vehicle Is Equipped For Towing?
First, take a look at the rear bumper to find out if there's a hitch installed. If not, the vehicle will only be able to tow the minimum weight specified by the manufacturer.
If there is, that's a good sign—but it doesn't necessarily mean that the vehicle is equipped with a full tow package. For that, you'll have to check either the owner's manual or the manufacturer's plate located on the frame of the driver's door.
Also, equipment will need to have been added to accommodate a fifth wheel trailer. A goose neck trailer will have its connections in the bed of the truck unlike the setup of a bumper pull trailer.
What Size Travel Trailer Can A F150 Pull?
A regular Ford F150 has a towing capacity of 5,100 pounds. However, the company also offers a tow package that increases the capacity to 13,200 pounds, which will open up your options considerably.
For our full break-down of the capabilities of the Ford F-150, check out our article: What Size Travel Trailer Can A F150 Pull?
How Big Of A Travel Trailer Can A Half-Ton Truck Pull?
A half-ton pickup with max payload should be able to tow around 10,000 pounds—enough for an average-sized travel trailer. Most half-ton trucks can accommodate a fifth wheel, but this depends on the bed size.
How Big Of A Travel Trailer Can I Tow With A Chevy 1500?
Trucks in Chevy's 1500 series can be equipped with a tow package that gives them a maximum load capacity of 11,000 pounds, making them suitable for heavy travel trailers. If the vehicle is outfitted with a larger engine (like the 6.2L V8), the tow rating can be as high as 13,400.
Is There Any Additional Safety Equipment I Can Invest In To Ensure A Smooth Ride?
Sway bars can help you maintain proper control of the trailer, particularly in high winds. We recommend Reese's Pro Series 83660 kit, a sturdily constructed bar that can be used on either the left or right sides of the trailer.
Eaz-Lift Stabilizing Scissor Jacks can help keep the rig stable once it's parked–bear in mind that you'll need at least four of them for maximum effect.
It's also a good idea to have a trailer brake controller to give you additional support in case you need to come to a sudden stop. The Tekonsha 90160 has an oversized LED display that's easy to read, even from a distance.
The Bottom Line
Whether you're shopping for a travel trailer that suits your vehicle or the other way around, you can save yourself a lot of stress by doing the calculations beforehand. Even better, you'll be protecting your investment by treating your vehicle with the proper care–and protecting yourself and your travel companions at the same time.
Best of luck, and happy camping!
Checkout our article on: Do I Need a Weight Distribution Hitch For My Camper?