If you're thinking of making the switch from tent camping to more comfortable accommodations, you might find yourself wondering about the distinctions between the different campers.
Why are motorhomes divided into three separate classes? What is a "fifth wheel?" Is there really a difference between RV and camper trailer? We've put together this guide to help you find the answer—and the unit that's right for you.

How To Tell The Difference Between RV And Camper Trailer
First of all, understand that the term "RV" is sometimes used to refer to all recreational vehicles—travel trailers, fifth wheel trailers, and motorhomes alike.
Often, however, recreational vehicle is used to refer specifically to motorhomes, which are vehicles with built-in cab components. Camper trailers, on the other hand, are designed to be towed behind a separate vehicle.
Once you understand this distinction, it should be easy to determine whether the vehicle you're looking at is an RV or a camper trailer.

Understanding The Different Types Of RVs and Camper Trailers
To help you gain a broader picture of the various camper types, we've compiled this guide detailing the ones you're most likely to encounter. We'll begin with the largest class of RVs, working our way down to the smaller and more obscure campers.

Class A Motorhome
These oversized beauties are built on large, durable frames similar to the ones used for 18-wheeler trucks. In fact, they resemble buses more than anything, with no visible exterior distinction between the cab and the living quarters.
Because they're so large, they have lousy fuel economy, usually getting only about 10 miles per gallon. They have a ton of storage and living space, however, which is what makes them so appealing to campers who prefer to dwell in the lap of luxury.

Class B Motorhome
Also known as camper vans, class B motorhomes are basically diminutive versions of their class A counterparts.
They typically contain all the basic comforts of home—kitchen and bathroom facilities, living space, and a sleeping area—but on a much smaller scale. The interior ceilings are high enough for an average-sized person to stand in, but just barely.
Of the three motorhome classes, camper vans have the most efficient fuel economy and represent the best value overall.

Class C Motorhome
You can tell if a motorhome falls into this category by looking at the cab. If it's separate from the rest of the RV, with a portion of the living quarters sticking out over the roof, then it's a class C.
As far as size goes, class C RVs are larger than class B but usually smaller than class A, with fuel economy also falling somewhere in between the two.
Having the cab separate from the living space is an appealing option for parents who want to carve out a little private time while on the road.
Most of these units can also be a tow vehicle, so there's no need to drive the RV everywhere once you've reached the campsite.
While that's also true of class A motorhomes, the smaller size of the class C makes the towing experience far less daunting.

Fifth Wheel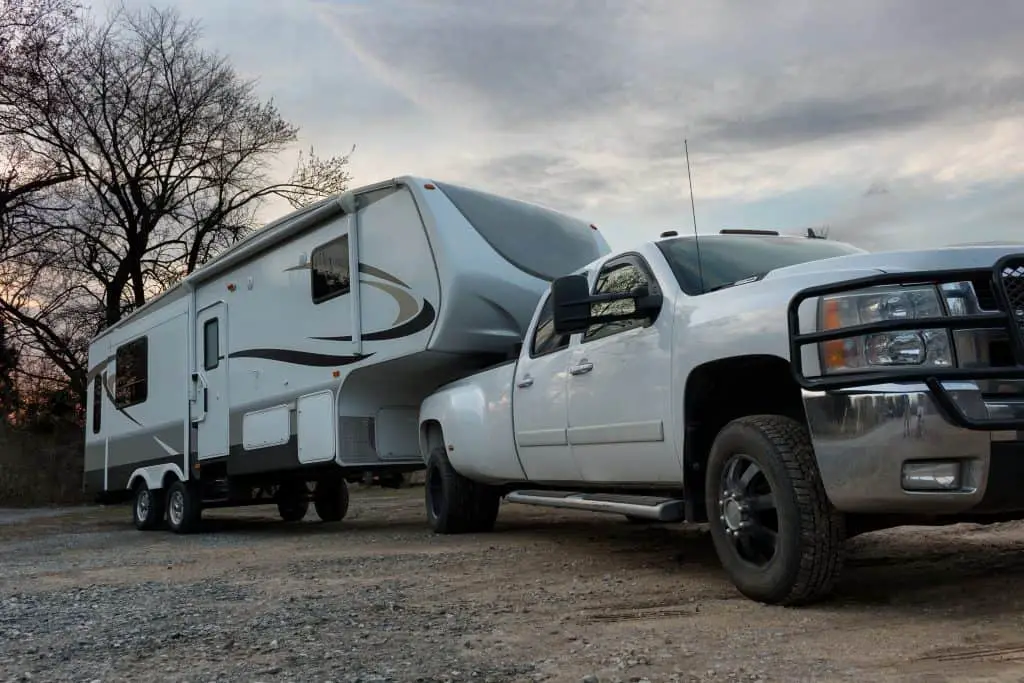 If you're going to drive a fifth wheel trailer, you'll need a pickup truck. These trailers are designed to fit over the bed of the truck, thereby decreasing the overall footprint of the camper and the towing vehicle.
This gives them the edge over their traditionally towed counterparts when it comes to versatility and maneuverability. Because fifth wheels are available in a range of sizes and styles, they're suitable for solo adventurers and large families alike.
Why is it called a "fifth wheel"? If you look at the base of these trailers, you aren't going to see five wheels.
That's because the fifth wheel is actually a U-shaped hitch that's secured to the bed of the pickup truck, allowing the trailer to be towed behind it.
The term was coined back in the 1850s, when builders would place an extra horizontal wheel on the frame of a horse-drawn carriage to make it easier to maneuver.
While the equipment has kept pace with the technological advances of the day, the overall concept remains the same.

Camper Trailer
"Camper trailer" is another broad term, referring to larger mobile home units that are built to be towed behind a vehicle. As the name suggests, they consist of living space built atop a trailer.
They're available in a broad range of sizes, so it's important to look closely at the specifications to make sure your vehicle's towing capacity is up to the challenge.
Most camper trailers will have a bedroom, a bathroom, a kitchen area, and a small dining nook known as a "dinette." Some of the larger models may include more than one bedroom.
Often, the dinette can be converted into an additional sleeping area as well, thereby accommodating more people.
Because they vary so widely in terms of size and style, travel trailers are arguably the most versatile brand of camper on the market.

Pop-Up Camper
Also known as foldable campers, these units have flexible roofs that are lifted by springs or struts when the camper is in use.
During the towing process, the roof folds down to create a flat, box-like profile that's both aerodynamic and pop ups are simple to tow.
While they don't offer as much living space as camper trailers and fifth wheels, they're often more affordable and convenient, especially for smaller groups.

Truck Camper
Truck campers aren't as common as they were a generation ago, but they can still be seen on US highways from time to time.
They represent a sort of cross between a fifth wheel and a smaller camper trailer, with one important distinction: The entire structure fits over the bed of the pickup truck, with no wheels of its own.
They often contain all the same amenities as a regular camper, and can be detached once you arrive at your destination.
These are especially convenient for anyone who wants to tow a boat or additional trailer behind their vehicle but isn't comfortable with the "double towing" concept (which is illegal in some states anyway).

Which Type Of Camper Should I Buy?
Now that you're familiar with the distinctions, it's time to decide which style would best suit your needs.
Which one you choose will depend on a number of factors, any of which could make it difficult to whittle down the field. Fortunately, many of the camper styles have enough things in common to make your choice easier.

You Might Be A Good Fit For An RV (Or Motorhome) If . . .
Money is no object

You're more comfortable driving a larger vehicle than you are with towing a trailer

You don't want to bother with setting up and breaking down camp

You're worried that your belongings might shift during transit (something you won't be able to fix en route if you have a camper trailer)

You enjoy boondocking (camping off the grid) for long periods of time

You Might Be A Good Fit For A Camper Trailer If . . .
You're shopping on a budget

You'd like to keep maintenance and insurance costs low

You would prefer a smaller camper

You don't want to worry about towing a separate vehicle for exploration

You frequently travel in more rural areas

You'll be regularly transporting more than four people at once (this can be a safety concern in motorhomes)

You want more variety when it comes to choosing a size and layout

In Conclusion
When it comes to the debate between RVs versus camper trailers, there are valid arguments to be made for each side. The more you know about each individual style, the easier it will be for you to enrich your own camping experience.
Best of luck, and happy camping!
Check out our article on: Best Small Class A Motorhomes Under 30 Feet