If you're planning on towing a travel trailer for your upcoming camping getaway, you might be wondering whether you can bring your boat along too.
So, can you pull a boat behind a travel trailer? The short answer is yes, as long as you've done your homework and comply with the rules in your area.
However, towing either a boat or a travel trailer can be a tricky business—combining the two requires a great deal more skill, not to mention advance planning.
When you've finished reading this primer, you'll be able to tell whether or not this is an option you can pursue because the answer to this question is maybe depending on where you live.

Can You Pull A Boat Behind A Travel Trailer?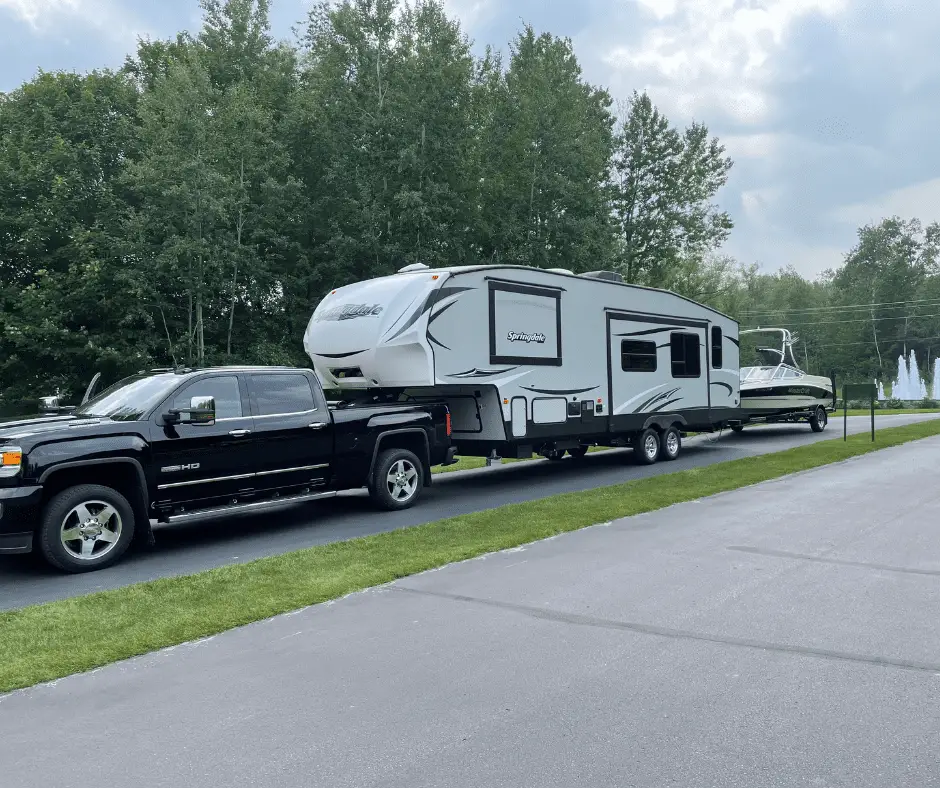 There are some exceptions, but many states will, in fact, allow you to tow two things behind your truck. This being said, there may be different scenarios that you will need to adhere to to be compliant with the law.
Some of these could be, 5th wheel trailers (or goosenecks) for the first trailer only and not allowing any bumper pull trailers as the first one in the chain. Also, necessary brakes and safety chains for the first trailer may be needed to abide by the state laws.
The boat trailer may also require safety chains and brakes depending on the gross weight of the boat and trailer. Usually, anything over 3,000 pounds will require brakes.
So as you can tell, you should double check states laws before planning on pulling double trailers with your pickup.
For your convenience, we've included a state-by-state guide that will tell you whether or not this practice is legal in the area you're planning to visit.
If you like this article, check out our article: Can You Pull A Car Behind A Fifth Wheel? (State Laws)
| | |
| --- | --- |
| State | Is It Legal? |
| Alabama | No |
| Alaska | Yes |
| Arizona | Yes |
| Arkansas | Yes |
| California | Yes |
| Colorado | Yes |
| Connecticut | No |
| Delaware | No |
| Florida | No |
| Georgia | No |
| Hawaii | No |
| Idaho | Yes |
| Illinois | Yes |
| Indiana | Yes |
| Iowa | Yes |
| Kansas | Yes |
| Kentucky | Yes |
| Louisiana | Yes |
| Maine | No |
| Maryland | Yes |
| Massachusetts | No |
| Michigan | Yes |
| Minnesota | Yes |
| Mississippi | Yes |
| Missouri | Yes |
| Montana | Yes |
| Nebraska | Yes |
| Nevada | Yes |
| New Hampshire | No |
| New Jersey | No |
| New Mexico | Yes |
| New York | No |
| North Carolina | No |
| North Dakota | Yes |
| Ohio | Yes |
| Oklahoma | Yes |
| Oregon | No |
| Pennsylvania | No |
| Rhode Island | No |
| South Carolina | No |
| South Dakota | Yes |
| Tennessee | Yes |
| Texas | Yes |
| Utah | Yes |
| Vermont | No |
| Virginia | No |
| Washington | No |
| West Virginia | No |
| Wisconsin | Yes |
| Wyoming | Yes |
Note that both the laws and the terminology can be inconsistent. Some states require a special commercial driver's license, while others require drivers to pass a test in order to tow more than one load behind their truck.
While the phenomenon is widely known as "double towing," it's called "triple towing" in some places (presumably because they're counting the truck in the combo).
The maximum total length varies from place to place as well. In Arizona, for example, the total convoy can be no more than 65 feet long, while Mississippi allows a total convoy length of 99 feet.
Check the Department of Motor Vehicles website for all the states you plan on visiting—these should have the information you need.
The bottom line? If you're planning on towing the truck across state lines, learn the laws and regulations before leaving home.

Example: In Michigan where we live, it is permitted to tow a boat behind a 5th wheel but not a standared travel trailer.

Also, you would need to comply with weight, length restricitons and endorcment to be legal.
Weight Considerations
If you've ever hauled either a boat or a travel trailer, you're probably familiar with the process of determining the Gross Vehicle Weight (GVW) for towing safety.
If you're planning on combining the two, you'll need to add together the GVW of the travel trailer, the boat, and the boat's trailer.
Once you have this combined GVW, consult the owner's manual of your towing vehicle to make sure your load isn't too heavy.
Bear in mind that most manufacturers recommend hauling no more than 80 percent of your vehicle's total towing capacity. Therefore, if the towing capacity is listed at 1,000 pounds, you should try to maintain loads of 800 pounds or fewer.

Basic Preparation
Every trip should begin with standard maintenance checks on all the components of the convoy. First of all, make sure that your travel trailer has a tow hitch that's been installed by a professional.
Don't be tempted to cut corners by installing it yourself. If the tow hitch isn't properly welded to the travel trailer's chassis, it could spell trouble down the road.
Next, check the braking system on the travel trailer. If the trailer doesn't have its own braking system, then you won't be able to tow the boat safely. You might be able to have one installed—check pricing and availability well in advance of your trip.
You should also perform a thorough check on all your towing vehicle's fluids and maintenance records. It's imperative for the vehicle to be in fighting shape for the tough task ahead.
Tire pressure is one of the most important factors to consider. Should one of your tires have a slow leak, it's best to replace it before you attempt a double towing.
Finally, map out your route in advance, checking to make sure that you won't be violating any maximum weight limits on the roads you've chosen.
It's also a good idea to research pull-through fueling stations and RV parks since you won't be able to back up until you've detached the boat and trailer from your towing vehicle.

Driving Safety Tips
Of course, just because the practice is legal doesn't mean that it's a good idea for everyone. Double towing requires extreme caution and vigilance. While this is true of driving in general, it becomes triply important when you're responsible for two pricey and sizable loads.
Take plenty of practice turns before leaving on the actual trip. Find the nearest empty parking lot or clearing, and take as many turns as you need to feel comfortable with the extra length. If you have access to highway cones, use a few of those to practice turns.

Use the buddy system. If more than one person is comfortable driving the oversized load, you'll have more time to stay rested and refreshed.

Watch the weather reports like a hawk. Your convoy will become increasingly difficult to manage in inclement weather. If it's especially windy, or if it's raining hard, you might even have to pull off and find a rest stop to wait out the storm.

Conclusion
As you can see from the chart, you'll probably have to steer clear of the eastern seaboard, since Maryland is the only state in that region to allow double towing.
Once you've ruled out the problem areas and gotten familiar with the towing process, you should have no trouble planning your combined camping/boating adventure.
Good luck, and happy camping!
Checkout our article on: Do I Need a Weight Distribution Hitch