What You Need To Know Before Camping
If you've never experienced the joys of tent camping—or if your previous forays have been underwhelming—perhaps the time has come to reacquaint yourself with the great outdoors.
As with any new activity, the packing and planning stage can be overwhelming if you don't know what you're doing or what to bring camping in a tent.
This is especially true of outdoor excursions like hiking and camping, what with all the state-of-the-art gear that's available. This Camping Guide For Beginners should help to ensure that your maiden voyage is a successful one.
Selecting The Perfect Tent
There are many things I wish I had known before embarking on my first camping adventure. These tips, involving the tent structure itself, would probably have saved me the most time and hassle.
Don't Be Afraid To Splurge
This is not the time to try and save money on accommodations. Your tent is your refuge against the elements, your comfort zone, your home away from home.
Look for the highest-quality product that you can afford, and take comfort in the knowledge that your investment will serve you well for many years to come.
Remember That Bigger Is Better
Anyone who's ever spent the night in a crowded tent will recall the experience—and not in a fond way, particularly if the conditions were damp and rainy. When it comes to tent space, it's always best to overestimate and purchase a larger tent than you think you'll need.
Not only will this give you more room for sleeping, but it also allows you to store some of your gear inside the tent. (Just remember never to store anything edible inside; see Meal Preparation below for more information.)

If a tent is advertised as a "six-person" tent, it will usually offer 90 to 100 square feet of floor space. Despite the name, this size is ideal for a family of four. A couple, meanwhile, would likely be more comfortable in a four-person tent.
What To Bring Camping In A Tent? Consider Your Family Situation
While we're on the subject of group sizes: Think about these dynamics before investing in a tent. Do certain members of the family usually go to bed much earlier than others?
Are you camping with your dog and need extra room for them and the extra stuff?
If so, you might want to consider a multi-room tent to give you additional privacy. Similarly, if anyone is prone to nighttime bathroom urges, a unit with two doors can make entering and exiting less disruptive to their fellow campers.
Invest In A Sturdy Tarp Or Ground Cover
Placing a tarp beneath the tent's footprint will protect the fabric and give you an additional layer of insulation from the hard, cool ground.
Before making a purchase, make sure that the surface area of the tarp is at least as large as the floor space of your tent. Don't buy one that's too large, however, as this can cause rainwater and condensation to collect and pool beneath the tent's floor as you sleep.
Set Up Your Tent In Advance
It's a good idea to familiarize yourself with your tent's setup procedure before taking it to the wilderness. For one thing, you'll be able to tell in advance whether any hardware or other essentials are missing.
Even if all the pieces are in place, the process can be daunting when you don't know what you're doing. Performing a trial run will help to ensure a stress-free beginning to your camping adventure.
It will also make it easier for you to select a campsite since you'll have a solid idea of how high the roof will reach and how large the footprint will be.
Investing In The Proper Gear
Now that we have the tenting situation covered, it's time to consider the rest of your camping gear. As a rule of thumb, it's best to look for the highest quality that you can afford, especially when it comes to the sleeping bag and padding.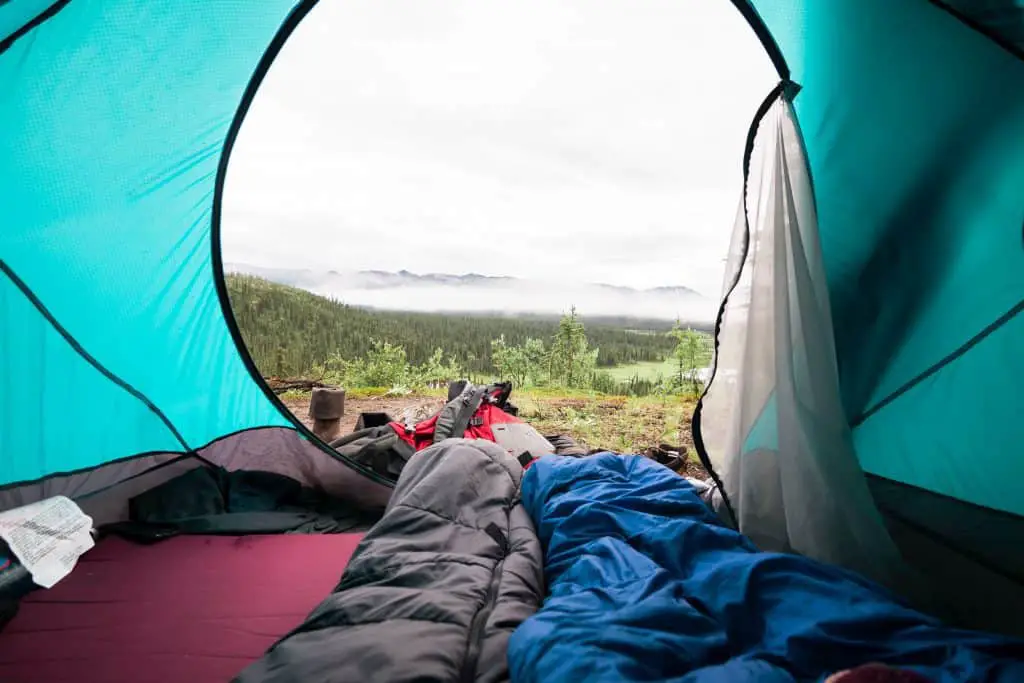 Sleeping Bag
Do not—repeat, do not—make the mistake of bringing an indoor slumber bag on a camping trip. Your sleeping bag should be lightweight yet durable, with a warmth rating of no higher than 35 degrees Fahrenheit for summer camping. If you're planning on tenting out in the fall or spring, look for a bag with a rating of 15 to 30 degrees Fahrenheit.

A word to the wise regarding pillows: They aren't strictly necessary on a camping trip. If you feel comfortable about the prospect of getting through the night without one, then, by all means, leave yours at home.
If your physical condition won't allow you to sleep without some type of neck support, try stuffing a pillowcase with the clothes you wore earlier in the day.
Sleeping Pad Or Mattress
When it comes to getting a good night's sleep while tenting, a comfortable sleeping pad is invaluable.

Steer clear of thick, bulky air-inflated mattresses built for two people. The majority of these models aren't capable of holding their air throughout the night, leading to awkward "ripple" effects every time one partner shifts in their sleep.
For best results, choose a single sleeping pad for each person.

There are three different types of quality sleeping pads. Self-inflating models contain a layer of foam that expands like a sponge when exposed to air. They're user-friendly, transportable, and provide an acceptable level of comfort.
Another option is the closed-cell foam design, which is simply made, inexpensive, and long-lasting.
As a trade-off, though, they aren't particularly comfortable, nor do they provide much insulation against the cold. Lastly, there are air-constructed sleeping pads, offering up-to-date technology and exceptionally lightweight construction.
The downside? They're not as durable as the competition, and setup can take several times longer than with self-inflating models.
Camp Chairs
Aside from your sleeping bag, this is likely the spot where you'll be spending the most time, so it's important to choose wisely. A camp chair that's cheap or poorly made will lead to increasing discomfort as your trip wears on.
If you're short on packing space, look for chairs that are advertised as "backpacking" models. This means that they'll be light, foldable, and easy to transport.
Some first-timers may choose to forego the purchase of a camp chair, especially if their designated campsite includes a picnic table. My advice? Don't make this mistake.
Picnic tables are nice for mealtimes and playing card games, but they're useless when it comes to all-important camping activities like lounging, reading, stargazing, or relaxing around the fire.
Cooler
Just like with your tent selection, you should opt for a bigger cooler when you're planning on taking it camping. The unit should be large enough to store not only your refrigerated food items but enough ice to keep them cold for the duration of your trip.
For best results with pre-wrapped dairy items like yogurt and string cheese, keep them near the top of the cooler so they don't become buried beneath the ice.
If you're the type who likes to indulge in a few cold beers while camping, consider investing in a second cooler to hold your brew selection.
Kitchen Gear
It can be difficult for novice campers to remember that they'll only have access to the utensils that they bring in with them. Make sure you have access to clean water and plan your meals in advance (see Meal Preparation, below) to determine the supplies you'll need.
A cast-iron Dutch oven with a flanged lid, which can be placed directly into the coals, is a worthwhile investment. Don't forget plates or bowls, sporks, knives, and drinking vessels.
You should also bring along eco-friendly dish soap, a dual-sided sponge for scrubbing, a dish towel, and a spare pot or kettle to boil water for dishes.
Camp Stove
These units aren't essential, but they do give you more versatility in the cooking department. They also come in handy when it comes to brewing that all-important morning coffee.
A propane camp stove or a woodburning stove with either a single or double burner should do the trick. Bring a spare fuel canister just in case, and be sure to test it out at home before packing it up for the trip.
Lanterns and Flashlights
Propane or battery-operated lanterns come in handy if you're planning on evening card games or other activities that require ambient lighting.
You should also bring along a couple of flashlights for nighttime treks to the outhouse. Small headlamps are also useful, especially if you find yourself preparing dinner or snacks after the sun has gone down.
Supplies For Starting A Fire
Even if you buy the wood for your campfire instead of chopping your own (something that many campgrounds encourage or even require), you should begin with a basic set of supplies.
A small ax or camping hatchet is invaluable when it comes to breaking up larger logs, and a hand saw can eradicate any pesky branches that won't fit into the fire pit.
You can also use the saw to trim down twigs and branches for kindling. Finally, be sure you have a good supply of matches or a set of working lighters.

What To Wear: A Clothing Guide
Another thing that beginners would do well to remember: When you're camping, you're spending virtually all your time out of doors. Keeping a close eye on the weather is essential, but you can also help to protect yourself by investing in the proper clothing.
Choose The Right Materials
First and foremost, you should be aware that clothing items made of wool and fleece are insulators, meaning that they'll continue to keep you warm even once they've gotten wet.
Conversely, wet cotton will weigh you down and make you feel clammy and miserable, even if it's only slightly damp from your own perspiration.
For this reason, it's best to avoid cotton whenever possible, although a well-loved pair of denim jeans wouldn't be out of place in the woods.
Plan For All Weather Conditions
While everyone wishes for warm, sunny days and cool, pleasant nights while camping, the reality is often quite different.
Pack a waterproof jacket and plenty of extra socks in case you're faced with a string of rainy days. A fleece cap and a second, warmer coat will help keep you toasty should the evenings turn chilly (see Layer Up Before Dark, below.
On the other end of the planning spectrum, don't forget your swimsuit and towel if your chosen campsite is near a body of water.
Layer Up Before Dark
No matter what the weather is like during the day, temperatures are bound to drop once the sun dips below the trees.
If your camping trip takes place in early or late summer, bring along a pair of long johns (preferably merino wool or silk), and put them on as a base layer as evening approaches.
Then get dressed as you normally would, adding on more layers as necessary. When it's time to crawl into your sleeping bag, the long johns can double as pajamas—and you won't have to get undressed a second time.
One caveat: Always change into a fresh layer if your long johns have become damp from perspiration or weather.
Don't Skimp On Footwear
I suggested over-packing in the sock department, but you shouldn't stop there, especially if you'll be engaging in multiple outdoor activities during your trip.
Start with a pair of comfortable, broken-in shoes that will be suitable for the drive to and from the campsite.
A set of waterproof sandals could come in handy for swimming or kayaking. If you'll be taking to the trails, invest in a durable, lightweight hiking boot or shoe, and be sure to wear them on a few short walks around the neighborhood before adding them to your duffel bag.
Last but not least, bring along a pair of clogs or sandals that you can easily slip in and out of when entering and exiting the tent at night.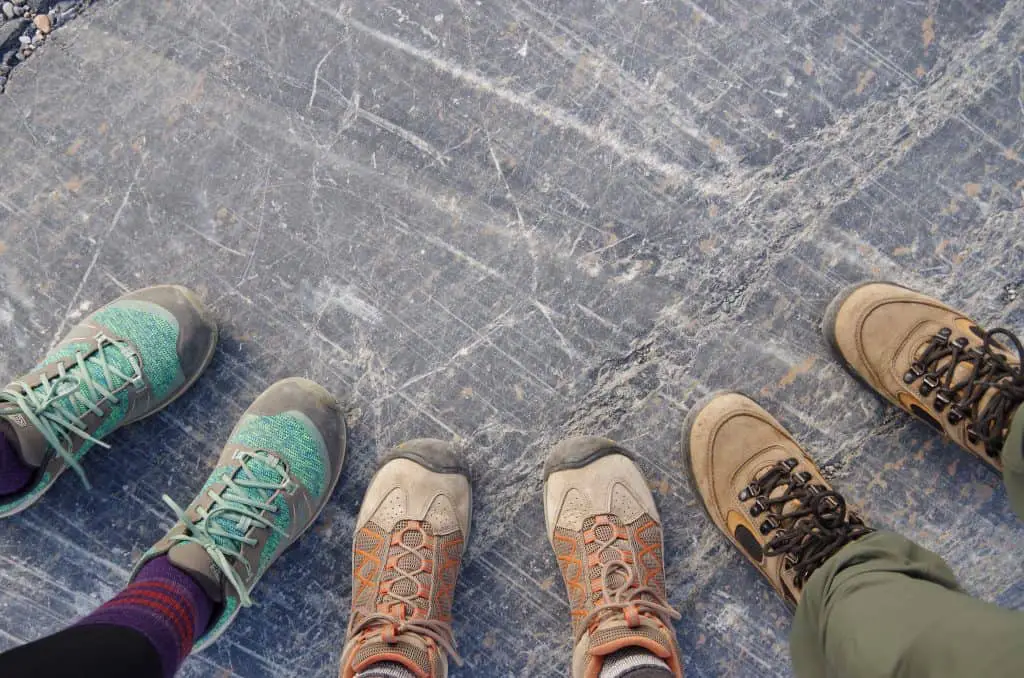 Meal Preparation
Everyone has to eat while camping, but there are ways to streamline the process so that you're not spending the entire trip slaving away over the fire or camp stove. Here are a few of my favorites.
Learn To Love The One-Pot Meal
Before your trip, whip up a huge batch of your favorite soup, stew, or gumbo. Pack your homemade concoction in leak-proof containers, add the containers to the cooler, and you're good to go.
The aforementioned Dutch oven can be used to heat the stew on the campfire, with no additional cooking required.

Tip: If you opt to make a gumbo, or any soup that includes rice, cook the rice separately and add it to the dish when you're ready to reheat and serve. Otherwise, it will absorb all the moisture, leaving you with more of a casserole than a stew.
Prepare Ingredients In Advance
With the proper utensils and a bit of imagination, you can get as creative as you like with your cooked-out meals. However, you'll save yourself a lot of time if you plan ahead.
Trimming and marinating meats, cutting up fruits and vegetables, portioning out additional ingredients like spices—these can all be done in your kitchen before you leave home.
To help streamline the cooking process, keep the ingredients for each meal in separate containers, similar to a meal delivery service.
That way, you know you'll have everything you need right at your fingertips, without having to dig through boxes or a mountain of melting ice.
Keep Plenty Of Snacks On Hand
Camping novices might be surprised at how hungry they get when they're spending all of their time outdoors.
Pack an ample supply of granola bars for midmorning snacking, as well as high-protein treats like beef jerky and trail mix. Don't forget the marshmallows, graham crackers, and chocolate bars for evening s'mores.
Keep Boxes And Coolers Safe From Scavengers
Your food supply is bound to attract a crowd—and I'm not talking about your fellow campers. Chipmunks, squirrels, raccoons, skunks, and even potentially dangerous critters like bears have all been known to raid campsites for the tasty morsels provided by unwitting humans.
Keep all your food containers locked inside your vehicle when not in use, and be sure to thoroughly wash all your dishes after each meal (or, if this isn't an immediate possibility, lock them in the car as well).
If you don't have access to your vehicle, invest in some heavy-duty bungee cords to keep the lids securely closed. If there are bears nearby, it might be necessary to store your food supply above ground by hanging it from a tree.
Other Considerations
Now that we've covered lodging, basic supplies, clothing, and dining, it's time to review the smaller details that could easily be overlooked by first-timers.
Raid The Medicine Cabinet
While this might seem like a no-brainer, it's imperative that you remember to bring along any essential daily medications that usually take up residence in your bathroom. Don't forget other prescriptions that are used in case of emergencies, such as rescue inhalers or painkillers.
If you wear glasses or contacts, pack a spare pair, along with whatever cleaning supplies are necessary.
Put Together A First Aid Kit
Prescription medications aren't the only things you should bring along on a camping trip. Pack a small, waterproof case with first-aid cream, gauze bandages, cotton balls, hydrogen peroxide, Band-Aids, a good set of tweezers, and burn ointment (such as aloe).
Keep insect spray or lotion in a separate, sturdy zip-top bag. Note that some brands of bug repellent should be applied to clothing, rather than skin. Be sure to read all directions carefully before use.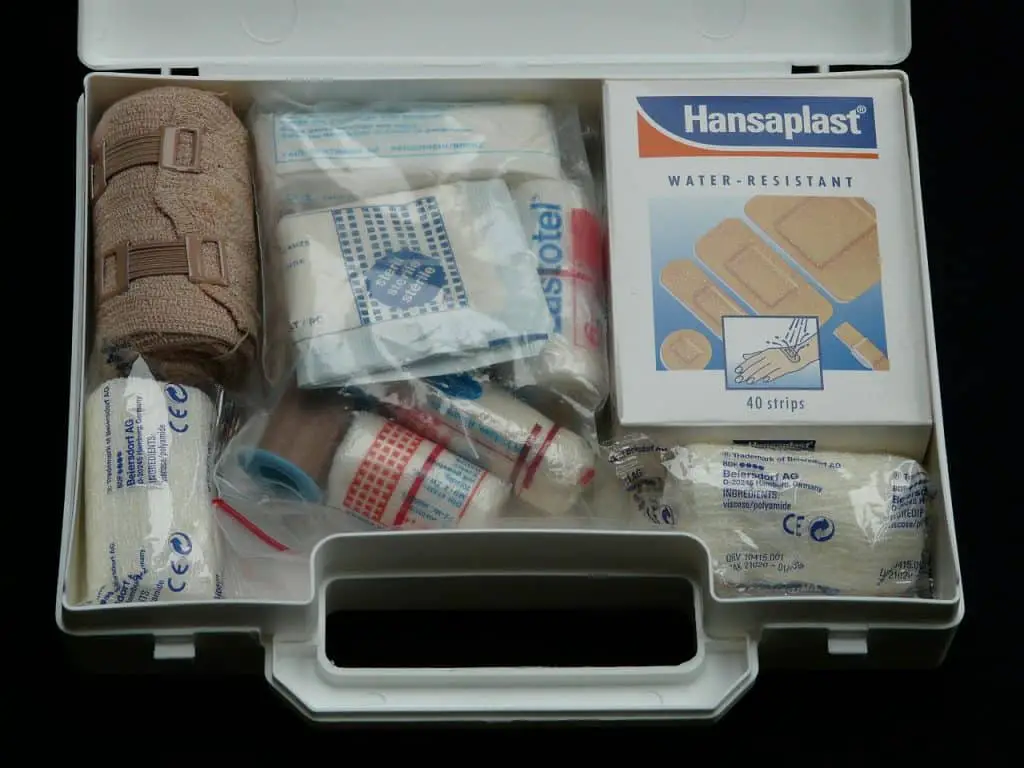 Remember The Toiletries
Even experienced campers can have a hard time keeping track of essentials like toiletries. I've forgotten my own toothbrush more times than I can count and was forced to bathe with dish soap on one memorable occasion. Keep this checklist handy when you're packing your personal items:
Toothbrush
Toothpaste
Washcloth
Biodegradable soap
Hairbrush or comb
Towel
Let Others Know Your Plans
This one might not be essential if you're planning on sticking to busy campgrounds, but backwoods campers should always let someone know where they're going and when they plan to be back.
If you'll be doing a lot of hiking and exploring, this is vital in the most literal sense, as it could end up saving your life in case of an emergency.
Even if you're staying at a campground and plan on leaving on an extended hike or canoeing trip, alert an employee or neighbor as to where you'll be and how long you expect to be gone.
Check The Weather Forecast
I mentioned this in an earlier section, but it bears repeating, especially as the date of your camping adventure draws nearer. Keep an eye out for any extreme weather conditions, such as strong winds or dangerously high or low temperatures.
While you can work your way around some tough weather with the proper supplies and a good attitude, there's no reason to put yourself in harm's way. Your first camping experience should be a positive one, the better to keep you coming back for more.
In Conclusion
Now that you've made your way through this Camping Guide For Beginners, you're ready to tackle your first tenting experience head-on.
I understand that the sheer volume of information might seem overwhelming at first. However, rest assured that if you follow this advice, you'll be in a better starting position than most first-time campers.
Not only will you have a basic idea of what gear to buy and what type of clothing you should pack, but you'll also know what not to bring without going through the tedious trial-and-error process.
Once you've got a few trips under your belt, you won't need to refer to the guide as often–these camping hacks will become second nature as you learn to adapt to life in the wilderness.

Best of luck, and happy trails!