Best Tent For Hot Weather
When it comes to finding the best tent for hot weather the key is ventilation. There are some really great tents that stay cool with large mesh windows and ceiling that will help with air flow which is key when camping in a hot environment.
That's right ladies and gentlemen, airflow is vital when looking for summertime tents.
In A Hurry?
Our Top Pick – Gazelle 22272 T4 Pop-Up Portable Camping Hub
Quick Look At The Best Tent For Hot Weather
Key Features For Keeping Your Tent Cool In The Summer
Excellent Ventilation
Getting airflow in your tent will help keep you stay cool during the hot periods of the day and night. You want to look for tents that have large mesh windows and ceilings or a completely mesh interior BUT also with a good rain fly.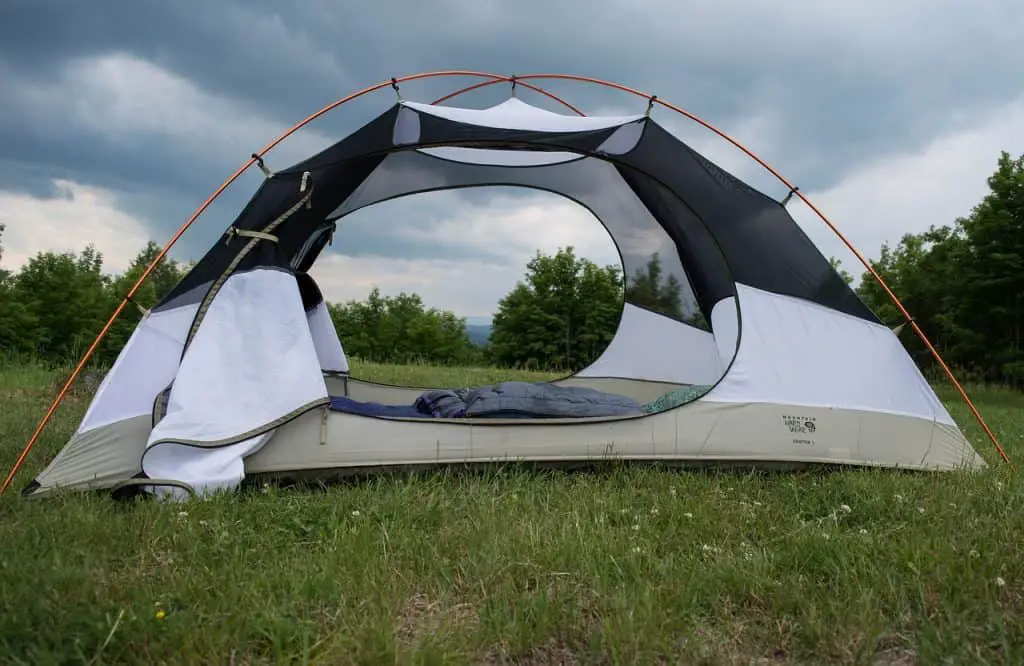 A Roomy Interior
Try and find a tent that has enough room for you and others…especially for long term camping, so air can move around you without being too close to the person next to you. This will help prevent other individuals body heat from radiating to you.
Weight 
Weight can come into play if you are planning on going on a long hike in the summer months. Just like finding a good pair of hiking boots, you want to find a tent that is light enough for you to lug around without having a heat stroke because you are carrying too much weight.

Durability
Finding a tent with good quality materials will help keep the heat and rain out of our tent. A good quality rain fly that vents will help tremendously. Also, a good mesh that eliminates bugs from coming in while also allowing airflow is a must.
Ease Of Setup
Find a tent that is easy to set up to avoid getting frustrated in the heat. Nothing worse than having difficulty in the sweltering heat.
Some tents are even called instant setup because of the quick setup design. These tents are a really good choice for family camping.
Ways To Cool Down Your Tent
Tent Placement
Where you pitch your tent can make a huge difference. You want to find a nice shady spot if you can and try to be up high where it is more likely to get a breeze.
Open All Windows And Doors
If no rain is in the forecast, then it is best to open all our windows and doors exposing as much mesh as possible for airflow. If you can even take the rain fly off that would be the best, but make sure your in a shady spot so the sun isn't beating down on you.
Battery Operated Fans
You get fans that are battery operated to help move air around the tent. If you are in a spot with little breeze than a fan will help A LOT.
Air Conditioning Units
If you want the ultimate cooling experience you can get a tent air conditioner. If you are going for this, you will need to be near power and will obviously not be carrying this thing on a hiking trip.
Ways To Keep Your Body Cool
Drink Water
By drinking water, you can keep your body temperature lower than if you are going without it. You also run the risk of dehydration and nobody has time for that…
Don't Eat Right Before Bed
If you eat right before you go to bed your body will be digesting as you are trying to sleep, causing your core body temperature rise.
Best Tent For Hot Weather: Product Review Guide
1. Gazelle 22272 T4 Pop-Up Portable Camping Hub Overlanding Tent, Easy Instant Set Up in 90 Seconds, 4 Person
The Gazelle T4 4 person Hub tent is a great choice coming in at 94" x 94" in floor space. With its quick 90 seconds setup-time and spacious interior it is one of our favorites on this list. This is achieved by its unique frameworks allowing a quick popup experience. 
It stands 78" or 6.5' which is great for taller individuals. The material is resistant to water and mildew. 
It offers 6 mesh windows which are great for ventilation during the hot day or night. With its two large doors, it is easily accessible from multiple sides. The two doors also have a mesh layer for added ventilation.
We love the super durable zippers on this tent because it's no fun camping in a tent with broken zippers. One neat feature is the removable floor making it convenient to clean and dry after a camping trip.
2. Coleman Dome Tent with Screen Room | Evanston Camping Tent with Screened-In Porch
This is a great tent if you're looking for one with a screened-in porch. It can accommodate 6 people and two queen size air mattresses. The tent size measures in at 10' x 9' and a height of 5' 8" in the center.
It has a setup time of approximately 15 minutes but will take less time as you get used to setting it up. The screen porch is great if it is buggy out and want to sit outside the tent. Also, it's really nice to have that screened in place to stash your shoes and gear.
It has what is called weathetec features which include protected seams from water and a flap protecting the zippers. This model offers a bathtub style floor keeping water and moisture out. It also has a wind-resistant frame that can hold up to winds up to 35+ MPH winds.
3. Coleman Dome Tent for Camping | Sundome Tent with Easy Setup for Outdoors
This Coleman tent comes in 4 sizes 2,3,4, or 6 person. It's a really basic but solid tent and can be set up in approximately 10 minutes with only two 2 poles to deal with. It has a rainfly awning at the entrance which provides shade and rain protection.
It offers good ventilation with its large windows. For even more airflow you can take off the rainfly all together to expose the mesh ceiling. It has the bathtub style bottom that comes up about 4" to keep water out.
 At 4' 4" in height, it isn't the tallet tent on the market but still a great simple all around the tent. 
4. Coleman 6-Person Dark Room Sundome Tent
This Coleman 6-person tent comes with darkroom technology, that's right, the inside is pretty much blacked out making it dark event during the daytime. This helps with sleeping by cutting out around 90% of sunlight and keeps it cooler than other tents. 
It comes with a nice 10' x 5' screened-in porch nice for storing your shoes and other camping items.
 The 6 person style measures in at 10' x 9' and a height of 5' 8" at the middle. Like the other Colmemans on the list, it comes with the weathertec features that help keep you dry. This model can be set up in approximately 7 minutes.
5. CORE 9 Person Instant Cabin Tent – 14′ x 9′
Core 9 is a nice instant cabin tent. Coming in at 14' x 9' and a height of 78" makes a great roomy family tent that can sleep 9. It can be set up in 60 seconds which is always nice. It offers a room divider which helps with privacy. 
This tent has an adjustable ground vent which helps tremendously with airflow. With the rain fly taken off, you can experience the maximum ventilation and have a great view of the stars at night. It has huge windows which also helps for maximum ventilation. 
It has 3 doors, the "D" door and also the "T" doors on the side which is convenient for lugging large items in and out.

6. TETON Sports Mountain Ultra Tent; 1-4 Person Backpacking Dome Tent; Great for Camping; Waterproof Tent with Footprint Included
The Teton Sports Mountain Ultra Tent comes in a 1,2,3 and 4 person option. It has a full rain fly that has built-in vents great for airflow…and we know how important ventilation is for a hot weather tent.
With the two-pole frame, it can be set up in about 5 minutes. It does extremely well in high winds and is rated for 35+MPH wind gusts.
If you take the rain fly off the whole tent it's pretty much micro-mesh perfect for hot weather tenting, stargazing and keeping out the bugs. The bathtub bottom as we know is great at keeping out rain and ground moisture. 
7. ALPS Mountaineering Extreme 2-Person Tent, Clay/Rust
This sweet little 2 person tent comes in at a footprint of 5'2" x 7'8" and a height of 42". The rain fly has vents to help with the…you guessed it, ventilation. It offers two doors on either side of the tent for easy entry and the doors have mesh windows that offer great cross ventilation.
This model has super strong zippers so you won't have to worry about breaking them. The rain fly is made from polyester allowing for superior UV and water protection. 
Has mesh pockets for storage of your quick access gear. These tents are made from high-quality materials and with the aluminum poles you don't have to worry about malfunctions out on the trail like you would other low-quality tents.
8. TOMOUNT 8-Person Tent – Easy & Quick Setup Camping Tent, Professional Waterproof & Windproof Fabric, Anti-UV, Double Layer, 5 Large Mesh for Ventilation, Lightweight & Portable with Carrying Bag
Great family tent with an 8 person capacity. It has 5 huge mesh windows and top for airflow. This tent can accommodate 3 air mattresses with no problem.
 The door has what they call a "smooth zipper" and it is truly a great heavy-duty zipper that operates extremely well. It is easy to set up even though it isn't an instant tent, it only takes around 10 minutes to get it up and ready to go.
It is known to do very well in high winds and will keep the driving rain at bay.
The Verdict
Our winner here at Team Camping is the Gazelle 22272 T4. This is a great high-quality midsize tent and with easy 90-second pop-up time and the overall size and height, it's a solid choice.
Stay cool, and happy trails!