Canvas Tents for Camping, Hunting, and Family
Given the fact that a tent is a portable home unit, it's no wonder that they come in so many shapes and sizes.
The overall effectiveness of your tent will depend largely on what you're using it for—backyard tenting, hunting expeditions, or extreme camping.
In this roundup, we'll review the best canvas tents for camping, hunting, and other family gatherings.
Kodiak Canvas Flex-Bow Deluxe 8-Person Tent
Kodiak Canvas 1-Person Canvas Swag Tent with Sleeping Pad
Whiteduck Premium & Breathable 100% Cotton Canvas Bell Tent
Kodiak Canvas Truck Bed Tent
TETON Sports Sierra 12 Canvas Tent
UNISTRENGH 4 Season Large Waterproof Cotton Canvas Bell "Glamping" Tent
SPRINGBAR Highline 6
Kodiak Flex Bow Basic 6 Person Tent
Things To Know Before Shopping For A Canvas Tent
To give you a better idea of what you're looking for, we've answered some of the most frequently asked questions about canvas tents.
What Are The Advantages Of A Canvas Tent?
Canvas is a breathable, largely waterproof fabric that can be easily repaired when it suffers damage. Fortunately, due to the durable nature of the material, that doesn't happen often.
When you invest in a high-quality canvas tent, you can expect it to sustain you through many long years of use.
What's more, you can use a wood stove to heat a canvas tent. Since nylon and plastic are flammable and likely to melt under contact from direct heat, canvas is a much better choice for four-season camping.
Finally, since canvas is manufactured using natural materials (such as cotton), it's also an eco-friendly choice.
While polyester and nylon tents will continue to leach petroleum into the environment long after they've lived out their usefulness, their biodegradable canvas counterparts will break down naturally into the soil.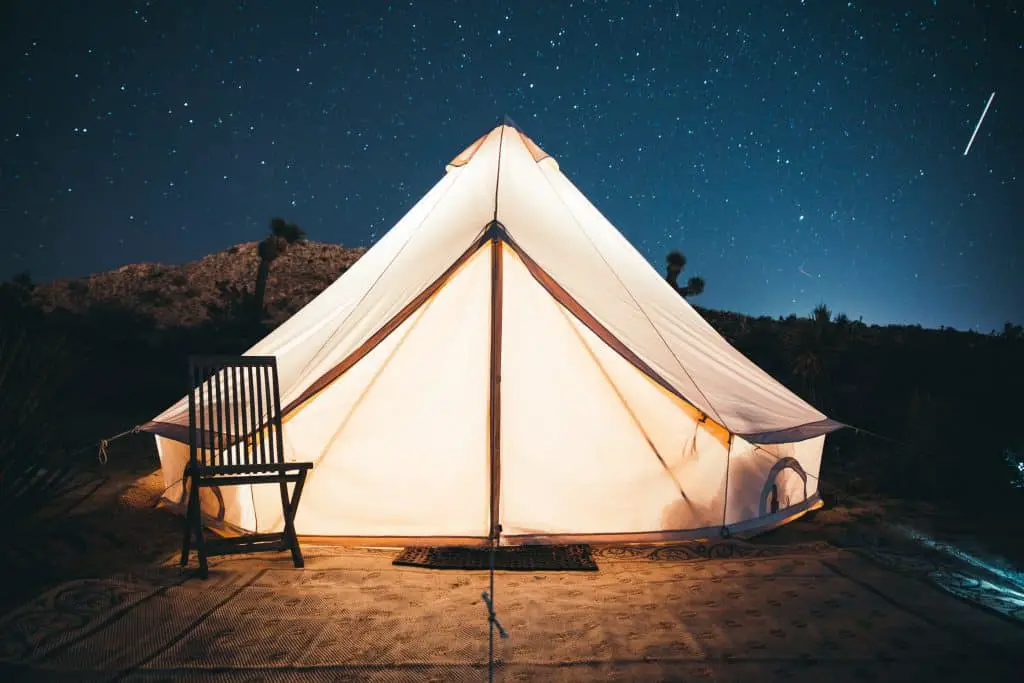 Do Canvas Tents Stay Cooler?
Since canvas is a great insulator, you can expect to stay much cooler in a canvas tent than you would in a nylon tent.
Similarly, because the material is able to hold its heat so well, it will stay warm even when the temperature drops at night.
Are Canvas Tents Better Than Nylon?
Canvas tents have many advantages over nylon, for all the reasons listed above. They provide better insulation and protection from the elements, they're better for the environment, and they're immune to the condensation that collects on tents made of synthetic materials.
That said, there are times when a nylon tent could be preferable. For one, canvas is an exceptionally heavy material, so it's ill-suited for hiking and backpacking excursions.
Second, it doesn't dry as quickly as nylon and is susceptible to mildew when putting away wet. Lastly, nylon is undeniably cheaper than canvas and requires far less maintenance.
If you're looking for a lightweight, inexpensive tent for use during the summer months, then a nylon tent would probably be a better choice.
Do Canvas Tents Need Waterproofing?
While canvas provides a decent amount of protection from the elements, a new tent should always be "seasoned" before its first use. To do this, set up the tent as you normally would.
Next, apply a coating of water to the exterior of the tent (a spray bottle works well), being sure to soak it all over. This will cause the fabric to shrink slightly. As it dries, the fibers will shrink and interlock tightly, thereby closing up any stitching holes where leaks might occur.
One round of this "seasoning" should be enough, but if you find that the tent is still leaking, feel free to repeat the process as many times as necessary. Remember to wait until the tent is completely dry before putting it away.
Packing up a wet canvas tent can cause mold to grow on the fabric, and that's the very thing you're trying to prevent.
Check out this YouTube tutorial for a hands-on demonstration on seasoning a tent
Are Kodiak Canvas Tents Waterproof?
Kodiak manufactures its canvas tents with a patented material known as Hydra-Shield.
While this offers a decent amount of protection in wet weather, the tent should still be subjected to the seasoning process described above.
Even if you observe these precautions, however, your Kodiak canvas tent may occasionally need to be treated for waterproofing. Kodiak recommends using only a silicone-based waterproofing treatment on its Hydra-Shield fabric. Any other materials might have adverse effects on the breathability of the canvas.
How often should you waterproof a canvas tent?
If the tent has been seasoned properly, you should only have to repeat the waterproofing process once a year.
Four-season campers might find it necessary to waterproof their tent more frequently, especially if they routinely camp in wet or snowy conditions. If you notice a leak, don't hesitate to apply a silicone-based waterproofing treatment to the affected area.
What's the difference between canvas tents for camping, as opposed to a hunting tent?
While camping tents can be outfitted with a stove jack, this feature is standard when it comes to tents for hunting.
The fabric of a hunting tent might also be slightly less bulky. Otherwise, there's little discernible difference between the two.
Best Canvas Tents: Product Reviews
Here's the rundown on some of the best canvas tents for camping, hunting, and family. Bear in mind that some of the criteria is subjective—only you can decide whether one of these tents will be the right fit for you.
1. Kodiak Canvas Flex-Bow Deluxe 8-Person Tent
Ideal for a family or large group, this cabin-style offering from Kodiak measures over six feet tall, with a footprint of 10×14. The tubing on the framework is constructed of 1″ galvanized steel, and the floor is made of polyester-reinforced vinyl.
Like all of Kodiak's canvas tents, the canvas is outfitted with the company's Hydro-Shield technology to keep campers dry throughout those rainy days. Unlike with some inferior materials, you won't have to worry about the moisture-wicking off when you touch the fabric.
Kodiak offers consumers a limited lifetime warranty on the Flex-Bow Deluxe. That means that it will provide replacements for defective parts for the life of the product, but it won't cover damages that have resulted from undue wear and tear.
While this tent doesn't come cheaply, it can easily provide shelter for up to eight people, which helps to offset the higher cost.
2. Kodiak Canvas 1-Person Canvas Swag Tent with Sleeping Pad
This is the canvas version of a "coffin" tent, suitable for a single sleeper. Measuring 6'8″ long and almost 3 feet across, it comes equipped with a built-in 2-inch foam mattress pad and flannel cover.
Windows at the head and foot promote ample airflow, while the Hydra-Shield cotton duck canvas keeps the space well-insulated and immune to precipitation.
The top of the swag tent can be unzipped and rolled back, leaving just a simple mesh screen between you and the wild outdoors.
This one-person tent could be a good option for duck hunting season before the snow has begun to fall. While the foam mattress pad is adequate for spring, summer, and autumn camping, the unit isn't really equipped for four-season use.
3. Whiteduck Premium & Breathable 100% Cotton Canvas Bell Tent
The breathable canvas used to construct this bell-shaped tent is made from 100 percent cotton and is fully water-resistant. The material has been treated for mildew and UV protection and is also available with a flame-retardant finish.
It features a galvanized steel pole in the center, with another one at the door to help keep the structure standing tall.
This unit can comfortably sleep up to eight people, but that number could be stretched to ten if there was no equipment or luggage involved.
Whiteduck's bell tent comes packaged in a waterproof bag to help keep it safe from the elements, even before you've set it up. A 5″-wide stove jack is included in the design, and the door is outfitted with a fine mesh to keep the bugs out.
There's even a flap to accommodate an electric cable outlet, making this unit a fine choice for glamping.
4. Kodiak Canvas Truck Bed Tent
The Kodiak Canvas Truck Bed Tent can be mounted on the back of your pickup truck, thereby providing you with shelter no matter where the road takes you.
The 3/4″ steel frame connects to a set of clamp-on rails, which can then be affixed to the frame of the truck bed. Sturdy buckles help to keep the structure stable, even when the truck is in motion.
This tent is constructed of 100 percent Hydra-Shield cotton duck canvas, and features a ceiling height of five feet—a generous height for a truck bed tent. The price point is reasonable, too, but only if you're in the market for a tent that can be pitched exclusively with a pickup truck.
A cab access window allows you to maneuver directly from your sleeping space to the steering wheel, bypassing the outdoors entirely. This could be a huge perk in damp or snowy weather.
Be forewarned, however, that this unit is not built to withstand heavy snow, so any damage incurred would not be covered by Kodiak's limited lifetime warranty.
5. TETON Sports Sierra 12 Canvas Tent
This gargantuan yurt-style tent measures 113 square feet when it's set up properly, making it one of the roomiest units on our list. While it could potentially sleep ten people, you should probably plan on six to eight if you want to leave room for luggage and air mattresses.
The oversized door makes packing and unpacking the easiest part of your trip, and the dual-pole setup is nearly as simple. The stakes are constructed of carbon steel, so this tent can even be set up in rough or rocky terrain.
Since the sides of the unit can be rolled up to let in the air, this tent could easily do double duty as a tent for backyard barbecues.
With a few modifications, it could even be used as a wedding pavilion. While it's too heavy to be carried around by hand, this is a great option for pack trips.
6. UNISTRENGH 4 Season Large Waterproof Cotton Canvas Bell "Glamping" Tent
Cotton Canvas
This bell tent is outfitted with a stove jack that can be covered with a patch of fabric when not in use, giving it four-season versatility. The area around the opening is constructed of fire-resistant material, and the entire structure is UV-treated and water-resistant.
The company advertises this as a six-to-eight person unit, but it's better to err on the side of four-to-six if you prefer having a little bit of room to maneuver.
There's also a screen porch for additional living space, which also gives you a spot to remove your shoes before getting in the tent.
The Unistrength Glamping tent is built to withstand all types of weather, from the punishing heat of the summer sun to the blustery snows of winter.
The PVC floor helps to keep the floor dry in all seasons, and a strategically placed rain cap prevents water from dripping down the center pole.
7. SPRINGBAR Highline 6
This squat, utilitarian model measures 10 by 10 feet, with a generous 6.5-foot interior height. It's advertised as a "car camping tent," harkening back to the days of the 1960s when the kids would squabble in the backseat of the family station wagon on the way to the lake.
It's large enough to fit a family of four to six, but if you plan on filling it to capacity, you can expect a few tight corners.
The windows on the Springbar Highline 6 are long and narrow, outfitted with fine "no-see-um" mesh for keeping the bugs at bay. A lifetime warranty covers any damages that might incur as a result of poor manufacturing.
Springbar also offers replacement parts and repair kits at a reasonable price. Speaking of which, if you're a family on a budget, this unit is priced fairly enough to make it worth a second glance.
8. Kodiak Flex Bow Basic 6 Person Tent
Like the Springbar offering, this Kodiak tent measures 10×10 feet, giving it a total of 100 square feet of floor space.
The galvanized steel tubing in the frame measures 1″ in diameter for increased stability, and the Hydra-Shield duck cotton canvas is sturdy without adding unnecessary bulk to the frame.
The floor is constructed of polyester-reinforced vinyl, making this unit an unsuitable choice for a stove jack.
While you can certainly attempt to use the Flex Bow Basic tent for year-round camping, it isn't really equipped for hard-core winter weather.
However, it can sleep up to six people, so if you're in the market for a spring-and-summer family tent that's easy to put together, this could be an appealing choice.
The Verdict

If you want a true home away from home, the Unistrength Glamping Tent is the ideal choice.
The stove jack makes it a suitable option for camping in all seasons and gives you the option of using it as a hunting tent if desired. Even people who are leery of camping will appreciate the built-in rain cap and the outlet flap for charging phones and laptops.
Due to its size and versatility, it could even be erected as a semi-permanent residence.
May your new canvas tent bring you years of fun and enjoyment in the great outdoors!
Good luck, and happy trails!